Booking/Inquiry
Queensland Villa 5641
Villa Amenities
Ocean Front
Ocean View
Maid Service
Personal Chef
Daily Breakfast
Similar Villas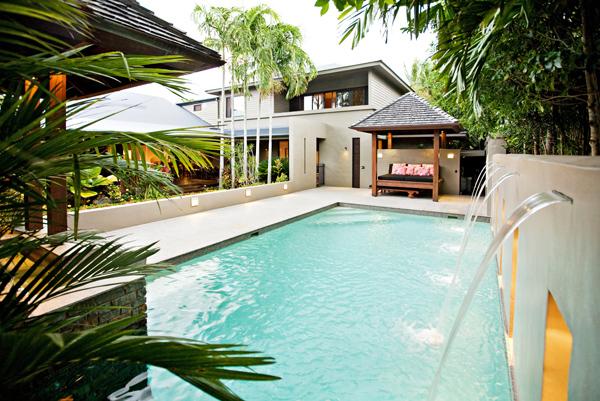 ---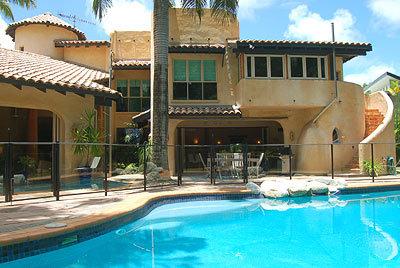 ---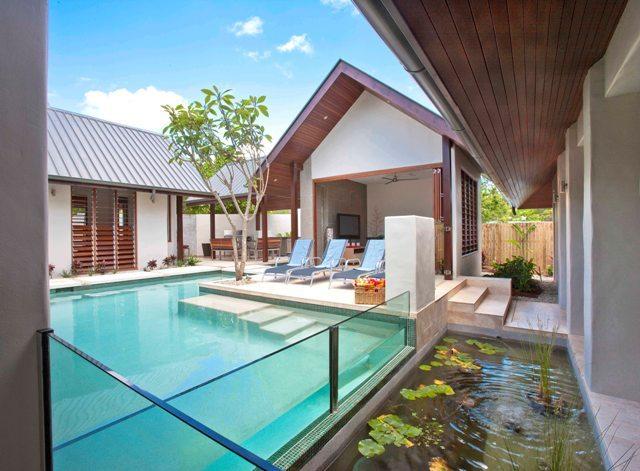 Villa Details
This all inclusive boutique resort situated on the Great Barrier Reef, Queensland, Australia. Our 30 years of experience allow you to enjoy exclusive rustic luxury while experiencing the adventures that set the island apart.
Welcome to the Island
Roy and Anna Turner have put thirty years of their lives into extending the beauty of the island with everything they have created. Individually designed lodges blend seamlessly along the island foreshore; each private villa with its own pristine beachfront and sea view. The main building captures the imagination; heavy beams, high thatched roof, light flickering from the cooking fire. At the ocean, a thatched jetty hovers over a lagoon that vibrates with fish life.

Cast away in the remote regions of Far North Queensland, Australia turns the notion of fictional paradise into reality. Guests at the resort can appreciate unparalleled fishing, spearfishing and adventure.
Accommodation
Main House
The Main house was the first building on the island taking some 5 years to complete. It is resplendent in the centre stage on the island and features a library, bar, fireplace, wine cellar, day bed, lounge, dining area, 2 bathrooms, loft, observation deck, open kitchen and wireless internet.
It is large pole home with heavy beams & rafters and a thatched roof with 12 inch thick Alang Alang grass imported from Bali. Driftwood has been skillfully used to support heavy polished timber benches. Every nook and cranny contains eye catching curios; from the shell of a Papuan Canoe to an ancient dinner gong and crocodile heads.
Breakfast and dinner is served in the main pavilion, while lunch is usually had out on the boat.
In the evening the fire is lit and guests can enjoy chilled wine served while dinner is prepared.
Lagoon Hut
Lagoon hut is located toward the North East side of the island a stone throw from the waters edge. Views overlook the big lagoon and Coral Sea.
An open plan handcrafted timber pole hut, raised above ground level so as to afford spectacular ocean views across the reef. Polished floors and glass doors, timber shutters open on all sides to allow a cool sea breeze.
Kwila Hut
Kwila hut is an open plan, hand crafted timber house,  shaded under a canopy of Coral with views to the sea. Featuring hand crafted benches and polished floors made from deep chocolate Daintree teak. Furnished with New Guinea artifacts from Roy's past and timber shutters on all sides to allow a cool sea breeze. Ensuite bathroom. Sundeck with the view past the Coral Trees to the surrounding reef.
Beach Hut
Barefoot, bleached and castaway, the Beach hut is an open plan, aesthetic drift wood accommodation. Situated right on the beach and some distance from the main complex, a boardwalk leads down to the open shower and bathroom standing amid a coconut forest.
Large canvas shutters open directly onto the beach where the sun sets over an open fireplace. Barefoot luxury for those who enjoy bird song and sunrise on your doorstep.
House Mawu
House Mawu was designed exclusively by Roy and is the largest and more luxurious of all the accommodation. The self contained villa is located on the hillside overlooking the big lagoon. It has two queen bedrooms, two starlit bathrooms, open plan kitchen lounge area with a stone fire place, library and loft with two single beds.  The building is covered with a thatch roof and supported by a colossal drift wood centre pole. It is the ultimate designer's dream of island seclusion.
Activities
On The WaterOur 40 foot boat Jo Jo III departs daily and is at the dispoal of our guests for excursions. She has a twin 700hp jet propulsion system and capable of 40knots in shallow water.  This enables us to access shallow reef as well as uncharted river systems. All activities are family friendly with no previous experience required.
Deep Sea Fishing
With knowledge of the area built from thirty years of experience we have the pleasure of guaranteeing an unparalleled fishing experience.

Although we rely on our freshly caught seafood for meals we still maintain a high catch and release ration for the fish we don't need.

Some of the species caught: Red Emperor, Coral Trout, Finger mark, Spanish Mackerel, Blue fin Tuna, Queen fish, Dog tooth Tuna, Giant Trevally.
Skin Diving & Snorkeling
Reefs in the area are untouched and show a good example of what Coral Life used to be before human influence. Float over the top of florescent  gardens, or plunge into the cavernous formations created by centuries of uninterrupted growth.
Also close by we have discovered an 1840s shipwreck in a shallow reef garden. Its giant anchors, winching blocks and bronze keel bolts are all visible from surface snorkelling and make a memorable dive experience.
Snorkeling is available both off our day boat or straight off the beach.
Bird Watching
The Island harbors a dense and varied bird population. Sunbirds, honeyeaters, pigeons, eagles, kingfishers, finches, jungle fowls, pittas and many others have made it their home. Dawn is a kaleidoscope of sounds dominated by the soft coos of the bar shouldered doves.
Rates
All excursions, accommodation, meals, equipment hire, tackle, bait and  activities are included in the accommodation rate. Our rates include daily excursions on our 40 foot jet boat.
Unlike any other Barrier Reef resort, once you are on the island there are no extra charges.
Alcohol is ordered prior to arrival.
Minimum stay 4 nights.
Read more
Booking/Inquiry
Queensland Villa 5641
Need help?
Contact us for personalized service and customer support.