Availability
Booking/Inquiry
Canggu Villa 3132
This villa is located in: Canggu, Bali
Click to see bigger map
Villa Amenities
Pool
Air Conditioning
Maid Service
Personal Chef
WiFi
Similar Villas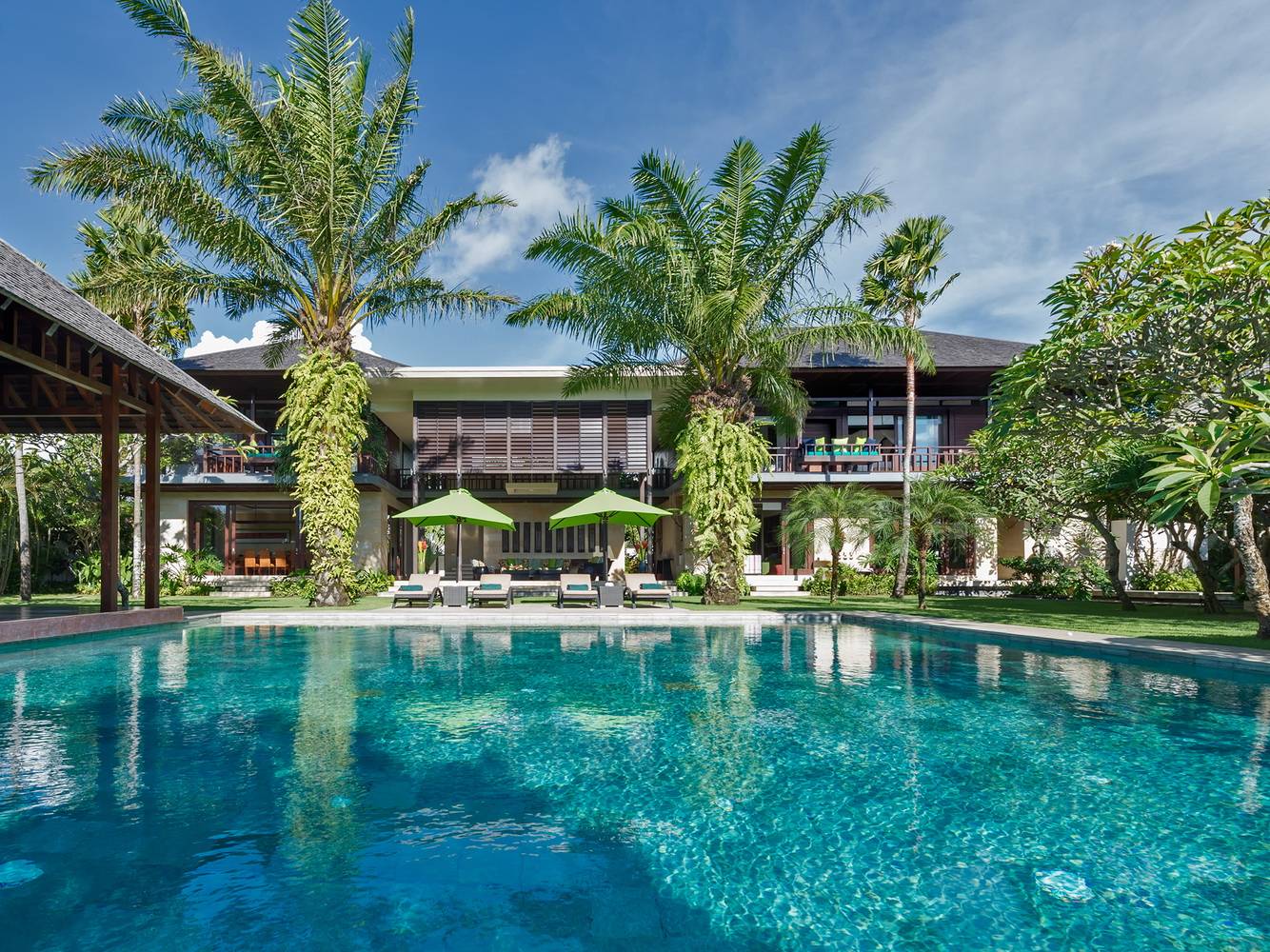 ---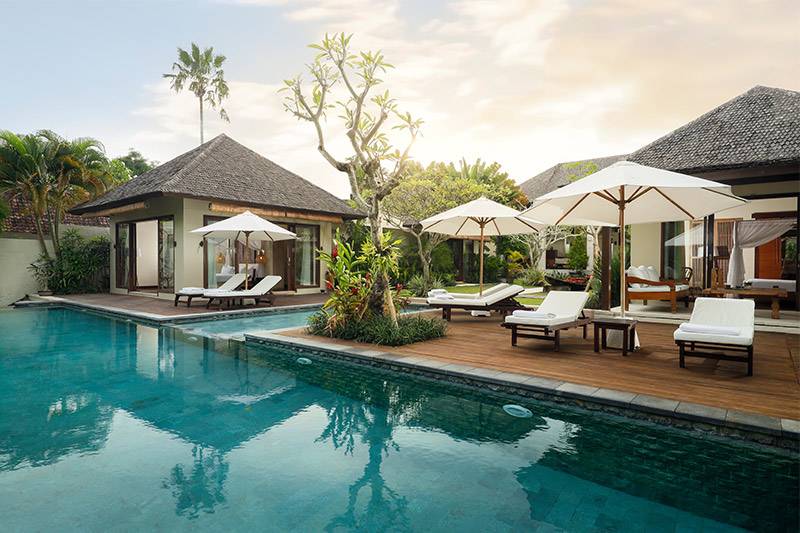 ---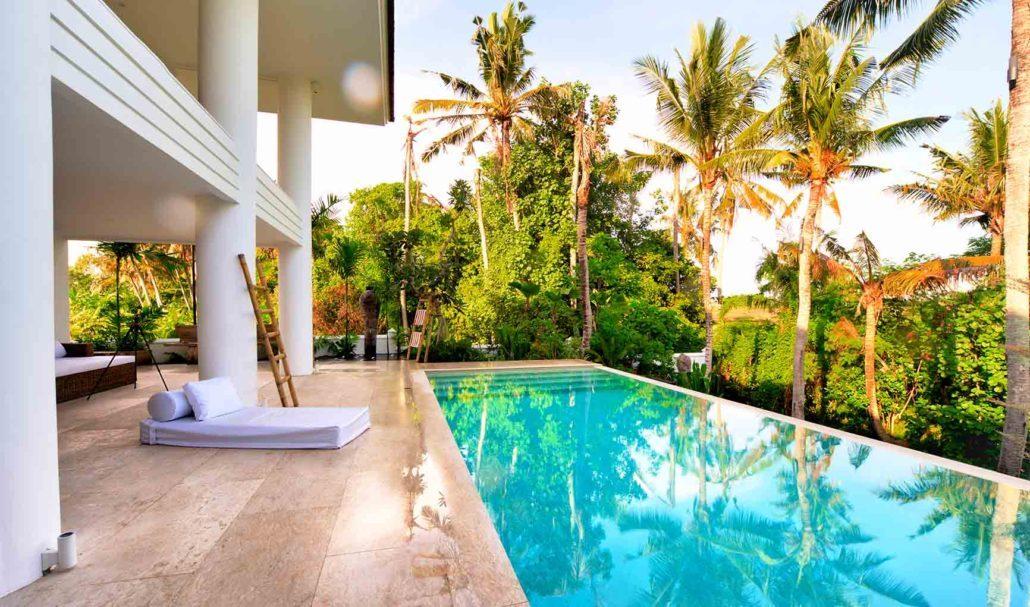 Villa Details
Escape into the cool, calm world of Villa 3132, deep in the heart of fashionable Canggu, where semi-rural life and jungle beauty meet the hip and fabulous.  Two sacred streams embrace the meandering estate's lush gardens, ancient frangipani trees, tropical living spaces and five luxurious bedrooms positioned for sublime seclusion or clustered for family-friendliness.  Chill by the 12-metre pool and breathe in the fragrant tropical air as a large team of smiling staff, including a private chef, tend to your every need.  A divine spa sanctuary has pavilions for private treatments, daybeds for relaxation and hand-carved stone baths circled by jungle where the streams coalesce.
About The Villa
At the very heart of the villa is a chic and contemporary open-air pavilion that has been styled by leading international interior designer Elaina Myers, and what a show she has created.  Several lounging zones are arranged atop the marble floors and a huge day bed is poised perfectly below a skylight. A dining area for ten lies beneath the exposed beams of the pitched white ceiling, which sets an elegant tone along with the tinkling of the shell and crystal chandeliers and the gentle gurgle of the spring-fed water features. The pavilion, which features a guest kitchen and bar as well as the in-villa chef's large professional kitchen, looks across the chequerboard garden to a sparkling 12-metre swimming pool flanked by a furnished sun deck and a view of volcanic stone sculptures recessed into the garden. The poolside entertainment balé has stylish black and white striped lounge seating, casual dining for eight and two fabulous black cane egg chairs suspended from the roof.
Five bedrooms are scattered around the central pavilion with two offering seclusion and three positioned close together to form an ideal set-up for families or groups holidaying together.  Tranquil views of the sacred river and a temple are captured from bedrooms, a private riverside balé and even from the guest bathrooms, offering a glimpse into the daily religious rituals of the Balinese. Discreet paths link bedrooms to each other and across a little bridge to the beautiful spa that is cloistered in a quiet corner.
Among the 14 staff are experienced spa therapists to deliver traditional massages and Javanese body scrubs. The private chef provides a delicious healthy spa menu along with a host of Indonesian dishes and Western meals for every taste.
As well as enjoying the villas' unique rural setting, guests are only a 15-minute walk away from Echo Beach, one of the most popular surf breaks in Canggu, and home to a host of laid-back bars and beachside dining venues. This is the place to sit back with an ice-cold beer and enjoy a spectacular Bali sunset.
Villa Layout
Enter through an exquisite hand-carved Balinese door and admire the stunning living pavilion and three riverside bedrooms cloistered to the right. Sacred spring-water-fed ponds guard and accent the living pavilion, which houses the chef's kitchen, a bar and guest kitchen as well as lounging zones and the dining room. Giant pots conceal lighting and opulent foliage creates borders to the guest bathrooms. Beyond the lawn is the pool and balconied master suite while another guest room lies opposite in a quiet corner. Deeper still, where the rivers converge, is a bridge that leads to the spa hugged by jungle.
Living Areas
Facing the swimming pool at the heart of the estate, the wall-less raised living pavilion forms the social hub of the villa. The guest kitchen and bar with seating for three is a central feature of this cool and contemporary space. Groups of comfortable chairs and cane sofas sprinkle this space with cylindrical glossy black coffee tables that move around on concealed wheels adding a funky touch. The fan-cooled living space has a grand cushioned daybed poised perfectly beneath a brilliant skylight. Charming freshwater ponds, which are fed from a sacred spring, provide a vibrant ambiance. Feet are kept continually cool on the marble floors. A long timber table provides dining for ten people on chic black and white woven chairs reminiscent of Paris cafés. Above the table are two fabulous shell and crystal chandeliers that chime delicately in the tropical breeze.
A few steps away is an elevated guest bathroom which has amazing views over the river and a Hindu temple through cut-out screen windows.
Outdoor Living
A large wooden deck, furnished with single and double sun loungers shaded by tasteful black and white striped umbrellas, surrounds the 12-metre infinity-style swimming pool. A spacious balé houses a superb dining area for eight people and has multiple sitting  areas. The black and white theme keeps the style fluid. Gaze back over the river and watch out for exquisite butterflies, birds and monitor lizards that love nothing more than to languish in the tropical sun.
Beyond the pool, where the two rivers join as one, is the villa's delightful spa. Here, two large daybeds and therapy balés form a wonderful and romantic retreat.
Bedrooms
The five swank bedrooms here are the last word in understated luxury. Positioned in secluded spots throughout the estate, privacy is ensured, as is easy access to the central living pavilion.  Gazillion-thread-count sheets make sleeping a sensual experience while the large private bathrooms create a tastefully contained space. The rooms feature cool marble floors, bar fridge, TV and DVD, chic tropical furnishings and beautiful outlooks onto verdant jungle.
Darma
The stunning wrap-around balcony overlooking two tranquil streams marks the Darma suite as the estate's premier bedroom. Huge windows and sacred-spring-fed water features flank the Balinese doors that welcome you inside. Darma has a separate dressing room, a desk plus a soft sofa and comfortable chairs facing a TV and DVD and overlooking the garden and pool. The enormous bathroom has a fabulous central jacuzzi set under a curtained balé, twin sinks and a large rain shower. Chill on the furnished balcony and listen to music, read or soak up the tropical ambiance.
Bima
Tucked into a quiet corner of the villa is this sweet room that has a pretty furnished balcony overlooking flowering gardens. The 'opium' style queen-size bed is sumptuously cushioned, and backed by sliding woven panels that open – or close – to the private bathroom where a freestanding bathtub overlooks flowering hibiscus and a manicured walled garden. Volcanic stone accents the floors and wall motifs highlight this stylish Balinese-style bathroom that is complete with a rain shower and twin sinks. Back in the bedroom, a sofa is poised for watching DVDs in air-conditioned comfort.
Sahadewa
Closer to the central living pavilion is this beautiful riverside bedroom that features corner windows where you can lose yourself while gazing out over the river and into the equatorial forest from a cushioned sofa. The queen-size bed is backed by sliding panels to the bathroom where an open-air shower is perfect for lavations under the stars and a freestanding tub sits amid black volcanic stones. The bathroom has a relaxing undercover daybed and a bar fridge.
Nakula
The carved Balinese doors to Nakula are directly opposite Sahadewa, making this riverside suite of two bedrooms perfect for families. Stylish cane twin beds are side by side, and a matching 'opium' style sofa lies in front of the TV and DVD. Large windows overlook the jungle and river. The connected bathroom has a freestanding travertine tub in a small walled garden with open-air shower, undercover daybed, twin sinks and bar fridge.
Arjuna
Beyond Sahedewa and Nakula, the Arjuna bedroom has a private entrance and a lush lawn fringed with opulent gardens, pathways to the spa and a divine private curtained balé overlooking the river. Ideal for couples wanting a romantic hideaway, Arjuna has a furnished terrace and an elegant interior with a queen-size bed at the centre of the room. Sliding panels open to the bathroom, which features a large walled garden, freestanding tub, double vanity and rain shower housed behind an opaque glass door.
Features
Villa manager
Private chef
Villa attendants
Gardeners
Security
Spa therapist, yoga teachers, babysitters available on request at extra cost
Pool 12m x 7m
Wi-Fi internet access
Laptop for guest use
Landline for local and international calls (extra charge applies)
Mobile phone coverage
Satellite TVs
DVD players
iPod dock
Table tennis
Diesel powered back-up generator
Private in-room deposit boxes
Location
Villa 3132 lies between two rivers in the district of Canggu on Bali's divine sunset coast.  Actively farmed rice terraces, fringed with fruiting papaya, banana and mangoes trees, frame the estate and create a fabulous tropical semi-rural fantasy.  Echo Beach with its chilled beach bars, glittering black volcanic sand, superb surf and spectacular sunsets is a quiet 15-minute stroll away, or slip into the funky ex-pat scene at Jalan Batu Bolong's beloved Old Man's Sunday sessions.
Witness the daily life of local farmers and the religious Balinese rituals that make this island so mystical.  The dramatic and beautiful Greg Norman-designed Nirwana Bali Golf Course is an 11km drive north of the villa while the stunning Tanah Lot sea temple is also nearby.  World class dining, nightlife and shopping are hot in savvy Seminyak, which is in easy reach.  Ubud is a brilliant day trip with verdant hills, a monkey forest and some truly amazing restaurants to visit.
Distances
Padang Linjong Village: 0.50 km
Echo Beach: 1.30 km
Tugu Hotel: 2 km
Seminyak: 9 km
Nirwana Bali Golf Club: 11 km
Kuta: 17 km
Denpasar Airport: 20 km
Ubud: 28.50 km
Mount Batukaru:50 km
Read more
Rates
5 Bedrooms | USD $1,010 per night - USD $1,570 per night +15.5% Tax
| | | | |
| --- | --- | --- | --- |
| Low | Oct 22, 2023 - Dec 14, 2023 | USD $1,010 per night | 2 nights min |
| High | Dec 15, 2023 - Dec 25, 2023 | USD $1,310 per night | 4 nights min |
| Peak | Dec 26, 2023 - Jan 5, 2024 | USD $1,570 per night | 5 nights min |
| Low | Jan 6, 2024 - Feb 7, 2024 | USD $1,010 per night | 2 nights min |
| Prime | Feb 8, 2024 - Feb 17, 2024 | USD $1,160 per night | 2 nights min |
| Low | Feb 18, 2024 - Mar 28, 2024 | USD $1,010 per night | 2 nights min |
| High | Mar 29, 2024 - Apr 13, 2024 | USD $1,310 per night | 4 nights min |
| Prime | Apr 14, 2024 - Apr 27, 2024 | USD $1,160 per night | 2 nights min |
| Low | Apr 28, 2024 - Jun 14, 2024 | USD $1,010 per night | 2 nights min |
| Prime | Jun 15, 2024 - Jun 28, 2024 | USD $1,160 per night | 2 nights min |
| High | Jun 29, 2024 - Aug 31, 2024 | USD $1,310 per night | 4 nights min |
| Prime | Sep 1, 2024 - Oct 26, 2024 | USD $1,160 per night | 2 nights min |
| Low | Oct 27, 2024 - Dec 13, 2024 | USD $1,010 per night | 2 nights min |
| High | Dec 14, 2024 - Dec 25, 2024 | USD $1,310 per night | 4 nights min |
| Peak | Dec 26, 2024 - Jan 5, 2025 | USD $1,570 per night | 5 nights min |
An additional tax of 15.5% will be applied.
Booking/Inquiry
Canggu Villa 3132
Need help?
Contact us for personalized service and customer support.