Availability
Booking/Inquiry
Canggu Villa 3263
This villa is located in: Canggu, Bali
Click to see bigger map
Villa Amenities
Pool
Air Conditioning
Maid Service
Personal Chef
WiFi
Similar Villas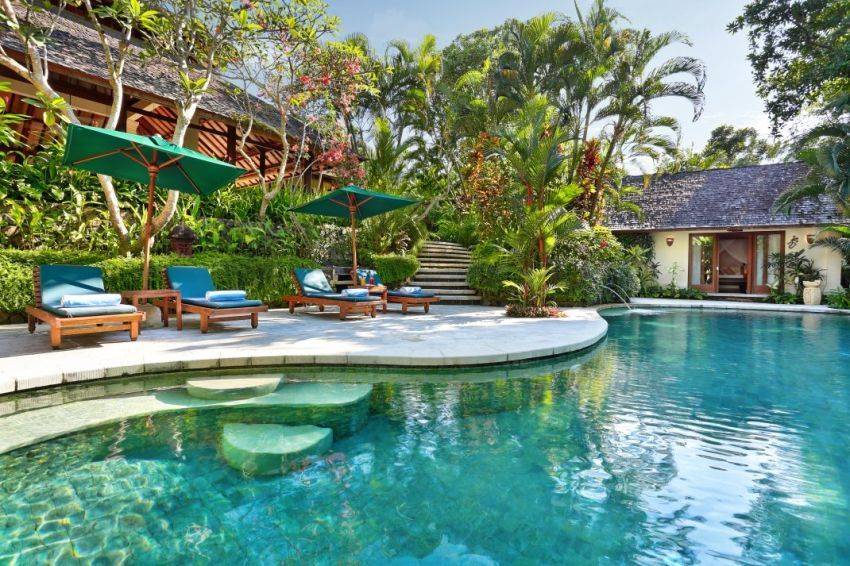 ---
---
Villa Details
Reminiscent of the lush green rice fields that surround it, the enchanting Villa 3263 gently flows down a terraced hillside to a delightful free-form swimming pool next to the tranquil.
Designed for relaxation, peace and privacy, this three-bedroom luxury villa pays homage to its Balinese heritage with traditionally styled and exquisitely furnished living and sleeping pavilions, adorned with Asian antiques and nestled amongst sublime tropical gardens and trickling fish ponds.
Whether it's the warm smiles of the friendly staff, the hypnotic sounds of flowing water, or the sheer beauty of the villa and its Garden-of-Eden setting, one thing's for sure: this little piece of paradise is bound to delight families, attract couples and seduce even the most hardened workaholic into restful submission.
About The Villa
The villa's official greeting, "Welcome to Paradise" couldn't be more fitting.
At this delightful Bali retreat in the traditional village of Pererenan, lush terraced gardens rich with foliage and colourful blooms step down to a gurgling river, enveloping traditional-style living and sleeping pavilions defined by gleaming teak and terrazzo floors, steeply vaulted ceilings, iron-wood shingle roofs, and walls of glass doors that open every building up to welcome in the exotic surrounds. The owners' impressive collection of Asian antiques and furnishings presents a unique sense of style and demonstrates the love and commitment that has gone into making this three-bedroom villa extra special.
The villa flows with spaces for guests to unwind and relax too, from the generous open-sided living pavilion cooled by ceiling fans, to the cosy air-conditioned study with its satellite TV and DVD player, or the traditional balé (relaxation gazebo) that overlooks the delightful lagoon-style swimming pool by the river's edge.
To complement this oasis, a team of warm and friendly staff are on hand to spoil guests with their exceptional service. The experienced private chef prepares delicious home-cooked meals, while villa attendants take care of daily housekeeping duties and special requests such as serving cocktails by the pool or arranging deluxe spa treatments on the villa's massage bed.
While guests will be hard pressed to leave the villa, a stroll through the village streets and rice fields should not be missed; nor should a sunset drink at nearby surfer's haunt Echo Beach. A car and driver can easily be arranged (on guest account) for excursions further afield.
Villa Layout
Designed by the same architects responsible for the iconic Four Seasons Resort at Jimbaran Bay, this immaculate villa combines classic architecture with modern luxury and tropical landscaped gardens to create a truly standout property.
Guests enter the villa through carved wooden doors which lead to a covered Palimanan stone staircase flanked on one side by intricate limestone murals crafted by local artists, and on the other by a stepped water feature, home to a school of colourful carp. From here, a series of steps and flagstones criss cross luxuriant terraced gardens and connect the villa's three very private, stand-alone bedroom pavilions, impressive open-sided living area, study and dining room, eventually reaching a delightful free-form swimming pool by the river's edge.
Living Areas
Indoor Living
Presiding over the gardens at the centre of the villa compound the open-sided living pavilion with its lofty two-tier roof, coconut wood pillars and cool cream terrazzo floors, makes an ideal base for entertaining and relaxing. A large Buddha statue flanked by vases of tropical flowers casts its eye over the white-cushioned lounge where guests can lie back, cooled by ceiling fans, and take in the natural setting or admire the owner's collection of antiques.
To one side of the living pavilion is a cosy air-conditioned study, featuring a large flat-screen satellite TV and DVD player.  A wall of bookshelves holds a good selection of books, games and puzzles as well as an extensive CD and DVD collection. In front of the study a fish pond is fed by water from decorative stone spouts carved in the image of the barong – a lion-like mythical Balinese character.
Stepping stones cross the fish pond to a handsome dining pavilion where a gleaming teak table seats up to eight guests. Although the dining pavilion offers the option of air-conditioning, three walls of floor-to-ceiling windows can be flung open to appreciate the songs of the river and the birdlife, the fragrances of the garden and views over the villa's temple towards the pool. A notable feature here is the antique wooden panelling that separates the dining room from the adjacent kitchen with its marble breakfast bar and bar stools.
Outdoor Living
The villa's garden provides a sensory experience like no other: the twittering birds, brightly coloured heliconias, darting dragonflies, fragrant frangipanis, tinkling fish ponds, river rapids, delicate temple offerings and farmers tending their crops in the neighbouring rice fields, combine to create the sights, sounds and smells of the real Bali. And to taste the real Bali you need go no further than the villa kitchen.
One of the best places to absorb the ambiance is alongside the green-stone pool, where the garden meets the river bank. Sun loungers shaded by bright red umbrellas and a thatched poolside balé offer a choice of spots for rest and relaxation . Those craving a bit of quiet 'me' time should seek out the single recliner on the wooden deck half way up the gardens, overlooking the river rapids.
Bedrooms
Guest Bedrooms
At the top of the villa compound, nearest the entrance, two guest bedrooms feature polished wood floors, vaulted ceilings and queen-size four-poster beds. Both rooms have large Balinese-style garden bathrooms enclosed by lichen-covered walls. Here guests can bathe au naturel under the rain shower or soak in the bathtub set within a teak surround.
The guest bedrooms are air conditioned and fitted with ceiling fans. Each is equipped with a TV screen and DVD player, and opens onto a shady veranda furnished with a daybed and reading chair. In one of the rooms a roll-away single bed provides extra sleeping space.
Master Bedroom
The air-conditioned master bedroom lies at the lower end of the garden, close to the river and the pool, and is the ultimate honeymoon hideaway. The bedroom features a delicately carved queen-size four poster bed, polished teak floors, vaulted ceilings and large glass doors that open onto a stone terrace furnished with table and chairs – just the spot for a lazy breakfast. Furnishings include a comfortable planter's chair and a wood cabinet housing a TV, DVD player and music system. Behind the sleeping area is a very large dressing room with generous storage space.
Carved teak doors slide open to reveal a huge air-conditioned bathroom tastefully finished with polished cream terrazzo floors, his-and-hers vanities, a tiled double bathtub, massage table and walk-in shower. A special feature of this majestic bathroom is the secluded timber balcony, accessed via glass doors, which makes a perfect setting for a massage or spa treatment.
Services & Features
Villa manager
Cook
Villa attendants
Gardener and pool attendant
Security guards
Masseuse and babysitter on request
Free-form, 15 metres pool
Wifi internet access
Landline for local calls
Mobile phone coverage
Computer
Printer
Baby cot
High chair
DVDs
Books
Games
Table tennis
Satellite TV
DVD players
The Locale
Secluded and private, Villa 3263 lies beside the banks of the Pangi River in the traditional Balinese village of Pererenan.
Remarkably laid-back and undeveloped, this tranquil out-of-town setting offers the twin attractions of being only 20 minutes' drive from the bright lights and dining delights of Seminyak, while also offering visitors a privileged insight into the traditions of rural Bali.
The nearby beaches are renowned for their legendary sunsets and world class surf breaks.
Distances
Pererenan Beach: 2 km
Echo Beach: 3 km
Nirwana Golf Club: 8 km
Tanah Lot Temple: 8 km
Seminyak: 10 km
Kuta: 18 km
Denpasar Airport: 20 km
Ubud: 32 km
Mt Batukaru: 34 km
Read more
Rates
All Bedrooms | USD $430 per night - USD $690 per night +15.5% Tax
| | | | |
| --- | --- | --- | --- |
| High | Jul 1, 2022 - Aug 31, 2022 | USD $590 per night | 5 nights min |
| Low | Sep 1, 2022 - Sep 30, 2022 | USD $430 per night | 2 nights min |
| Prime | Oct 1, 2022 - Oct 8, 2022 | USD $490 per night | 3 nights min |
| Low | Oct 9, 2022 - Dec 17, 2022 | USD $430 per night | 2 nights min |
| High | Dec 18, 2022 - Dec 23, 2022 | USD $590 per night | 5 nights min |
| Peak | Dec 24, 2022 - Jan 8, 2023 | USD $690 per night | 7 nights min |
| Low | Jan 9, 2023 - Jan 19, 2023 | USD $430 per night | 2 nights min |
| High | Jan 20, 2023 - Jan 29, 2023 | USD $590 per night | 5 nights min |
| Low | Jan 30, 2023 - Mar 31, 2023 | USD $430 per night | 2 nights min |
| Prime | Apr 1, 2023 - Apr 14, 2023 | USD $490 per night | 3 nights min |
| Prime | Apr 9, 2023 - Apr 22, 2023 | USD $490 per night | 3 nights min |
| Low | Apr 23, 2023 - Jun 30, 2023 | USD $430 per night | 2 nights min |
| Prime | Apr 30, 2023 - May 3, 2023 | USD $490 per night | 3 nights min |
| Low | May 4, 2023 - Jun 30, 2023 | USD $430 per night | 2 nights min |
| High | Jul 1, 2023 - Aug 31, 2023 | USD $590 per night | 5 nights min |
| Low | Sep 1, 2023 - Sep 29, 2023 | USD $430 per night | 2 nights min |
| Prime | Sep 30, 2023 - Oct 8, 2023 | USD $490 per night | 3 nights min |
| Low | Oct 9, 2023 - Dec 15, 2023 | USD $430 per night | 2 nights min |
| High | Dec 16, 2023 - Dec 21, 2023 | USD $590 per night | 5 nights min |
| Peak | Dec 22, 2023 - Jan 8, 2024 | USD $690 per night | 7 nights min |
An additional tax of 15.5% will be applied.
Booking/Inquiry
Canggu Villa 3263
Need help?
Contact us for personalized service and customer support.