Availability
Booking/Inquiry
Canggu Villa 3572
This villa is located in: Canggu, Bali
Click to see bigger map
Villa Amenities
Ocean Front
Ocean View
Pool
Air Conditioning
Maid Service
Personal Chef
WiFi
Tennis Court
Similar Villas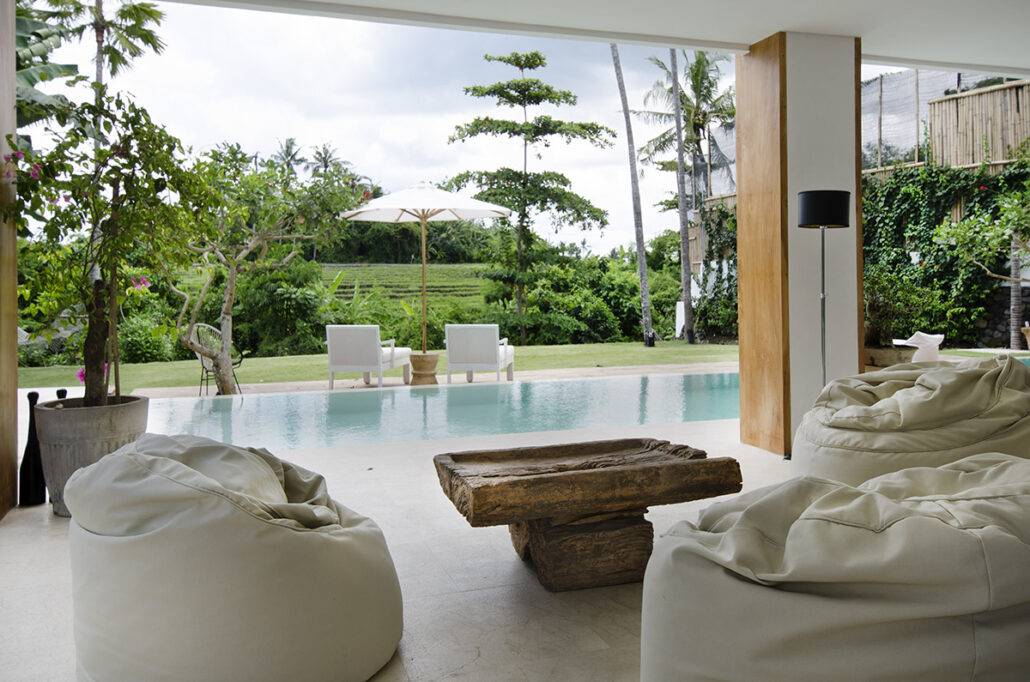 ---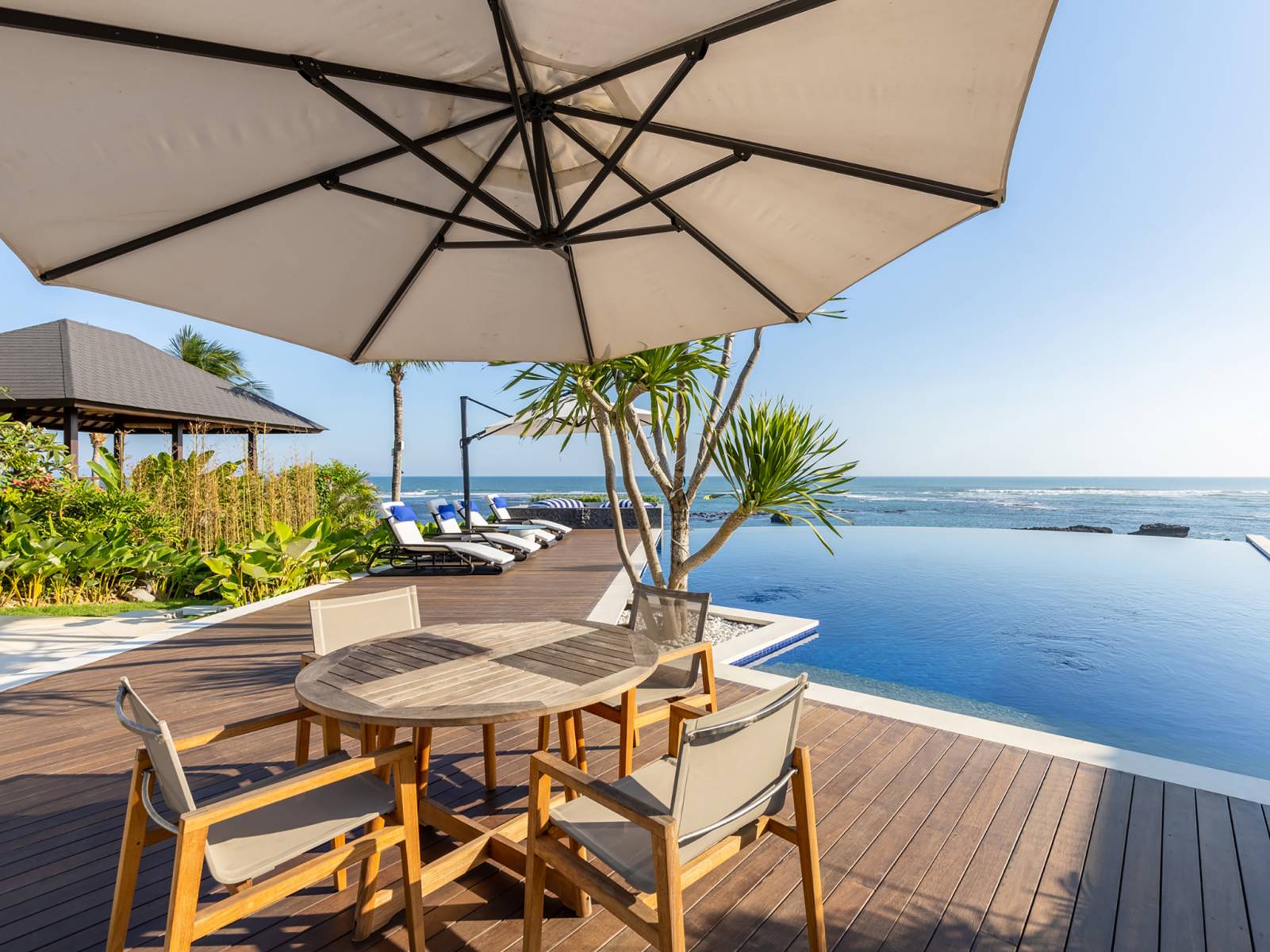 ---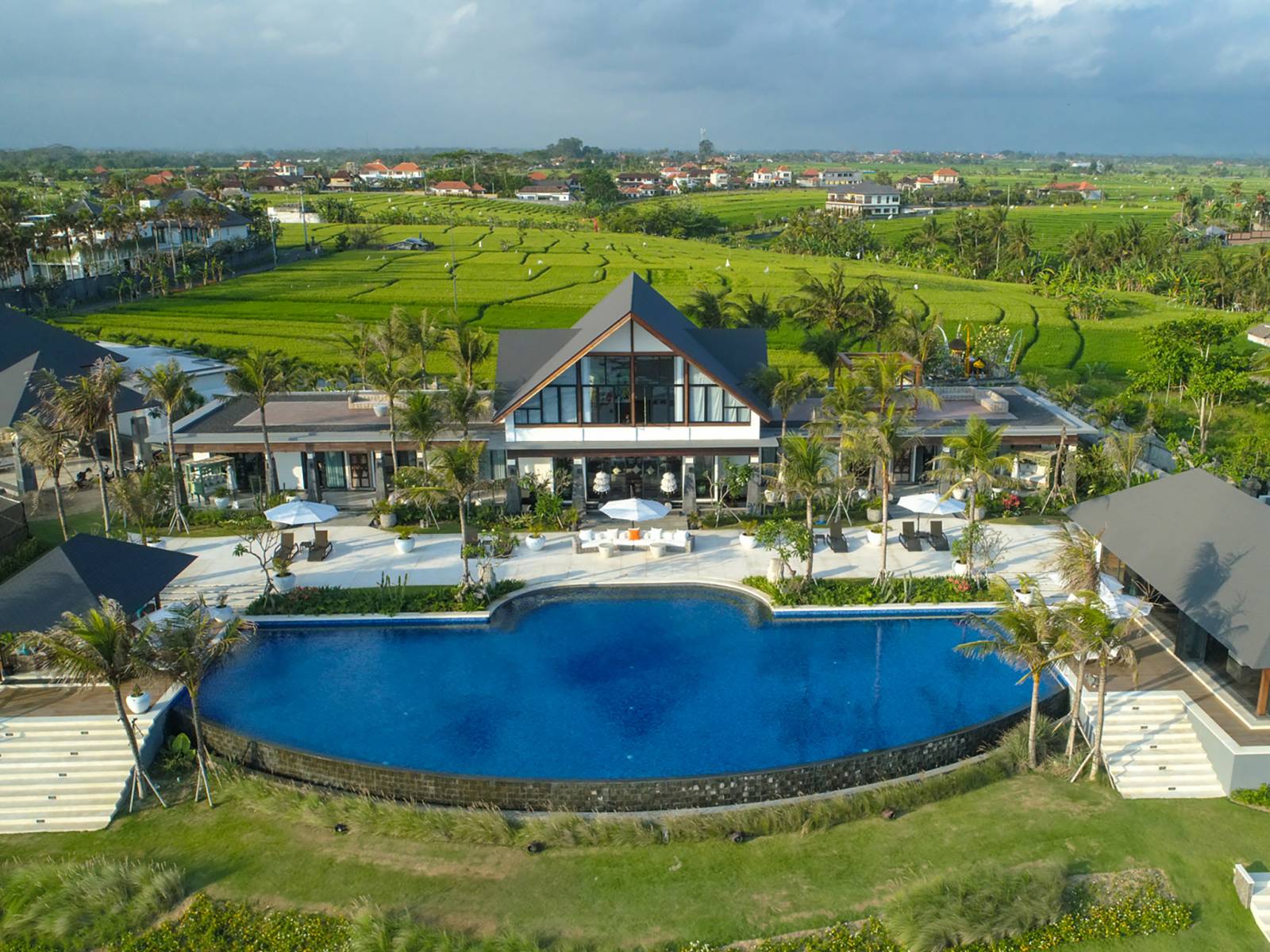 Villa Details
Live the architectural dream in this marvelous contemporary retreat located on the beachfront in Bali's beautiful Canggu area, with a team of staff on hand to ensure that every whim is gracefully met. A unique creative collaboration by the architects and designers Sonny Chan (CSYA) and Albano Daminato (Studio Daminato),  this Beach House is a sophisticated yet supremely relaxed family-friendly villa set amid private terraced landscaping. Five double bedrooms, plus a gym that readily converts to make a sixth, provide space for up to 18 guests.  An ocean front bale – the local lexicon for garden pavilion – offers alfresco dining for 14 overlooking the Indian Ocean and a crystal clear 20 metre swimming pool. The private tennis court is action ready and the spa pampers and polishes, while lush green lawns and gardens bowed with fragrant tropical flowers will bring blissful repose in no time.
About The Villa
Minimalist vertical lines accent this uber cool and contemporary sanctuary, which is a brief barefoot stroll from the colourful fishing boats and mighty surf of Nelayan Beach. The coveted skills of internationally acclaimed Singapore architect Sonny Chan are on full display at this rarefied ocean estate, softened with a chic mix of textures and colours rendered by Australian-born interior designer Albano Daminato. The magical lighting and every piece of furniture was custom designed in the Daminato studio specifically for the villa: spilt bamboo wall panels juxtapose reeds and grasses crafted with natural linens for window shades; sofas are wrapped in rich, delicate European and Indonesian textiles. In the expert hands of Chan and Daminato, design concepts converge to create refined elegance that is family functional and beautifully balanced.
Aesthetically gratifying for the design addict while being superbly luxurious, the Beach House's flexible design can accommodate up to 18 guests, with romantically canopied beds that can be configured to either kings or twins, and point blank ocean views from the picture windows of the third-floor master ensuites.
Families, sports fiends and pamper pusses will adore the private tennis court, 20-metre salt-water pool, gym, spa room and yoga platforms positioned to catch the sunrise and watch over the Hindu rituals at the neighbouring temple.  Make use of the special-rate car and driver and visit some of Bali's ethereal temples, grab a game of golf at the spectacular Nirwana course, or browse the boutiques of sophisticated Seminyak, just 20 minutes away.
The entertainment room is a real showstopper and will be a hotspot for the entire family.  It's in a separate wing – along with three guest bedrooms – and is equipped with a huge TV screen that connects you to your personal iTunes account, plus stacks of games, books, arts and craft gear.
Almost 4,500 square metres of neatly terraced lawns create a phenomenal space for special celebrations and sophisticated soirees. Then there's the gorgeous pool- and ocean-front bale for sundowners followed by exquisite meals prepared by the villa's master chef from a mouthwatering menu of Western and pan-Asian delicacies.
Villa Layout
Enter via a high gate into the villa's landscaped equatorial gardens stepping up to the ocean-front balé and pool. Climb the wonderfully angular staircase in the main pavilion to the lounge and dining rooms, and be lulled by the languid seascape. Two master bedrooms crown this building and have front row seats for the sunset show, with brilliant views to the horizon.
A second pavilion, overlooking the tennis court and with more spectacular sea views from its upper floor, houses the entertainment room plus three identical guest bedrooms with canopied beds, sculptured terrazzo bathrooms and gardens with fish-filled lotus ponds. In a separate single-storey building is a sumptuous spa room and the gym, which can easily and ingeniously be transformed into an extra bedroom.
Living Areas
The lounge and dining room on the second floor of the main building has windows that seem to magically disappear and morph the space into avant-garde outdoor living with terraces seaward and over the courtyard.

Plush white sofas face one another, hand crafted tribal tables and skeletal bamboo chairs are scattered about, and a wall is hung with an antique batik print.  The air-conditioned formal dining room seats up to 14 people at a bespoke solid teak table, and split bamboo wall panels give the space a casual vibe.  Side tables are adorned with clusters of fresh white orchids, an exquisite trio of antique hair combs and mood-creating candle-lit hurricane lamps.
Over on the ground floor of the second pavilion is a sensational retreat for kids large and small.  As the only room with Apple TV – loaded with Netflix, HBO, ABC, PBS KIDS and more – theentertainment room is a popular haunt with its big versatile modular sofa and sets of café-style tables and chairs.  The sound system is loaded with an excellent music library, there's a Nintendo Wii, and the bookshelves carry abundant reading material for kids and adults.  This is a perfect place to wind down in the cool while watching a movie or viewing a tennis match through the wall-to-wall windows that face the court.
Facing the ocean and flanked by the shimmering swimming pool, timber decking and gardens, the pool lounge and diningbale is furnished with a metres long solid timber table for 14, hand-rendered rattan chairs and polished concrete banquette seating littered with comfy cushions.  This space, which is sea-breeze- and fan-cooled, has its own fully functional kitchen with a built-in barbecue, induction cooker and cocktail bar.
Bedrooms
The villa has five ensuite bedrooms enveloped in air-conditioned comfort.  By virtue of their coveted views, the two Ocean suites in the main pavilion might be considered masters, but all five rooms are of a similar size and have flexibly configured beds offering both twin or king options, making the villa ideal for fair sharing.
For larger groups, the gym can be converted to a sixth bedroom with two pull-down beds plus two extra portable beds.  On the ground floor of the main building, next to the commercial kitchen, there's also a handy small extra bedroom fitted with bunk beds and adjoined by a shower room; suitable for a nanny or other additional staff.
Ocean Suites
Two mirror-image bedrooms lie at the top of the main building, with their own terraces and a refreshingly simple design. Wardrobes are walk-in and the bathtub is stand-alone and set in front of huge windows that maximise the views. The beds create a canopied boudoir. Music wafts from Bose ceiling speakers and the TV is neatly concealed behind sleek fitted units. A comfortable sitting area is furnished with a custom-made sofa and desk and every outlook is enhanced by the seductive seascape.
A second pair of Ocean Suites, beautiful in their balance and simplicity, occupy the upper floor of the adjacent two-storey building. Softly muted colours and canopied four-poster beds create a soothing space, and the neat lines of custom-designed units conceal hanging space, luggage storage, TV and sound system. A desk and lounge area underscores an apartment-like appeal. The open terrazzo bathrooms have softly curved walls and freestanding oval tubs as well as spacious shower stalls.
Courtyard Suite
Spilling out onto the green lawn, lotus ponds and family temple, this suite is tucked into a pretty garden and offers direct access to the gym and spa.  Although similar to the bedrooms above in most respects, this room also has a pull-down single bed in place of a desk making it ideal for families with a toddler, or for three older kids to share.
Services & Features
Villa manager
Private chef
Housekeeping
Security
Babysitters, personal trainers and masseuses on request (additional charge)
Pool 20 x 8 metres, salt filtration
Wifi internet access
Landline and mobile phone for local calls
Computer
Printer and fax
Satellite TVs DVD player
Surround-sound system
CD player
iPod dock
Private tennis court
Gym and personal trainer (on request)
Boxing gear
Golf clubs
Pilates and yoga (instructor on request)
Office for guest use
Barbecue
Back-up generator
Safety deposit box
The Locale
The Luxury Beach House looks down over beautiful, unspoiled Nelayan Beach, a strip of fisherman's huts, colourful fishing boats and a sacred temple, at the end of one of Canggu's most exclusive roads. Beach bums will adore the location, which offers everything from beers on the sands served from a coolbox, to groovy sunset sessions at the uber chilled Old's Mans beach bar. The famous Echo Beach – less than a ten-minute walk along the ocean's edge – has a great seafood barbecue and sunset surfing.  Seminyak with its fine dining, funky clubs and chic shopping is 20 minutes south. Head north and you will soon reach and the Greg Norman designed Nirwana Golf Club that over looks the important sea temple of Tanah Lot.
Distances
Echo Beach (along the sand): 0.50 km
Nirwana Bali Golf Club: 11 km
Seminyak: 11 km
Tanah Lot: 12 km
Kuta: 16 km
Denpasar Airport: 20 km
Ubud: 33 km
Read more
Rates
All Bedrooms | USD $2,600 per night - USD $4,000 per night +15.5% Tax
| | | | |
| --- | --- | --- | --- |
| Prime | Apr 1, 2023 - Apr 6, 2023 | USD $3,100 per night | 2 nights min |
| High | Apr 7, 2023 - Apr 10, 2023 | USD $3,500 per night | 4 nights min |
| Prime | Apr 11, 2023 - Apr 17, 2023 | USD $3,100 per night | 2 nights min |
| Low | Apr 18, 2023 - Apr 27, 2023 | USD $2,600 per night | 2 nights min |
| Prime | Apr 28, 2023 - May 1, 2023 | USD $3,100 per night | 2 nights min |
| Low | May 2, 2023 - Jun 8, 2023 | USD $2,600 per night | 2 nights min |
| Prime | Jun 9, 2023 - Jun 22, 2023 | USD $3,100 per night | 2 nights min |
| High | Jun 23, 2023 - Aug 26, 2023 | USD $3,500 per night | 4 nights min |
| Prime | Aug 27, 2023 - Oct 21, 2023 | USD $3,100 per night | 2 nights min |
| Low | Oct 22, 2023 - Dec 14, 2023 | USD $2,600 per night | 2 nights min |
| High | Dec 15, 2023 - Dec 25, 2023 | USD $3,500 per night | 4 nights min |
| Peak | Dec 26, 2023 - Jan 5, 2024 | USD $4,000 per night | 5 nights min |
| Low | Jan 6, 2024 - Feb 8, 2024 | USD $2,600 per night | 2 nights min |
| Prime | Jan 20, 2024 - Jan 29, 2024 | USD $3,100 per night | 2 nights min |
| Prime | Feb 9, 2024 - Feb 18, 2024 | USD $3,100 per night | 2 nights min |
| Low | Feb 19, 2024 - Mar 28, 2024 | USD $2,600 per night | 2 nights min |
| High | Mar 29, 2024 - Apr 13, 2024 | USD $3,500 per night | 4 nights min |
| Prime | Apr 14, 2024 - Apr 27, 2024 | USD $3,100 per night | 2 nights min |
| Low | Apr 28, 2024 - Jun 14, 2024 | USD $2,600 per night | 2 nights min |
| Prime | Jun 15, 2024 - Jun 28, 2024 | USD $3,100 per night | 2 nights min |
| High | Jun 29, 2024 - Aug 31, 2024 | USD $3,500 per night | 4 nights min |
| Prime | Sep 1, 2024 - Oct 26, 2024 | USD $3,100 per night | 2 nights min |
| Low | Oct 27, 2024 - Dec 13, 2024 | USD $2,600 per night | 2 nights min |
| High | Dec 14, 2024 - Dec 25, 2024 | USD $3,500 per night | 4 nights min |
| Peak | Dec 26, 2024 - Jan 5, 2025 | USD $4,000 per night | 5 nights min |
An additional tax of 15.5% will be applied.
Real Client Reviews
Just wanted to thank everyone for making our stay a memorable one.

The Team @ the villa is absolutely gorgeous! Ever smiling and very prompt.

Thank you for a smooth coordination . And for ensuring we had no disturbances from the construction right next door.
All the best everyone.

We will be back!
@Ika to be credited for a lot of this too :)
Booking/Inquiry
Canggu Villa 3572
Need help?
Contact us for personalized service and customer support.