Availability
Booking/Inquiry
Lombok Villa 3424
This villa is located in: Lombok, Bali
Click to see bigger map
Villa Amenities
Ocean Front
Ocean View
Pool
Air Conditioning
Maid Service
Personal Chef
WiFi
Tennis Court
Similar Villas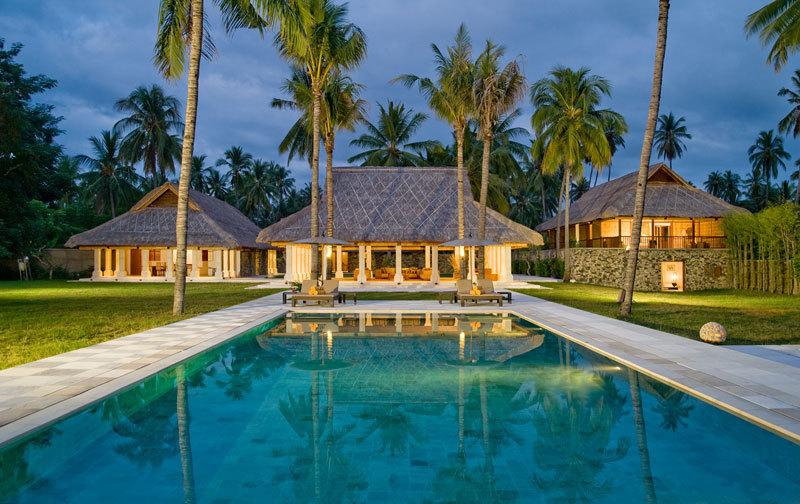 ---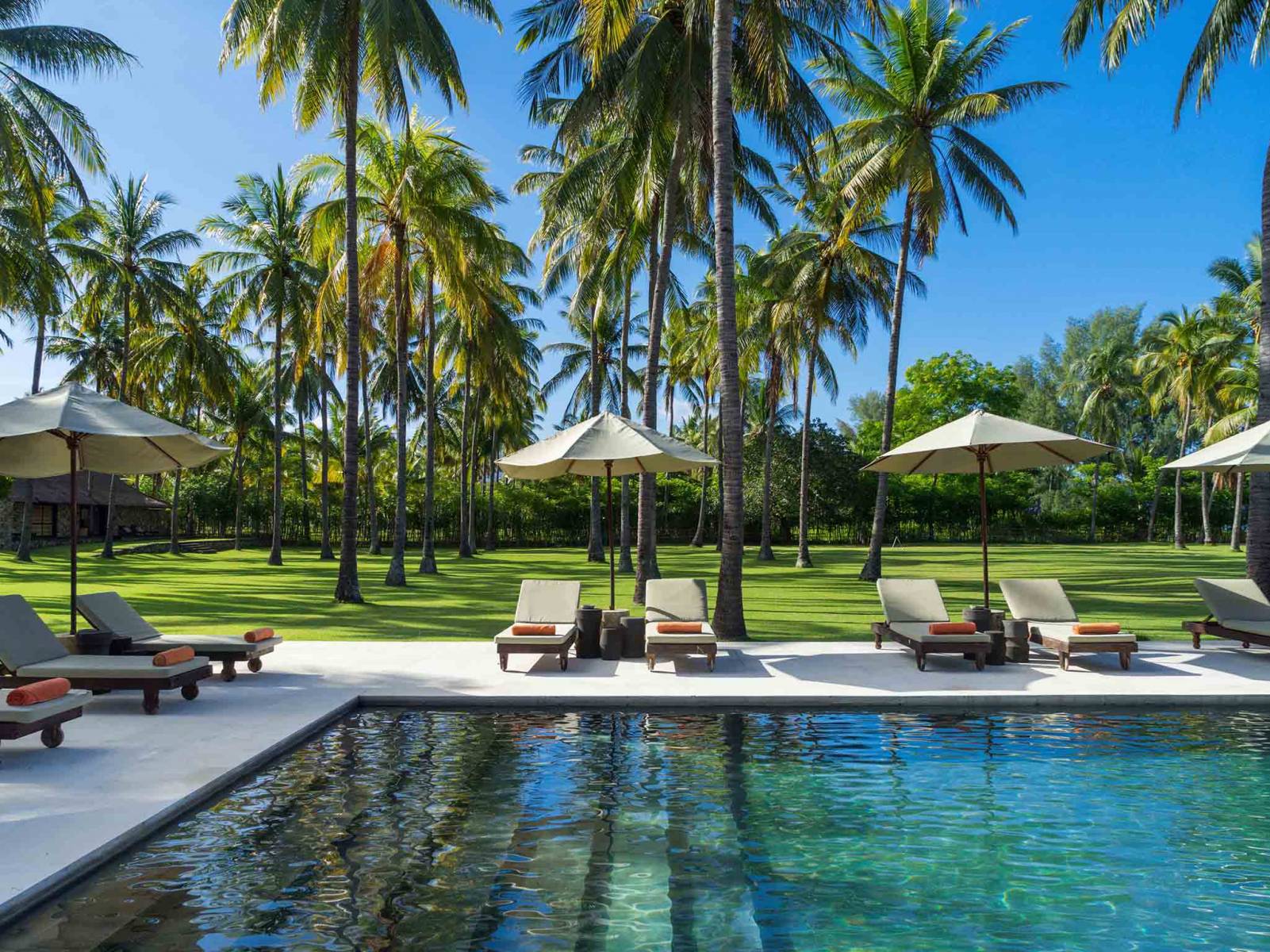 Villa Details
Six-bedroomed Villa 3424 is a masterpiece of design on the peaceful island of Lombok. Bordered by the almost deserted Sira Beach against a backdrop of soothing seas, soaring peaks and sensational sunsets, it presents funky architecture, three swimming pools plus a children's pool, a stand-alone two-bedroomed guesthouse, a tennis court, exemplary service and gourmet cuisine.
This is tropical living and barefoot luxury at its very best; a place where guests can truly escape. The villa is secluded and lusciously private but by no means isolated; prestigious neighbours include the Lombok Golf Kosaido Country Club, Hotel Tugu and The Oberoi, and the coral-fringed Gilli Islands, with their superb dive sites, are just a short boat ride away.
About The Villa
Canadian architect David Lombardi's concept of 'Function over Form' leaves this villa's guests with a sense of discovery and surprise at every turn, from the traditionally styled, grass-roofed building that houses the main kitchen to a futuristic home theatre. Furnishings carry a signature colour theme of black, red and lime green, while the walls are adorned with flair – bamboo, water cascades and conceptual artwork. The first clue to the quirky nature of the artwork is a white sculpture in the coconut grove garden which, in huge black letters, suggests that we should 'Stop Making Sense'.
The view from the villa's open-sided living and dining room, bedrooms and bathrooms is unrivalled; here guests can look forward to a vista that is ever-changing with the moods of the sea, sky, neighbouring islands, distant mountains, forests and colourful fishing boats. At night, after a magnificent sunset, the scene becomes even more magical as the moon's reflection twinkles on the water, presenting a picture of tranquillity and unforgettable beauty.
A full team of staff is on hand at Villa 3424 to look after every guest's need with superb cuisine and service. The villa's manager, chef and head butler were all previously employed by The Oberoi Hotel Group and have been trained to the highest level. A wide range of activities is available to guests at Villa 3424, including tennis on the villa's private court, golf, snorkelling, diving, waterfall hikes and mountain trekking, cycling, day trips to the nearby Gili Islands, cookery classes and more.
There is a sweet story behind the villa's name. The huge coconut grove on which the property stands used to be grazing land for cows, the most treasured possessions of Lombok farmers, symbolising status, wealth and happiness.

Living Areas
Indoor Living
The villa's living and dining areas lie below the soaring roof of an open-fronted pavilion. The sitting area is furnished with plentiful sofas and ottomans crafted in coconut shell veneer. In the dining area, an impressive wooden table eats 14. There's a second sitting area at the guesthouse, with six comfy chairs and a solid wood coffee table.
The villa's two kitchens are connected via a bridge over an ornamental pond. The guest kitchen, which is adjacent to the dining area, features a service bar crafted in resin and lit by three original 'Campari Light' suspension lamps, and is equipped with a Nespresso coffee maker and a five-burner gas hob and oven. Behind the guest kitchen is a state-of-the-art staff kitchen, fully equipped with professional appliances.
The air-conditioned oval study is characterised by curved walls of white stone and glass. With views out over the garden, this room is furnished with a centrally positioned desk and accessorised with funky lights and black & white framed photographs. Within the study is a concrete 'funnel' housing a shower room lit from above by a skylight. Wooden steps spirals around the outside wall of the shower room leading up to the rooftop. A king-size bed can be installed in the study to convert it into a sixth bedroom if required.
The extraordinary 'space-age' home theatre is wrapped in bamboo and appears to hover above the ground. With its sides of glass and heavy sliding door accessed via a solid stone step, this unique building features funky ceiling lamps and a polished concrete floor upon which ten bright beanbags are arranged for comfortable viewing. A large flat-screen satellite-channel TV and DVD player fitted with surround-sound is positioned at the far end of the room.
A thatched lumbung (traditional rice barn) featuring ornate carvings and wooden shutters and furnished with two massage beds serves as a fan-cooled spa room in the garden. A washroom is positioned next to the lumbung, its curved roof planted with grass and its rustic shower, crafted from bamboo, open to the sky.
Outdoor Living
The main swimming pool extends for 25 metres between the beach and the main house. It is deep enough to dive into and has a springboard for that purpose. Sunloungers rest upon the grassy deck and a modern flat-roofed balé (relaxation pavilion) sits at one end. Running alongside the main pool is a shallow (80cm-deep) children's pool. Two more swimming pools serve the guesthouse on two different levels, both of them are bordered by small timber decks.
Dotted with dozens of towering coconut palms, the garden fronts onto the beach and is so huge that guests will have no problem escaping to private areas. A wooden structure in one corner of the grounds serves as an elevated, sheltered platform for watching tennis on the adjacent, floodlit court.
Bedrooms
The villa rests within an expansive coconut-grove garden and comprises a main single-storey residence with a 25m swimming pool and a children's pool, plus a stand-alone guest pavilion with two more swimming pools, set well away from the main house. Also within the villa's grounds are a floodlit tennis court and a lumbung(traditional rice barn) massage pavilion.
The main building is entered via a timber pathway, lined with fire torches. This leads past a feature wall of bamboo and a cascading wall of water. Running parallel to the beachfront, the main building incorporates the living and dining areas, kitchens, three of the six bedrooms, the study and the home theatre.
The guest pavilion is built into a manmade hill capped with grass, and presents an open-sided sitting area and two bedrooms, one of which is semi-subterranean. Both bedrooms are complemented by a deck and a private swimming pool.
Quick Facts
Capacity: 12 adults (6 ensuite bedrooms with king-size beds). 2 more extra beds are available on request at additional cost.
Living Areas : Open-sided living and dining room with dining for 14; home theatre; open-air sitting room in guesthouse.
Pool : Main pool: 21m x 6m. 1.25m-3.85m depth (with diving board); Kid's pool: 20m x 4m x 1m; Secondary pools at guest house: 13m x 4m x 1.45m (upstairs) and 10m x 4.5m x 1.7m (downstairs).
Staff : Villa manager; butlers; chef; assistant chef; room boys; gardeners; security; maintenance.
Dining : Wide variety of gourmet Western and Asian dishes from the menu. The villa offers full-board meals at special rate.
Communication : Local/IDD telephone in main villa. WiFi broadband internet access.
Entertainment : Satellite-channel TV, DVD player and movies in home theatre; iPod docking stations in all bedrooms.
Events : Suitable for weddings and events up to a maximum of 40 people.
For families: The villa is especially well equipped for families with older children. Facilities include: books; board games; a floodlit tennis court; mountain bikes (4); kayaks (2); table tennis.
Transportation : Car and driver available for 8 hours at a special rate of USD35++/day (excludes petrol).
Additional facilities : Dedicated massage pavilion; full back-up electric generator.
Property Area : 2,500sqm.
The Locale
Villa 3424 is located at Sira (also spelt Sire), a spur of land bordered by a white ribbon of beach with magnificent coastline views. Just one kilometre from the villa is the Lombok Golf Kosaido Country Club, an 18-hole championship course, which is open to the public. 300m in the opposite direction is Hotel Tugu Lombok, a funky-fantastic, atmospheric living museum of extraordinary Indonesian antiques, with a restaurant and bar. Tanjung (4km) is an attractive Sasak market village with stalls overflowing with local produce; this is also home to The Oberoi Lombok Hotel, complete with a jetty – should you arrive by boat – and a gourmet restaurant.
Distances
Hotel Tugu Lombok: 0.50 km
Kosaido Country Golf & Club: 1 km
Oberoi Lombok Hotel: 4 km
Bangsal: 4 km
Tanjung: 4 km
Senggigi: 23 km
Mataram and Sekarbela: 31 km
Banyumulek: 40 km
Senaru, Rinjani National Park: 59 km
Lembar: 60 km
Sembalun: 77 km
Lombok Airport (Praya): 80 km
Read more
Rates
6 Bedrooms | USD $1,070 per night - USD $1,890 per night +15.5% Tax
| | | | |
| --- | --- | --- | --- |
| Low | Oct 22, 2023 - Dec 14, 2023 | USD $1,070 per night | 2 nights min |
| High | Dec 15, 2023 - Dec 25, 2023 | USD $1,680 per night | 4 nights min |
| Peak | Dec 26, 2023 - Jan 5, 2024 | USD $1,890 per night | 5 nights min |
| Low | Jan 6, 2024 - Feb 7, 2024 | USD $1,070 per night | 2 nights min |
| Prime | Feb 8, 2024 - Feb 17, 2024 | USD $1,280 per night | 3 nights min |
| Low | Feb 18, 2024 - Mar 28, 2024 | USD $1,070 per night | 2 nights min |
| High | Mar 29, 2024 - Apr 13, 2024 | USD $1,680 per night | 4 nights min |
| Prime | Apr 14, 2024 - Apr 27, 2024 | USD $1,280 per night | 3 nights min |
| Low | Apr 28, 2024 - Jun 14, 2024 | USD $1,070 per night | 2 nights min |
| Prime | Jun 15, 2024 - Jun 28, 2024 | USD $1,280 per night | 3 nights min |
| High | Jun 29, 2024 - Aug 31, 2024 | USD $1,680 per night | 4 nights min |
| Prime | Sep 1, 2024 - Oct 26, 2024 | USD $1,280 per night | 3 nights min |
| Low | Oct 27, 2024 - Dec 13, 2024 | USD $1,070 per night | 2 nights min |
| High | Dec 14, 2024 - Dec 25, 2024 | USD $1,680 per night | 4 nights min |
| Peak | Dec 26, 2024 - Jan 5, 2025 | USD $1,890 per night | 5 nights min |
An additional tax of 15.5% will be applied.
Booking/Inquiry
Lombok Villa 3424
Need help?
Contact us for personalized service and customer support.