Availability
Booking/Inquiry
Sanur Villa 3110
This villa is located in: Sanur, Bali
Click to see bigger map
Villa Amenities
Ocean Front
Ocean View
Pool
Air Conditioning
Maid Service
Personal Chef
WiFi
Similar Villas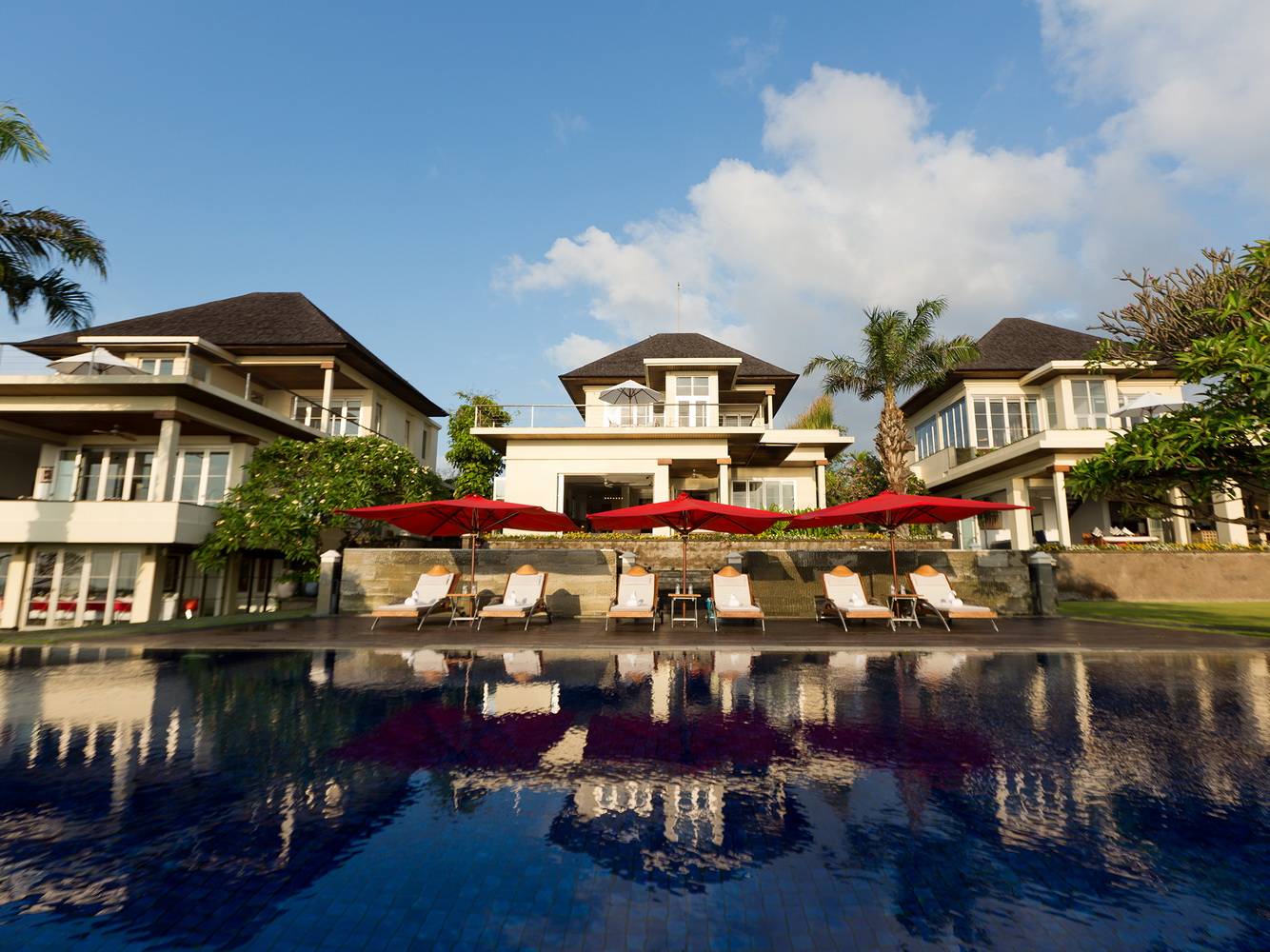 Villa Details
Nestled between coconut trees and the deserted Indian Ocean beach, Villa Ylang Ylang is the star of the show, an outstanding six-bedroom destination villa. Hidden within a culturally-drenched village along Bali's south east coast, this contemporary-Asian residence oozes luxury and glamour, with interiors revealing exquisite tastes and sophisticated facilities for discerning guests, including a15-metre pool, gym and home-theatre. The secluded beachfront setting overlooking the Badung Strait, together with the villa's suitability for yoga, spa and indulgent relaxation, further contribute to a retreat of absolute calm and well-being, adhering to the villa's lifestyle concept of 'passionate serenity'.
About The Villa
Approached through Saba village, with its idyllic scenery of verdant rice fields and coconut groves, this beachfront property resting on landscaped gardens and facing the Indian Ocean's crashing surf is a spectacular sight. Contemporary Asian in design and lavishly appointed, the architectural grandeur of this six-bedroom property emphasises majestic dimensions to create an atmosphere of serenity and refinement.
At the villa, the pursuit of relaxation is amply catered for with a gym and infrared sauna, a top-notch theatre room and a series of intimate, luxurious outdoor spaces, while epicurean pursuits are more than satisfied by the kitchen, which produces fine dining par excellence.
Built in 2002 and lovingly designed and furnished by its owner, the villa hints of Versace and European sophistication: an elegant black and gold theme permeates throughout, while furnishings are fashioned from the finest imported fabrics. Food is served on gold plates, pool towels are by Chanel and several precious glass sculptures by the celebrated Japanese Artist Seiki ornament the villa. Guests have included international celebrities and royalty, discreetly served by the experienced yet charming villa staff.
The villa, however, is much, much more than a luxury beachside residence. The villa is named after the fragrant Ylang Ylang flower, renowned for bringing harmony, peace, warmth and passion, and its mantra is 'passionate serenity', which is exactly what you will find here. Radiating a positive and rejuvenating energy, the villa's wildly beautiful beachside setting is therapeutic in itself, but add the yoga and spa treatments, health-conscious food and calming chill-out zones and you have a magical retreat. Secluded and peaceful, you may not want to leave this destination villa, but should you venture out you are within easy driving distance of many of Bali's tourist attractions and natural splendours.
Living Areas
Indoor Living
The heart of the villa, the main pavilion stands two storey's tall, an impressive building with an 11-metre-high atrium, symmetrically balanced with cream-hued colonnades supporting a soaring, vaulted ceiling. The pavilion looks out across the gardens and pool to the beach
Mainly open-sided (protected by a combination of floor-to-ceiling wood doors, flowing silk curtains and lengthy bamboo blinds), the pavilion is cooled by refreshing sea breezes and ceiling fans. The living area is furnished with large floor cushions, a deep daybed draped in organza silk and flanking comfy sofas, all featuring rich designer fabrics and signature golden and black theme.
At the far end, under a low-ceiling, the formal dining area is dominated by a lacquered wood table accommodating 12 to 14 diners on incredibly comfortable cushioned chairs.  As a backdrop to the dining table is a striking glass sculpture and wall-panel of gold-painted mirrored tiles. Separate, and behind closed doors, lies the fully-equipped kitchen.
At the opposite end of the living–dining area, black sliding doors reveal an air-conditioned theatre room– so called as satellite TV channels and DVDs are projected onto an extensive wall screen. Facing the screen, a black sofa bed is massive enough for the entire family to laze upon, enjoying the hundreds of DVDs available or top-of-the-range surround-sound music system. This cozy room also doubles as a study, with well-stocked library, computer with broadband internet and printer provided for guest use.
Two black lacquered staircases at opposite ends of the living pavilion ground-floor lead up to a black timbered gallery. Mezzanine-style, this open-sided, space looks inwards over the living-dining area. Sunlit and airy, it contains two intimate dining tables and centrally-positioned balcony encased by folding glass doors. This intimate lounging area with gigantic daybed reveals fabulous ocean views and comes flanked on opposite ends by a rooftop deck scattered with floor cushions – perfect for yoga or nighttime star gazing – and rooftop massage deck with two massage beds provided for spa treatments.
Outdoor Living
From the main pavilion, the 15-metre pool is the central point of landscaped seaside gardens, bounded by swaying coconut palms. Adorned with ornamental water fountains, the salt water pool is surrounded by a stone deck, supplying multi-functional sun beds fashioned from weatherproof rattan and cushioned with black mattresses and silk cushions.
From here, manicured lawns stretch down to a tidal river, glistening black sands and crashing surf; at the gardens' end beside the river is a timbered sundeck, complete with sun-loungers with fabulous unobstructed views across the beach.
Lawns are dotted with Indonesian modern art sculptures mounted on stone and sweet-scented, frangipani trees. At each side, overlooking the beach, is a black, contemporary-take on the traditional balé pavilion: one, designed for romantic dining and sun-filled lunches and the other, for relaxation and massage. These contrast with two miniscule Hindu shrines nearby.  There's also an oversized black sunbed with concertina-style cover and opposite, a small, glass-fronted gym containing a four-person, wooden infrared sauna.
Bedrooms
Junior Rooms
Accessed through internal sliding doors from each of the Queen Rooms are adjoining Junior Rooms, each furnished with twin beds – one with canopied, mosquito nets – making them very suitable for children (these rooms are ideally positioned nearest to the living pavilion, so parental surveillance is easy in the evenings). Ensuites with showers are attached to both Junior Rooms.
Interiors in all four rooms follow the style of the master suites and all bathrooms are delightfully sunny, courtesy of a conservatory-style, sloping glass roof decorated with rattan. Outside, intimate patios are edged with white pebbles, black tiles and tropical foliage; ornamented by glass standing candle-holders and furnished with a single, black reclining lounger.
King Bedrooms
Furthest away from the main pavilion and closest to the beach, the two luxurious master suites face each other across the pool. Similar in style, both come furnished with a king-size, contemporary, four-poster bed, vanity area and silk upholstered couch. Their lavish bathrooms feature generous-sized sunken bathtubs, room-size walk-in rain shower, his n' hers washbasins and, beyond, a small courtyard with modern glass sculptures contrasting with traditional-style Balinese water statue and pool. At the opposite end, a terraced area features comfy cushioned outdoor furniture (with encircling silk drapes for privacy) and a relaxing private plunge pool, looking out over the sea.
Both master suites are additionally equipped with a satellite TV and DVD player.
Queen Rooms
Next to the master suites are two Queen Rooms featuring queen-size four-poster beds . Wood and glass sliding doors lead to chic ensuite bathrooms with mini-sunken baths that double as showers (massage and traditional Balinese style).
Services & Features
Full-time manager
Senior housekeeper-butler
Maintenance man-butler
Chef
Kitchen assistant
Junior housekeeper
Gardener
Security guards
Wifi internet access
Computer and printer
Local calls
IDD calls on request
Satellite TVs
DVD players
DVD library
CD players
iPod dock
Board games
Book library
Infrared sauna
Gym
Yoga mats
Massage beds
Barbecue
Baby cot
Inflatable pool toys
High chair
Mini safes
Wine cooler
Coffee machines
The Locale
The villa rests in the quiet coastal village of Saba, in an area collectively known as Ketewel, within Bali's eastern Gianyar Regency.
This eastern coastal region is an exceptionally wonderful part of the island  – naturally beautiful, amazingly unspoilt and packed with cultural and scenic attractions.
Saba is the quintessianal Balinese village, distinctive with its stretches of emerald rice fields and coconut groves, dotted with a harmonious mix of unobtrusive foreign residences and local dwellings.
The villa's gardens stretch down to Saba Beach, with a reminder Bali is a volcanic island, as its sands are shimmering black. The deserted stretch of beach offers unobstructed panoramas with stunning views across the Badung Strait and Nusa Penida, opposite, one of Bali's smaller sister islands. And on a clear day, the silhouette of towering volcano, Mount Agung, is visible in the distance.  Sunrises are a spectacular treat here, especially over Nusa Penida's limestone cliffs.  
[It's worth noting that as Bali is also still a developing country, the beach is sometimes at the mercy of external influences and people's disregard for the environment.]
A tidal river flows between the beach and villa; Peanut River alters its course with every changing season, so access to the beach requires crossing the river half of the year by way of a small boat provided by the villa.
With strong currents directly in front, it's safer to swim in a protected bay area just five minutes westwards (or head south to the calm waters of nearby Sanur).
The offshore reef here is renowned for its surf breaks, and there's excellent surfing to be had ten minutes in either direction of the villa: nearby Mascheti Beach has world-class surf breaks and hosts international surfing tournaments.
Saba is famous for its traditional Gamalan music, producing some of the finest Legong dancers on the island; private performances at the villa by young traditional dancing girls can be arranged. Balinese Hindu purification ceremonies are held beside the sea at nearby sacred Pura Segara sea temple; the main temple stands at the entrance to the road leading to Villa Ylang Ylang, where prayer blessings are performed daily.
Distances
Saba Bay Stables: 1.50 km
Bali Safari and Marine Park: 5 km
Surfing (Cucukan): 5 km
Sukawati: 6 km
Mas Craft Village: 12 km
Sanur: 15 km
Ubud: 16 km
Denpasar Airport: 29 km
Read more
Rates
6 Bedrooms | USD $720 per night - USD $1,240 per night +15.5% Tax
| | | | |
| --- | --- | --- | --- |
| High | Jun 21, 2019 - Aug 24, 2019 | USD $960 per night | 5 nights min |
| Prime | Aug 25, 2019 - Oct 19, 2019 | USD $840 per night | 3 nights min |
| Low | Oct 20, 2019 - Dec 14, 2019 | USD $720 per night | 2 nights min |
| High | Dec 15, 2019 - Dec 25, 2019 | USD $960 per night | 5 nights min |
| Peak | Dec 26, 2019 - Jan 4, 2020 | USD $1,240 per night | 7 nights min |
| Low | Jan 5, 2020 - Jan 23, 2020 | USD $720 per night | 2 nights min |
| High | Jan 24, 2020 - Feb 2, 2020 | USD $960 per night | 5 nights min |
| Low | Feb 3, 2020 - Mar 26, 2020 | USD $720 per night | 2 nights min |
| Prime | Mar 29, 2020 - Apr 16, 2020 | USD $840 per night | 3 nights min |
| High | Apr 17, 2020 - Apr 22, 2020 | USD $960 per night | 5 nights min |
| Low | Apr 23, 2020 - Jun 6, 2020 | USD $720 per night | 2 nights min |
| Prime | Jun 7, 2020 - Jun 20, 2020 | USD $840 per night | 3 nights min |
An additional tax of 15.5% will be applied.
Booking/Inquiry
Sanur Villa 3110
Need help?
Contact us for personalized service and customer support.