Availability
Booking/Inquiry
Sanur Villa 3241
This villa is located in: Sanur, Bali
Click to see bigger map
Villa Amenities
Pool
Air Conditioning
Maid Service
Personal Chef
WiFi
Daily Breakfast
Similar Villas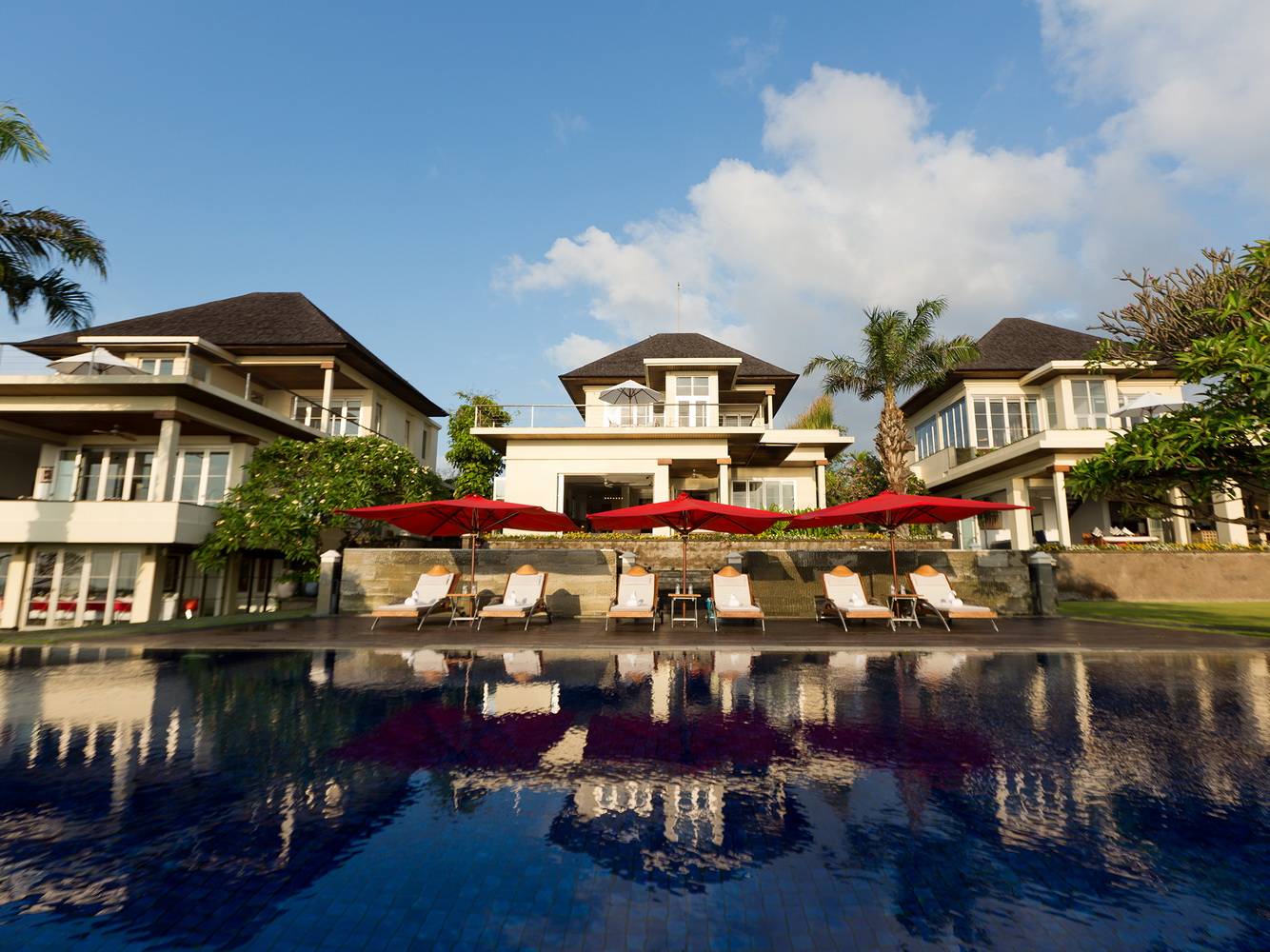 Villa Details
THE CONCEPT
A VILLA NESTLED IN A TROPICAL GARDEN: A SUBTLE BLEND OF LUXURY AND COSY ATMOSPHERE
Villa 3241 is an intimate and luxury villa located in the heart of Sanur, beachside in a quiet and genuine residential area, a few-minute walk away from shops, restaurants and beaches.
In accordance with our wishes the villa spirit is in line with boutique hotels:  a limited number of rooms with refined and decoration, a personal service and attention paid to the finest details all in a sustainable way, and an immediate homely feeling!
​
The butlers take care of the guests during their stay and will be honored to welcome you in one of this charming villa six suites, inviting you to a sensual journey. High end bedding and air conditioning, both silent and efficient, will ensure a restful sleep. Served on your private terrace, breakfast and meals are prepared with special care: all the dishes are made from fresh and/or organic ingredients cooked on our premises in slow food and
Locavore philosophy.
Surrounded by a tropical garden, you will relax by the magnificent 17m long infinity pool. You may even give yourself over to the expert hands of a professional therapist in the spa.
The villa is a delicate and discreet gem that will welcome you in a friendly and cosy atmosphere. The setting and staff will strive to give you a sense of well-being and instantly make you feel at home. More than a villa, offers a unique experience and the best opportunity to discover the magic of Bali.
THE ROOMS
All suites have a refined and luxury design: Each created on a different theme with high-end and/or recycled local materials. Special attention has been paid to comfort with high quality bedding, quiet and efficient AC, a range of natural products.
​​
A 450m2 building area nested in a tropical garden allows you to enjoy 17 meters swimming pool while enjoying privacy and tranquility. It's composed of 7 rooms with 7 bathrooms and private lounges as well as a large open dining room.
Rooms from 16 to 18m2 with king-sized bed and latex mattress for more comfort. Shower rooms of 10 to 18m2 closed and vegetated with shower-sky and marble basins. 5 Terraces of 20m2 and large lounge dining room of 75m2
Huge swimming pool of 17X3, 5m. Private SPA
Total 450m2/6 private terraces with pool view/breakfast included/7 King sized bed with mattress/7 LED cable TV/Wifi offered/7 safes/Bikes According to availability/7 tea and coffee trays/7 hairdryer/Kimono/7 Minibar/piscine17X3,5m
COMPLIMENTARY
• A complete staff to answer your needs and help you to organize your holidays: concierges/butlers, therapist, cooker, private drivers...
• An intimate place with a gorgeous tropical decoration and modern comfort: a high-end bedding @Therapic, efficient and quiet AC
• A natural body care line parabens and sulfates free specially created for the villa
• Complimentary tea&coffee set / drinkable water in jar
• Kimonos / hairdryer
• Cable TV 32" / WIFI / Safety box
​
• A tasty&healthy homemade breakfast with local or organic products, served on private terrace
• Daily tea-time with homemade pastries
• Bikes available for free to discover Sanur.
WITH EXTRA CHARGE
• Spa
• Private driver
• Laundry
• Lunch & dinner / minibar
THE EXPERIENCES
THE CONCIERGERIE/BUTLERS/ A personalized service
The concierge staff as well as the owners ensure the well-being of the guests. They are available until evening to make your stay as comfortable as possible. They also meet your needs so you can fully enjoy your stay: advices, organization of tours, reservation of restaurants and other services...
THE SPA*
You may even give yourself over to the expert hands of a professional therapist. The villa's Spa offers a choice of body, facials treatment and massages based on natural ingredients.
FOOD&BEVERAGES
A special attention is paid to quality of the kitchen served at the villa.  All dishes are prepared and processed on site from fresh and/or organic products in slow food philosophy. The kitchen staff was trained in French cuisine and pastries.
​
THE BREAKFAST
There are 5 kinds of breakfast are served (French, Continental, Indonesian, vegetarian, gluten free) on private terraces. For coffee lovers, our roaster has composed a subtle blend of Indonesian arabica and robusta. Espresso, latte, cappuccino are included in the breakfast...  also offers a selection of fine TWG teas.
Breakfast is served from 7am to 11am (take away box for morning departures is possible).
​
LUNCH AND DINNER*
Villa menu is offering dishes with Mediterranean and Indonesian influence. The dessert menu is a selection of French pastries.
THE TRANSPORTS
Free bicycles, privates drivers*, booking for boats*... You just have to ask to our butlers!
Private drivers* team allows you to discover the most beautiful places in Bali. The tours are tailor-arranged in coordination with the concierge staff.
THE LAUNDRY*
*extra charge
THE LOCATION
The  villa is set in Sanur, a beachside hotel located on the southeast coast of Bali, 25mn from the airport.
It is located in a pleasant and quiet area, beach side, a quarter of a mile from the sea and a five-minute walk from the shops and restaurants of the town centre. The neighbourhood is a mix of guesthouses, private residences and houses inhabited by local Balinese(s) and the guests will have the opportunity to have a direct experience of the genuine Balinese lifestyle rhythmed by its daily ceremonies.
Sanur is an authentic Balinese town where you get to meet local people practicing their religion on a daily basis. Its perfect situation makes it the ideal base from where to reach most of the island's landmarks during the day while enjoying a relaxing evening back at the hotel. It offers a full range of sporting activities such as scuba-diving, kite-surfing, golfing...It is also the starting point for boats and diving club sailing to the neighbouring islands (Nusa Lembongan, Nusa Penida, Lombok, the Gilli Islands).
Read more
Booking/Inquiry
Sanur Villa 3241
Need help?
Contact us for personalized service and customer support.