Availability
Booking/Inquiry
Sanur Villa 3528
This villa is located in: Sanur, Bali
Click to see bigger map
Villa Amenities
Ocean Front
Ocean View
Pool
Air Conditioning
Maid Service
Personal Chef
WiFi
Daily Breakfast
Car & Driver
Similar Villas
---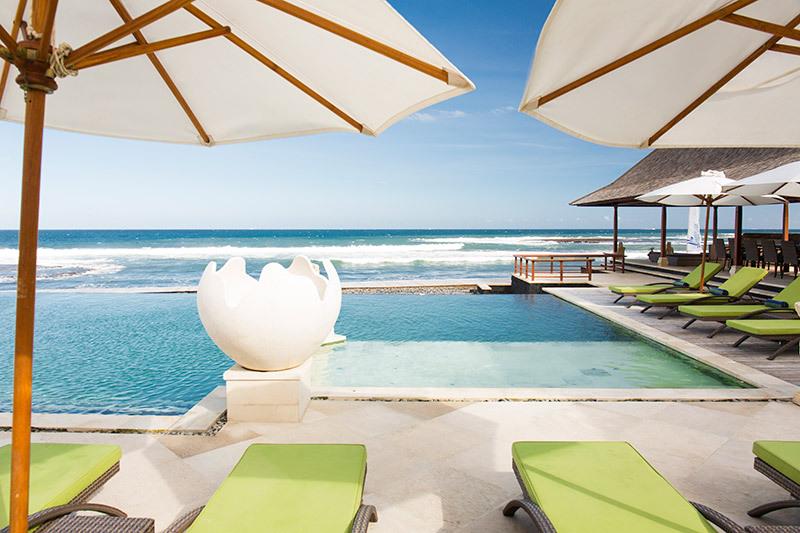 ---
Villa Details
Luxuries colonial style residence. Ocean view master bedroom + 5 garden view bedrooms, each with its own en-suite. Large beach side swimming pool with Jacuzzi area and wooden deck with umbrellas, sun beds, pool side bale gazebo and breakfast / dining terrace. Roof top antique style bale with bar and TV area. State of the art kitchen led by professional chef. Media room with extensive DVD library (more than 2.000 titles) and pool table. Very well maintained garden with koi ponds and water features. Kid's playground. Separate antique Joglo style private SPA pavilion. Wireless Internet. Car with driver.
Bali's most magical and private haven Villa 3528 is nestled absolute beachfront on the eastern coast of the Island of the Gods. Let the fresh gentle breezes that skim the Indian Ocean wash over you and rejuvenate your entire body and soul as you immerse yourself in the exotic and unique luxury that is Villa 3528.
With 20 full time staff to cater to your every whim, and a fully operational SPA in exquisite gardens available for in-house guests only, Puri Nirwana is the perfect retreat for those seeking luxurious and private relaxation amidst Bali's breathtaking surroundings.
Create unforgettable and beautiful memories with your selected family and friends away from the tourism throngs and let us add that special Balinese magic as we take care of every detail. Villa 3528 is a private plantation style mansion enjoying absolute beach front in Cucukan, a small fishing village across the road from the Bali Safari & Marine Park. The main house is over 1200m2 with the spa and outbuildings adding another 500 m2. The property is surrounded by 5000m² of manicured gardens and lawns with several water features including a reflection pond. Building layout has large entertaining areas, generous bedrooms, magnificent bathrooms, a vogue style Chefs' kitchen, a banquet size dining room (seats 24), sitting rooms, meet & greet areas.
Accommodation
Villa 3528 can accommodate up to fourteen adults and eight children, with master bedroom in the main building, large private en-suites, and all with stunning garden or ocean outlook. The villa has been built to make the most of the cross ocean breezes and its spacious layout mean you may not come across another person for days. Bedroom wing bathrooms are a large six meters * three meters size, with ease of access for in-room SPA treatments.
The Master Suite of Villa 3528 is the luxurious enormous suite on the ground floor with a massive bathroom which includes a separate SPA area, overlooking the magnificent lawn, swimming pool and ocean. Large louver doors can be open to allow the cool ocean breezes to wash over you as you relax, or sit in air conditioned comfort at your pleasure.
The bedroom wing is finished with marble inlaid floors, and imported stone from India and The Ukraine.
Facilities
Villa 3528 evokes calm and rejuvenation amidst an exotic and tranquil garden, trickling water features and fresh sea air. Each individual area has been designed to incorporate the beautiful grounds and ocean that surround it, bringing the outside indoors and fully complementing the combination of luxury, privacy and peace that the villa represents.
The formal entrance to the villa is lined with display cabinets filled with a collection of interesting curios and unique artwork. From the entrance guests proceed to the sitting room where they can chill and relax in comfortable lounges with floor to ceiling sliding doors opening onto the patio, manicured lawn, swimming pool and beach beyond. The breeze will flow through to the windows overlooking the orchids greenery and trickling water feature.
Adjacent to sitting room lays formal dining room with the stunning solid wood dining table that seats 24 with the room opening up to the patio, manicured lawn, pool and ocean. Next is the entertainment room that offers a spacious gaming area with full sized billiard table, massive flat screen LED television, extensive collection of DVDs and book library to entertain the child in all of us.
French doors of the games room lead to a culinary aficionado's dream, the kitchen. It is fully equipped with the latest in dual gas ovens, hot plates, glass store room, room length exhaust system and twin state of the art refrigerators. Cook up a storm or allow us to offer you a selection of local chef's on the island, depending on your taste and craving.
Perfectly situated in corners of the garden and villa are private getaway lounges where you can spend some quality time with that special person: yourself.
There is a plenty of space in 5.000 m2 garden that surrounds the main building. Outdoor facilities include dedicated children activity area and two of fish ponds with exotic Koi fish, Catfish and tortoises. The beautiful Buddha overlooks the Reflection Pool while the trickling flow of the water feature gives you a perfect focus for meditation and relaxation. Melt into the cushioned chaise lounge in the poolside Bale, read a book or be hypnotized by the ocean, or have evening cocktails or dinner at the table that seats ten under the vine covered trellis, and the Bali night sky. Manicured lawns lead to the 16 * 5 meters beachside swimming pool and adjoining Jacuzzi. Float in the pool while watching the wave's crash on the sand, or simply lie on the outdoor sun beds or bean bags and read your favorite book in the shade of staring into the sky coconut trees.
Located amidst the tropical gardens, there is a 200 year old Javanese house with original, intricately carved wooden walls and ceiling is a spectacular setting for your own personal heavenly SPA treatments. Up to four full time therapists, fully trained and accredited, are on standby up to twelve hours per day to pamper and soothe your body, while you're spirit drifts away in bliss.
Providing Villa 3528 guests with the best care and service takes well trained staff. Our warm and friendly staff live on-site with their separate personal quarters located at the rear of the property. Separate street entry parking for a total of eight cars is available as well.
Location
Villa 3528 is located on the East coast of Bali away from the maddening tourist crowds within Cucukan Village in the Gianyar District. Experience the real Bali as you stroll the beach steps away from the villa's lush lawn, and mingle with the local villagers as they go about their day to day lives.
Be welcomed by locals to authentic Balinese life in the surrounding 24 house family village and see them working in the nearby rice paddies, tending to their cattle and ducks or creating magnificent glass art in a fully operational glass factory. Witness the beauty of local rituals and traditions as these gentle Hindus worship in one of the nine largest temples (Pura) in Bali all close to the Villa.
The fishermen from the nearby fishing village usually bring the freshest seafood direct from the ocean to the villa entrance and you can place a special request for them to bring many of lobsters for the next day poolside BBQ party.
Cucukan Village is home to around 200 local Balinese who have lived for hundreds of years within the area, with not a great deal changing over the years. Its secluded proximity to the rest of the island has provided an opportunity for this tiny village to achieve its own special identity. These gentle Balinese farmers, who tend their rice paddies, geese, ducks and pigs, are also expert fishermen who launch in the early hours bringing back an array of fresh lobster and delectable seafood each day.
With nine major temples in the area guests can immerse themselves in the beauty of Balinese traditions and rituals, and a traditional dinner with village heads (Banjar) can also be arranged.
The magical black sand beach serves as a dramatic backdrop to village life, and is home to ex Indonesian President Megawatti. Witness the most breathtaking sunrises as the day begins with rays illuminating the ocean horizon. A favorite with internationally titled surfers the nearby Keramas beach is also frequented by locals collecting the dazzling stones and shells that wash up on shore.
Visit the centre of a Japanese artist who specializes in the art of glass blowing, and hear traditional music accompanied by local Balinese dance, or join in with Sunday beach volley ball or soccer.
Only twenty minutes drive to the nearby hills is the cultural artistic centre of Bali: Ubud. Across the road from the village is the Bali Safari & Marine Park, a beautiful journey into the wild kingdom in a jungle like environment, with important ecological messages combined with old Balinese stories. Bali Zoo and the two Elephant Safari Parks are a short drive away. If adrenalin is your master then you'll love white water rafting or the off road quad bike tours. Mount Agung, an active volcano that towers over the Island of the Gods and visible from the villa, is accessible by car, and tours to witness the first touching of the sun on the island from the peak, can be arranged.
The stunning Water Palace at Tirta Gangga is a must see. Surrounded by statues and pools, it's a true Balinese way to cool off built by the local raja in 1946 and believed to contain water from the sacred Hindu Ganges River.
Just 15 minutes away is the legendary Sukawati Market where the locals shop. A vast array of woven baskets, ceremonial items, paintings, hand painted cloth and wood carvings will keep you busy as you bargain with the locals and find your own personal keepsake to treasure.
Rates inclusive of:
up to 14 people accommodation in 6 air conditioned suites and there is additional bed in naturally ventilated 1st floor bale with separate shower & toilet room where another 2 people can sleep without air con
welcome drinks, fruits and chilled towels
full staff: villa manager & villa supervisor; villa attendants & housekeepers; team of gardeners; 24/7 security service; dedicated professional chef; up to four SPA therapists (depends on guests request). Most of staff live in property premises and available at any time (gratuities and tips from guests are welcome)
daily selection of Breakfasts for 2 (two) persons per room (menu of breakfasts available at the villa)
1 daily car 7 seater (for 8 consecutive hours) with English speaking driver (Excluding Petrol)
wireless Internet connection is available free of charge
exclusive SPA usage: guests pay only 10% service charge and thereafter 10% government tax from the nominal price of the SPA treatments. 2 SPA therapists will be available at the villa every day exclude Sunday since 9am till maximum 7pm. If guests will book the villa for minimum period 3 days, both therapists will be available every day, if 5 or 7 days, therapists will have one day off at the discretion of the Guests
satellite TV channels available in both TV areas
in-house Laundry (non dry cleaning) = washing machine use + staff will dry and iron guests's clothes
experienced cook. Meal type: the Guests will pay for the Groceries by the bill with 25% service and delivery surcharge, extensive Menu available at the villa. Every private request can be negotiable with the Chef. Staff sometimes need a time to go for shopping and prior order appreciated. Villagers usually bring fresh fish & seafood to the villa in the morning and guests can choose whatever they want to purchase and how they would like it to be cooked.
Extra charges:
accommodation of more than 14 person in extra beds
21% tax & service charge from the nominal cost of SPA treatments
private yoga & meditation classes
baby sitter
guided trips, excursions and admission tickets
extra car with driver
dry cleaning or professional outsourcing laundry
gratuities for staff members welcome (100,000-200.000 IDR / week / person suggested)
VIP airport arrival service (fast track or VIP-lounge)
all events or parties with more than 20 participants should be approved in advance by the villa management and stipulated local village council fee will be applied
Read more
Rates
6 Bedrooms (Incl. Master Bedroom) | USD $1,190 per night - USD $1,790 per night +15.5% Tax
| | | | |
| --- | --- | --- | --- |
| Prime | Jun 7, 2019 - Jun 20, 2019 | USD $1,360 per night | 3 nights min |
| High | Jun 21, 2019 - Aug 24, 2019 | USD $1,530 per night | 5 nights min |
| Prime | Aug 25, 2019 - Oct 19, 2019 | USD $1,360 per night | 3 nights min |
| Low | Oct 20, 2019 - Dec 14, 2019 | USD $1,190 per night | 2 nights min |
| High | Dec 15, 2019 - Dec 25, 2019 | USD $1,530 per night | 5 nights min |
| Peak | Dec 26, 2019 - Jan 4, 2020 | USD $1,790 per night | 7 nights min |
| Low | Jan 5, 2020 - Jan 23, 2020 | USD $1,190 per night | 2 nights min |
| High | Jan 24, 2020 - Feb 2, 2020 | USD $1,530 per night | 5 nights min |
| Low | Feb 3, 2020 - Mar 26, 2020 | USD $1,190 per night | 2 nights min |
| Prime | Mar 29, 2020 - Apr 16, 2020 | USD $1,360 per night | 3 nights min |
| High | Apr 17, 2020 - Apr 22, 2020 | USD $1,530 per night | 5 nights min |
| Low | Apr 23, 2020 - Jun 6, 2020 | USD $1,190 per night | 2 nights min |
An additional tax of 15.5% will be applied.
Booking/Inquiry
Sanur Villa 3528
Need help?
Contact us for personalized service and customer support.