Availability
Booking/Inquiry
Seminyak Villa 3248
This villa is located in: Seminyak, Bali
Click to see bigger map
Villa Amenities
Ocean Front
Ocean View
Pool
Air Conditioning
Maid Service
Personal Chef
WiFi
Similar Villas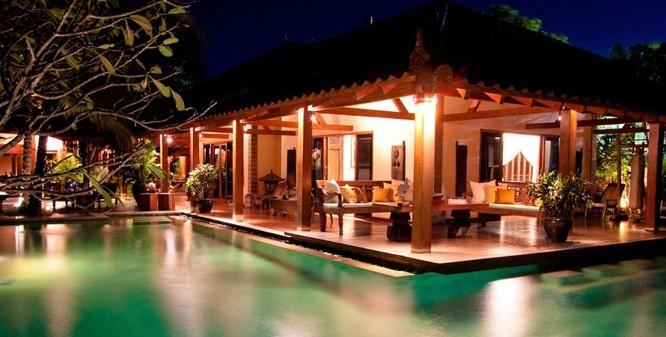 ---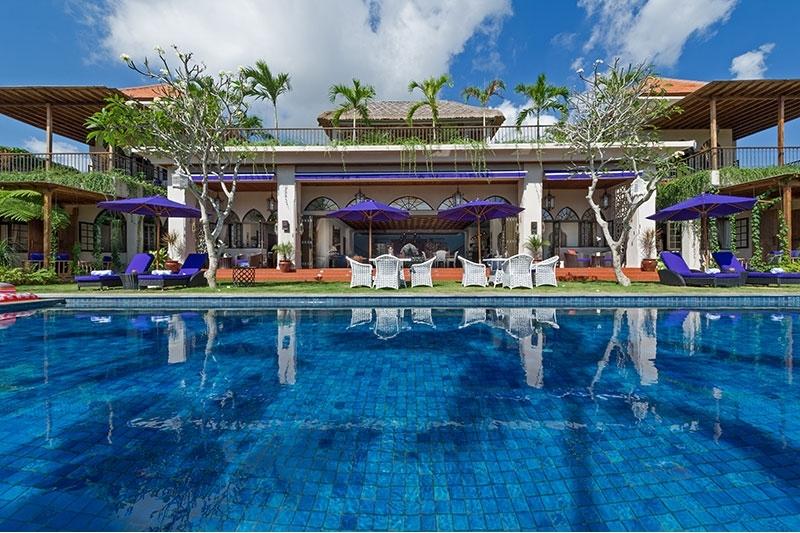 ---
Villa Details
Set right on the sands of Balubelig Beach, just to the north of Seminyak, the Luxury Villa rubs shoulders with some of Bali's most glittering venues, including the super-cool and trendy W Retreat & Spa.
This beautifully designed, five-bedroom luxury holiday villa enjoys 180-degree sunset and ocean views from two furnished upper-floor sun decks and a 12–metre swimming pool set in a private tropical walled garden. A dedicated staff team, including a manager and chef, will take care of every need. Contemporary in style, and ornamented with elegant Balinese touches, the villa is designed for supreme holiday comfort and relaxation.
About The Villa
The villa is a five-bedroom, fully staffed, oceanfront paradise on Bali's Batubelig Beach. This luxurious and elegant home provides everything you need for holiday fun, total relaxation and gastronomic pleasure, all presented with wonderful Balinese hospitality that will bring your holiday experience to life.
Indoors, sink into the huge soft sofa in the living room for a quiet read, catch a movie in the TV lounge, or enjoy a gourmet meal at the 12-seater dining table.  Outdoors, a tropical garden and 12-metre pool provide the perfect backdrop to sun-filled days, as do two rooftop terraces overlooking the ocean, where sunsets and cocktails take on a whole new dimension. All five bedrooms are super-spacious and comfortable, each with a romantic canopied king-size bed, dressing area and ensuite bathroom.  The sound of the crashing surf will lull you into deep dreamless slumber.
What makes a stay at Villa really special is the friendly yet professional team of staff that includes butlers, housekeepers, security and an onsite manager to make sure everything runs smoothly. Your private chef will whip up a range of gastronomic delights from the extensive suggestion menu, but should you feel like heading out for the evening, you don't have to go far; the villa rubs shoulders with some truly fine venues such as W Retreat and Potato Head Beach Club.
With its superb facilities, plentiful accommodation and fantastic location, the villa is the perfect destination for large groups, family holidays, and lovers of relaxed beach-side living, magnificent tropical sunsets, and all the finer things in life.
Villa Layout
The villa is arranged in an L-shape around a 12 x 4 metre swimming pool and hardwood deck topped with sun loungers and facing a well-manicured tropical garden complete with soothing water features.  Opening onto the pool and gardens through wide sliding glass doors is a large, open-plan living and dining room with a modern fitted kitchen and breakfast bar, plus two elegant guest bedrooms. Upstairs is an air-conditioned TV lounge, a terrace with comfortable sitting area, and three spacious bedrooms.
Living Areas
Indoor Living
The villa's generously sized living and dining room has a marble floor and folding glass doors that open to the pool deck, offering guests the choice of air-conditioned comfort or tropical open-air living. The living area is furnished with a yielding L-shaped sofa and a glass-topped coffee table in front of a large flat-screen TV, while the dining area boasts a handsome solid wood dining table for 12. A state-of-the-art, open plan kitchen and breakfast bar fits in neatly to the rear of the living and dining space, and a guest washroom is located to the side.
Adjacent to one of the upstairs master bedrooms is a comfortable, air-conditioned TV loungefurnished with soft couches and equipped with a large flat-screen satellite-channel TV with DVD player. Curtains on all sides shut out the sun for daytime movie viewing and give privacy to the bedroom next door. The TV lounge can also be accessed from a balcony that runs the length of the first floor.
Outdoor Living
A splendid upper-floor sun terrace, furnished with a selection of all-weather armchairs, sofas and sun loungers, takes pride of place at the front of the villa, while a more intimate spot for sun worship lies above the villa entrance. Both offer absolutely magnificent ocean views – especially at sunset.
Bedrooms
Each of the five bedrooms here is spacious, bright and extremely comfortable. Original paintings adorn the walls and objets d'art add Balinese charm. All have immaculate ensuite bathrooms, dressing areas and floor-to-ceiling glass doors, and each is accented with silks and soft furnishings in its own unique colour scheme. All bedrooms are furnished with romantically canopied king-size beds and writing desks, and equipped with satellite-channel TVs and DVD players.
Upstairs, two very generous master bedrooms feature sitting areas and private balconies with sea and garden views. A king-bedded guest room lies to the rear of the top floor and, although it doesn't overlook the ocean, it is a lovely comfortable room with soaring roof and warm timber floor. The two downstairs guest rooms open onto the pool and are mirror images of each other, both boasting king-size beds and semi-outdoor ensuite bathrooms with tubs and showers.
Services & Features
Villa manager
Butler
Private chef
Housekeeping
Security
Gardener
Babysitters, masseuses on request
Pool 12 x 4 metres
Wifi internet access
Landline for local calls
Mobile phone for guest use
Computer
Satellite TVs
DVD players
Surround-sound system
CD player
iPod dock
Barbecue
Back-up generator
Safety deposit box
The Locale
This Luxury Seminyak Villa faces the ocean at the very northern end of Greater Seminyak in the beachside enclave of Batubelig. With only a narrow sandy road between the villa entrance and the beach, the villa enjoys some prime real estate, rubbing shoulders with the likes of the W Retreat & Spa (100 metres to the south), and the Balisani Suites (200 metres to the north).  Immediately adjacent to the villa is the Mozaic Beach Club, an upmarket venue with a gourmet restaurant, alfresco bar and pool, which is very popular during the day. Seminyak Square, one of the islands most popular shopping malls, is just 4.5 kilometres from Villa.
Distances
Canggu Club: 4 km
Seminyak Square: 4.50 km
Echo Beach: 9 km
Kuta: 10 km
Denpasar Airport: 14 km
Nirwana Bali Golf Club: 15 km
Ubud: 32 km
Read more
Rates
All Bedrooms | USD $920 per night - USD $1,580 per night +15.5% Tax
| | | | |
| --- | --- | --- | --- |
| High | Jun 26, 2020 - Aug 22, 2020 | USD $1,290 per night | 5 nights min |
| High | Aug 23, 2020 - Aug 24, 2020 | USD $1,290 per night | 5 nights min |
| Prime | Aug 25, 2020 - Oct 17, 2020 | USD $1,010 per night | 3 nights min |
| Prime | Oct 18, 2020 - Oct 19, 2020 | USD $1,010 per night | 3 nights min |
| Low | Oct 20, 2020 - Dec 14, 2020 | USD $920 per night | 2 nights min |
| High | Dec 15, 2020 - Dec 25, 2020 | USD $1,290 per night | 5 nights min |
| Peak | Dec 26, 2020 - Jan 4, 2021 | USD $1,580 per night | 7 nights min |
| Low | Jan 5, 2021 - Jan 23, 2021 | USD $920 per night | 2 nights min |
| Prime | Jan 24, 2021 - Feb 10, 2021 | USD $1,010 per night | 3 nights min |
| Low | Feb 3, 2021 - Mar 26, 2021 | USD $920 per night | 2 nights min |
| Low | Feb 21, 2021 - Mar 26, 2021 | USD $920 per night | 2 nights min |
| Prime | Mar 27, 2021 - Mar 31, 2021 | USD $1,010 per night | 3 nights min |
| Prime | Apr 1, 2021 - Apr 7, 2021 | USD $1,010 per night | 3 nights min |
| Prime | Apr 6, 2021 - Apr 11, 2021 | USD $1,010 per night | 3 nights min |
| High | Apr 12, 2021 - Apr 13, 2021 | USD $1,290 per night | 5 nights min |
| Low | Apr 14, 2021 - Apr 19, 2021 | USD $920 per night | 2 nights min |
| Low | Apr 20, 2021 - Jun 11, 2021 | USD $920 per night | 2 nights min |
| Low | May 4, 2021 - Jun 10, 2021 | USD $920 per night | 2 nights min |
| Prime | Jun 12, 2021 - Jun 25, 2021 | USD $1,010 per night | 3 nights min |
An additional tax of 15.5% will be applied.
Booking/Inquiry
Seminyak Villa 3248
Need help?
Contact us for personalized service and customer support.