Availability
Booking/Inquiry
Seminyak Villa 3473
This villa is located in: Seminyak, Bali
Click to see bigger map
Villa Amenities
Pool
Air Conditioning
Maid Service
WiFi
Daily Breakfast
Similar Villas
---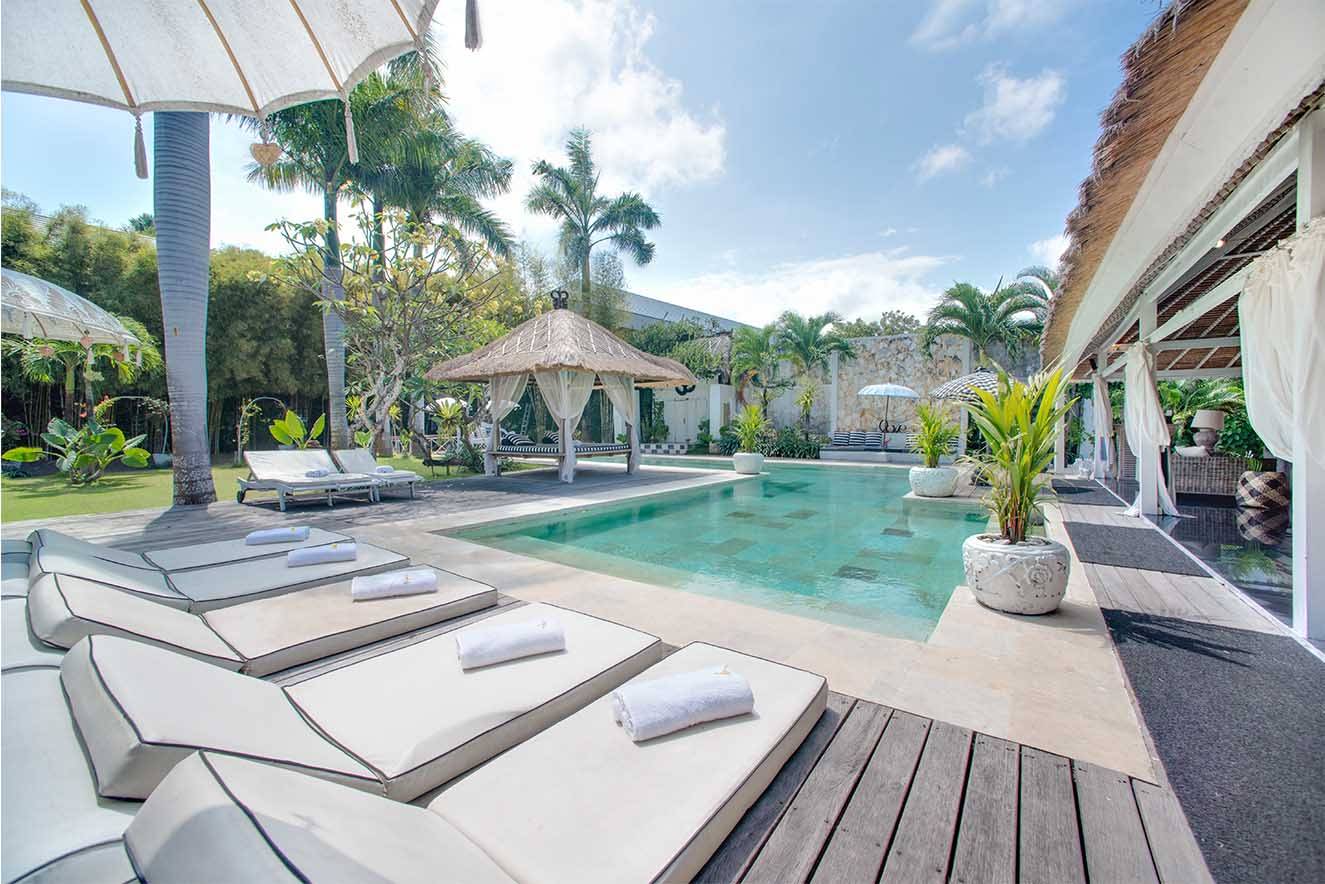 ---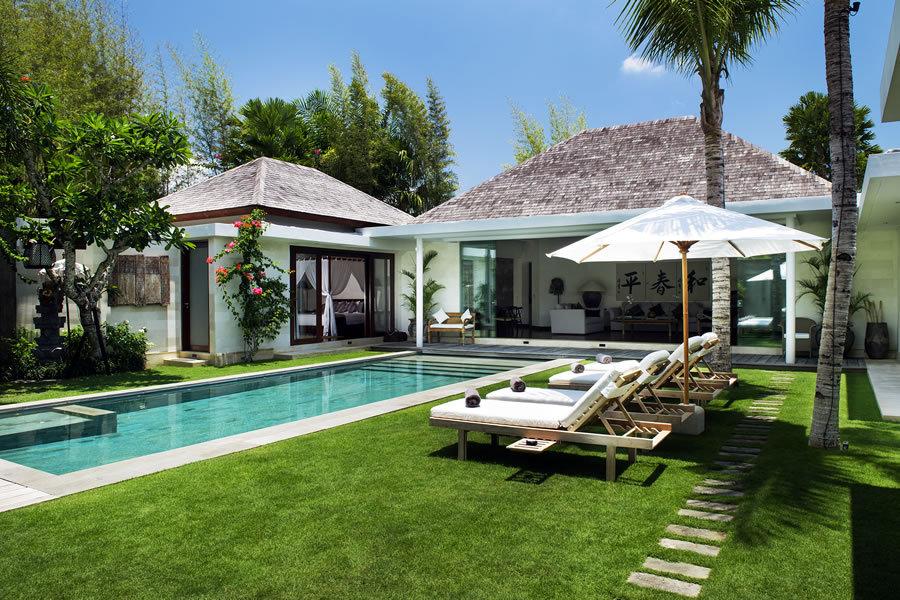 Villa Details
Conveniently located in the heart of Seminyak's exclusive Oberoi district, Villa 3473  is an owner direct vacation rental. One of Bali's best luxury villas, it is close to the sophisticated shopping, dining and night-life for which Seminyak has become famous, and just a short walk to the beach, the villa  is a new and incredibly beautiful ten double bedroom villa, which divides easily into separate four and six bedroom residences. Although it is defined by its astonishing luxury, tranquility and high level of service, it is also an affordable, no agency fee accommodation.  Also, since we are the owners and not an agent, we take extra care to make your stay a relaxing and truly memorable one.
The villa combines the beauty of traditional Balinese architecture with incredible levels of comfort and amenity. The aesthetic beauty of teak wood finishing, thatched and shingle roofs beside breathtaking landscaped gardens in entirely private, inward facing properties sit comfortably alongside the air-conditioned luxury of the large sitting/dining rooms and the beautiful, wonderfully relaxing bedroom suites, each of which benefit from a gorgeous en-suite bathroom, spacious wardrobes and an outdoor seating area, ideal for quiet contemplation.
In Bali, however, a villa is truly defined by its outdoor areas. This vill  offers stunning, covered outdoor living spaces complete with bar areas, huge, deep sofas and a slate bed pool tables. For sun-worshippers there are sun-loungers and lovely salt water swimming pools framed by waterfalls and pristine gardens.
The 15 full time Balinese staff and in-house and English speaking manager will cater to your every whim, while the high speed WiFi Internet, cable television and full back up generator system will ensure you remain connected, air conditioned cool and content at all times. We have two chefs ready to prepare your complimentary breakfast each day, who are also available to prepare other delicious local or international cuisine upon request. The villa manager will also provide full concierge service, arranging restaurant, sightseeing and other local excursion reservations, in-house meal planning and any other assistance you may possibly require.
While, in fact, the villa is just a 30 minute drive from Denpasar International Airport and less than a 5 minute walk to the famous Ku De Ta sunset bar and restaurant, once inside its walls, sitting beside the beautiful private swimming pool and lush, tropical landscaped gardens, there is an overwhelming sense that the outside world cannot intrude. Looking up beyond the villa's beautiful walls, all you can see is Bali's blue sky and the odd fluffy cloud slowly drifting by.
So escape here, where our highly trained staff will pamper you in an environment of incredible calm, beauty and comfort, making your holiday the kind of genuine break from your busy life that your heart truly desires.
Accommodation
This sumptuous property offers four luxurious double bedrooms, each with a large en-suite bathroom, spacious wardrobes, a safe and an outdoor seating area. Offering absolute privacy, the villa consists of two wings, facing one another across gorgeous landscaped gardens and the beautiful 12 metre long salt water swimming pool.
On one side of the pool, there are both indoor, air-conditioned and outdoor living areas. Both offer incredible comfort with huge, deep sofas, attractive arm-chairs with foot rests and, for those looking to sunbathe, sunbeds along one edge of the pool. The covered outdoor living space, cooled by ceiling fans, also includes a bar area, with a large, glass fronted drinks fridge and a 7 feet long, slate bed pool table. Inside there is a 50 inch flat screen TV with cable television offering international programming, a DVD player with surround sound, a large dining table for up to 10 people and a fully equipped European style kitchen.
Above the main covered outdoor living area, there is a very private double bedroom, complete with a wonderful, deep sofa, a 55 inch flat screen TV and DVD player with surround sound that can also be utilized as a movie room.
The second wing consists of bedrooms two and three along with the master suite on the first floor. The master bedroom is spectacular with a huge walk-in wardrobe/dressing room, a stunning feature bathroom, including double Jacuzzi style spa bath, and a huge private balcony. Bedrooms two and three are spacious, luxurious and wonderfully comfortable.
High speed wireless internet is available throughout the villa.
Facilities
As the owners of these wonderful Bali villas, we take great pride in providing the best facilities to travelers seeking luxury vacation rentals in Kuta.
Furnishings
The villas have been beautifully furnished by a renowned interior designer utilizing high end, bespoke furniture and high quality appliances. You are never more than a few steps from a deep seated, wonderfully comfortable chair, sofa or day-bed. The gorgeous artwork and ornaments have been hand picked to complement the relaxed opulence of the surroundings.
Air-conditioning
All indoor areas benefit from five star rated, energy efficient air-conditioners. The quality of the villa construction means the indoor areas are well insulated and thus rapidly cooled by the state of the art air-conditioning units.
Wireless broadband
High speed wireless internet is available throughout the villas. Multiple devices can be connected to the secure system at the same time without any drop off in speed of service.
Entertainment systems
Both villas each have three large flat screen televisions offering international programming via a local cable television system. In addition, all the televisions have DVD players with full surround sound systems built in to the respective rooms in which they are located. The biggest television is over 55 inches and thus offers a cinema-like experience.
Swimming pool
The 12 metre long, salt water swimming pool in Villa A and 14 metres in Villa B offers a large seating ledge, stepping stones and a waterfall to combine the aesthetically pleasing with a practical length for exercise. To one side of the pool is a delightful wooden sun terrace complete with incredibly comfortable sun-beds, drinks tables and parasols. The pool offers both sunny and shaded areas throughout the day.
Gardens
The stunning, mature and well stocked tropical gardens offer spectacular colour and beauty to the property. Gorgeous, well positioned lighting make the gardens as breathtaking at night as they are during the day.
Back up systems
Bali regularly suffers from electrical power cuts across the island. Accordingly, it is very important to ensure that your villa has a full back up generator system. Villa 3473 has such a system in place, which automatically kicks in upon mains power being cut to ensure that you are not inconvenienced and that your comfort is maximized at all times.
Because we own this vacation rental property and are not a rental agency, we try harder to make sure that you are provided with whatever you may need, so please feel free to use our contact page for enquiries and requests.
Location
The villa has one of Bali's most exclusive and sought after addresses. Tucked away on a security guarded, private street off Jalan Oberoi, the villa combines incredible peace and tranquility with surprising convenience, being just a short and very pleasant stroll to a wide variety of restaurants, bars and shops. The beautiful Seminyak beach is just a couple of minutes walk away.
Distances
Seminyak Beach – 150 metres
Ku De Ta, the World famous sunset bar and restaurant – 200 metres
The upmarket bars and restaurants of Jalan Laksmana – 200 metres
Seminyak's fashionable boutiques – 300 metres
Normally, to get the kind of serene tranquility offered by this villa, one has to venture to a mountain hideaway, miles away from the convenience and infrastructure of Seminyak. Here, you have the best of both worlds; all the peace and quiet you could ever want, but with the very best of Bali's nightlife and fine dining virtually on your doorstep.
Local taxi services are cheap, safe and plentiful. Our staff can easily order you a taxi to collect you from the villa whenever you require.
Read more
Rates
4 Bedrooms | USD $765 per night - USD $1,400 per night +16.0% Tax
| | | | |
| --- | --- | --- | --- |
| Low | Sep 1, 2023 - Dec 23, 2023 | USD $765 per night | 2 nights min |
| Peak | Dec 24, 2023 - Jan 5, 2024 | USD $1,400 per night | 7 nights min |
| Low | Jan 6, 2024 - Feb 14, 2024 | USD $765 per night | 2 nights min |
| High | Feb 15, 2024 - Feb 21, 2024 | USD $985 per night | 5 nights min |
| Low | Feb 22, 2024 - Mar 28, 2024 | USD $765 per night | 2 nights min |
| High | Mar 29, 2024 - Apr 2, 2024 | USD $985 per night | 5 nights min |
| Low | Apr 3, 2024 - Jun 15, 2024 | USD $765 per night | 2 nights min |
| High | Jun 16, 2024 - Aug 31, 2024 | USD $985 per night | 5 nights min |
An additional tax of 16.0% will be applied.
Booking/Inquiry
Seminyak Villa 3473
Need help?
Contact us for personalized service and customer support.