Availability
Booking/Inquiry
Tabanan Villa 3625
This villa is located in: Tabanan, Bali
Click to see bigger map
Villa Amenities
Ocean Front
Ocean View
Pool
Air Conditioning
Maid Service
Personal Chef
WiFi
Similar Villas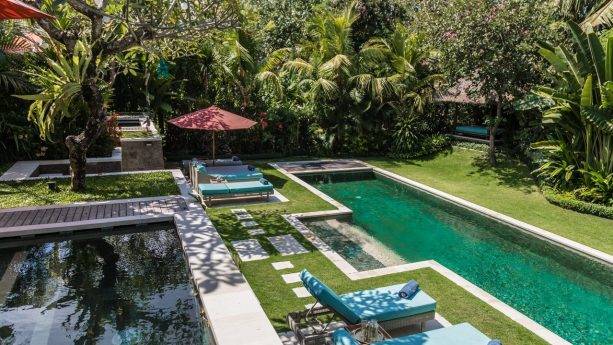 Villa Details
The stunningly situated three-bedroom Villa 3625 rests upon almost 11,000 square metres of beachside land in Bali's fertile Tabanan regency. The view of the ocean and the glistening black-sand beach just beyond the villa's coconut grove garden is magnificent, creating a relaxed setting for family holidays and an idyllic backdrop for unforgettable weddings and special events.
Offering a complete escape from busy city life, the villa will charm guests with classic architecture, stylish interiors, gorgeous gardens, modern facilities and an extraordinary amount of private space, complemented by a full team of caring staff who will attend to every need.
About The Villa
Welcome to the villa! We think you'll agree that this is an appropriate name for our much-loved, three-bedroom beachside retreat in Bali's fertile Tabanan regency. Here, we invite you to lose yourselves among tranquil ponds, well-spaced pavilions and a coconut-grove garden, enhanced by the rugged beauty of the windblown beach, and the constant sound of the breaking waves.
Elegantly designed with modern comforts and a dash of Dutch-colonial style, the villa's vast living pavilion, grand dining pavilion and separate dining terrace all stand open to the gentle trade winds and dramatic ocean views. Hidden among the gardens to one side of the living pavilion is a two-bedroom guesthouse, while on the other side the master suite offers complete privacy with its own plunge pool for discreet dips during lazy afternoons or under clear, star-filled skies.
The huge garden rolls down to a dazzling 14-metre infinity-edged swimming pool bordered by a chequer board stone and grass terrace with a relaxation balé and a yoga deck to one side. The icing on the cake is the spectacular view of the ocean and the near-deserted, glistening, black-sand beach, a mere three-minute walk from the villa gates.
The villa an ideal holiday destination for a family or a small group of friends, while its velvety lawns dotted with palms and fragrant flowering trees are perfect for weddings, parties, and celebrations for up to 200 guests, against the awesome ocean backdrop. Our team of polite, thoughtful staff, including an in-house cook and experienced villa manager, are on hand to prepare meals and look after your every need, leaving you free to rest, relax and perhaps raise your glass to another legendary Bali sunset.
Villa Layout
The villa is entered via a porte cochere from a spacious private parking area. Separate open-sided living and dining pavilions look out over water features, paved pathways and an immaculate lawn. Hidden in the gardens to the left of the living pavilion, the single-storey guesthouse presents two almost-identical bedrooms with ensuite bathrooms. To the far right of the villa grounds, the secluded single-storey master suite comprises a bedroom, bathroom, dressing areas, and private plunge pool with sun deck and balé pavilion. The 14-metre infinity-edge swimming pool, poolside balé and yoga deck, are positioned on the garden's seaward side to maximise the ocean view.
Living Areas
Presiding over the graceful gardens, the villa's splendid living pavilion is so big that it provides a choice of three discrete sitting areas before extending onto a wide, partially-sheltered stone terrace fringed by ponds. From here, you can survey the pool and ocean, enjoy alfresco meals at a teakwood table for eight on the terrace, or gather to watch movies on the large flat-screen TV.
A small guest kitchen is tucked away adjacent to the living pavilion. It is equipped with an oven and gas hob, a large fridge, a microwave, and a coffee machine. The villa's main kitchen is located behind the villa and is fully fitted with a professional range and everything that the cook needs to prepare delicious meals and beverages for guests.
More soft breezes and cool garden views set the tone in the dedicated dining pavilion, which rests in a courtyard and is linked to the main living pavilion by a short pathway. This is the perfect venue for a convivial lunch that could segue effortlessly into a more formal dinner for 10. Here, a simple open-sided design, a soaring roof and a neutral aesthetic ensures that nothing detracts from the tropical surroundings, the food, and one's companions.
The expansive garden provides an astonishing setting for a wedding, showcasing beautifully manicured lawns dotted with coconut palms and flowering frangipanis. On the far side, positioned well away from the house and bordered by a grass-and-paving-stone chequerboard terrace, is the infinity-edge swimming pool, and next to this is a lazy, breezy gazebo – the obvious spot for devouring a book, enjoying afternoon cocktails at the table, or taking a snooze on the deep mattress. And what better place could there be for a relaxing massage or a rousing yoga session than the pool-gazebo's upper deck, which embraces an awe-inspiring picture of the sunsets and ocean waves.
Bedrooms
Master Suite
The villa's spacious air-conditioned master suite is furnished with a king-size bed, comfortable armchairs and a cushioned window seat, and equipped with a satellite-channel TV. Guests will relish the garden, pool and ocean views, which are also reflected perfectly in a wide mirror above the bed. A huge ensuite bathroom with walk-in rain shower and bathtub looks into a private garden with additional outdoor shower. Glass doors lead from the vanity area to a plunge pool within a private garden courtyard, complete with thatched balépavilion furnished with a table and two chairs.
Guesthouses
A pair of almost-identical air-conditioned guest suites – set well away from the other buildings and positioned within a private, semi-walled courtyard around an ornamental pond – offer a peaceful retreat for a family or two couples. Both suites revel in an abundance of space, each accommodating a bedroom with a king-size bed and satellite TV, and ensuite bathrooms with walk-in rain showers and bathtubs alongside picture windows that frame a private flower-filled garden.
Services & Features
Part-time manager
Cook
Butler
Housekeeping
Security
Babysitter, masseuse, driver, yoga instructor on request
Main pool 14 x 7 metres
Plunge pool 6 x 3.5 metres
Wifi internet access
Telephone for local and international calls
Satellite TVs
DVD player
iPod dock
Stereo system with CD player
Barbecue
Safety deposit box
In-villa spa and beauty treatments
Back-up generator
The Locale
Villa 3625 is situated a mere three-minute-stroll from Kelating Beach with its sparkling black sands and sweeping coastline views. The neighbourhood is the small Balinese village of Dukuh, which is bordered by rice fields for almost as far as the eye can see. A long way out of town, there are no restaurants, bars or shops here apart from the five-star Alila Villas Soori (300m) with its fine-dining restaurant and alfresco bar serving beachfront cocktails – especially good at sunset. The lonely beach and river estuary offers beautiful walks, and local temple ceremonies are a common sight; this stretch of coastline is popular with surfers but there are strong rip currents and no lifeguards so it is unsafe for swimming.
Distances
Yeh Gangga: 5 km
Krambitan: 10 km
Tabanan town: 11 km
Nirwana Bali Golf Course: 11 km
Tanah Lot sea temple: 12 km
Echo Beach: 17 km
Yeh Panas: 18 km
Seminyak: 22 km
Kuta: 30 km
Pura Luhur Batukaru temple: 31 km
Jatiluwih: 32 km
Ubud: 38 km
Denpasar Airport: 42 km
Read more
Rates
3 Bedrooms | USD $390 per night - USD $710 per night +15.5% Tax
| | | | |
| --- | --- | --- | --- |
| Low | Oct 18, 2021 - Dec 14, 2021 | USD $390 per night | 2 nights min |
| High | Dec 15, 2021 - Dec 25, 2021 | USD $600 per night | 3 nights min |
| Peak | Dec 26, 2021 - Jan 4, 2022 | USD $710 per night | 7 nights min |
| Low | Jan 5, 2022 - Jan 23, 2022 | USD $390 per night | 2 nights min |
| Prime | Jan 24, 2022 - Feb 10, 2022 | USD $500 per night | 5 nights min |
| Low | Feb 3, 2022 - Mar 26, 2022 | USD $390 per night | 2 nights min |
| Low | Feb 21, 2022 - Mar 26, 2022 | USD $390 per night | 2 nights min |
| Prime | Mar 27, 2022 - Mar 31, 2022 | USD $500 per night | 5 nights min |
| Prime | Apr 1, 2022 - Apr 7, 2022 | USD $500 per night | 5 nights min |
| Prime | Apr 6, 2022 - Apr 11, 2022 | USD $500 per night | 5 nights min |
| High | Apr 12, 2022 - Apr 13, 2022 | USD $600 per night | 3 nights min |
| Low | Apr 14, 2022 - Apr 19, 2022 | USD $390 per night | 2 nights min |
| Low | Apr 20, 2022 - Jun 11, 2022 | USD $390 per night | 2 nights min |
| Low | May 4, 2022 - Jun 10, 2022 | USD $390 per night | 2 nights min |
| Prime | Jun 12, 2022 - Jun 25, 2022 | USD $500 per night | 5 nights min |
| High | Jun 26, 2022 - Aug 22, 2022 | USD $600 per night | 3 nights min |
| High | Aug 23, 2022 - Aug 24, 2022 | USD $600 per night | 3 nights min |
| Prime | Aug 25, 2022 - Oct 17, 2022 | USD $500 per night | 5 nights min |
| Prime | Oct 18, 2022 - Oct 19, 2022 | USD $500 per night | 5 nights min |
An additional tax of 15.5% will be applied.
Booking/Inquiry
Tabanan Villa 3625
Need help?
Contact us for personalized service and customer support.