Availability
Booking/Inquiry
Uluwatu Villa 3387
This villa is located in: Uluwatu, Bali
Click to see bigger map
Villa Amenities
Ocean Front
Ocean View
Pool
Air Conditioning
Maid Service
Personal Chef
WiFi
Tennis Court
Daily Breakfast
Car & Driver
Similar Villas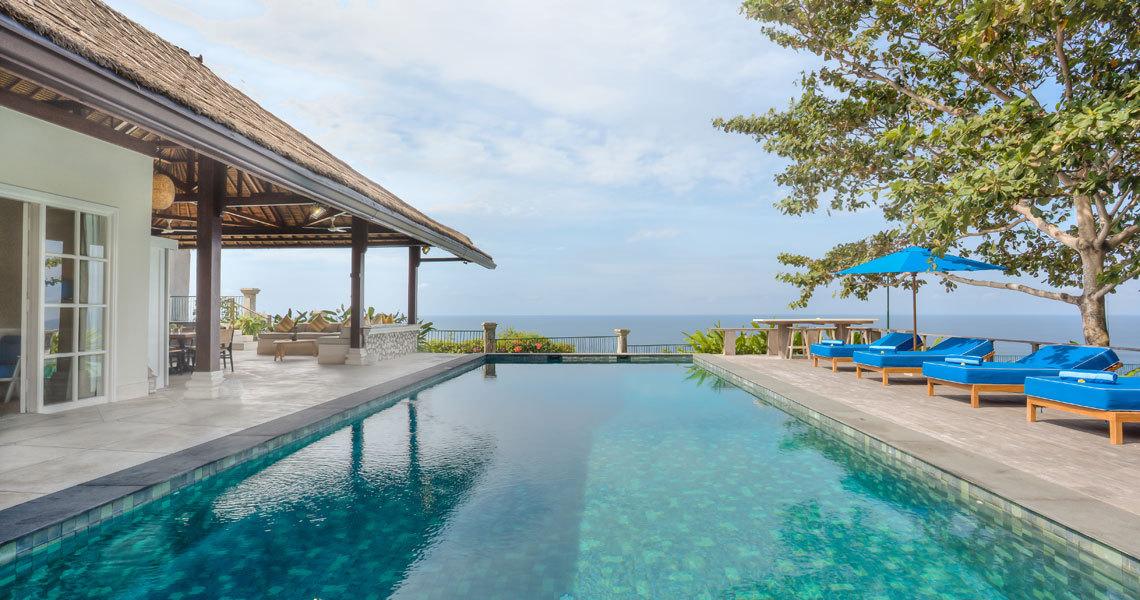 ---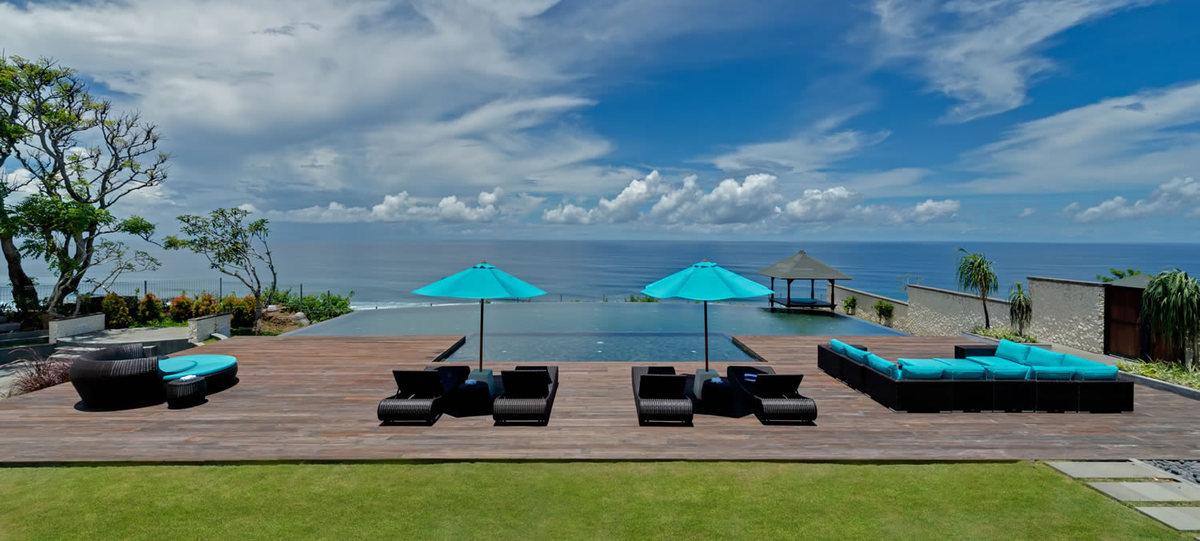 ---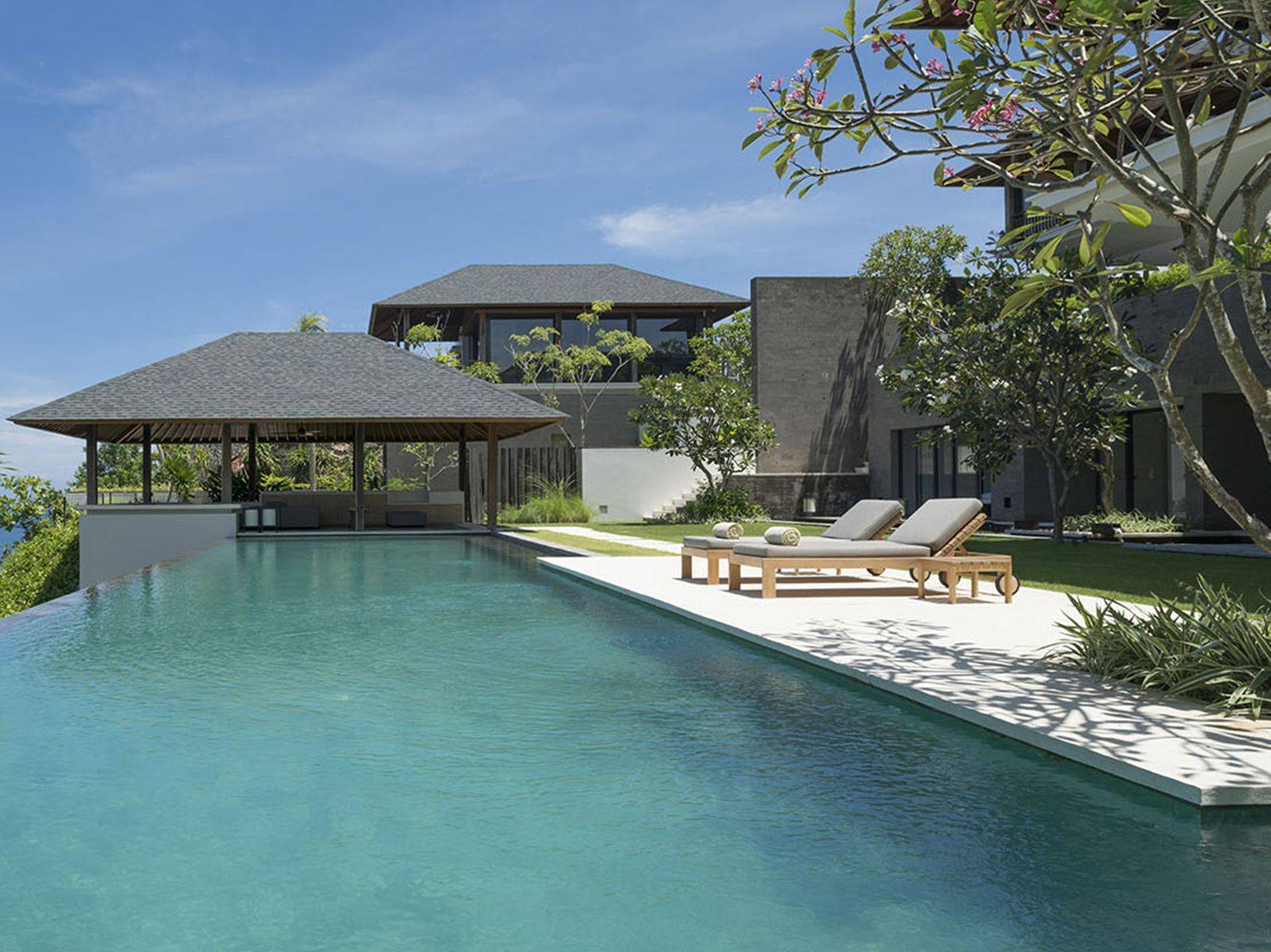 Villa Details
Detail of Villa 3387
Property Size Land size 8000 m2 (1.85 Acres).
Step through the heavy wooden doors of Villa 3387 to find yourself in a botanical oasis. The entrance to the villa itself is to the right, but stretching out before you is a lawn of mature trees and tropical flowers encircled by high walls for complete privacy. Balinese statues and stone water features dot the property which is fronted by a joglo style entry archway. Maroon cushions make the antique wooden benches a cosy place to take in the beauty before you enter the first villa.
Upon entering the top floor of Villa 3387, you'll see a boutique library and living area which takes full advantage of the magnificent panoramic ocean views. Catch your breath for a moment in the sea-facing master suites then let yourself be drawn down into the centre of the villa where a statement staircase feeds out onto the second floor with its fifth bedroom and guest powder room.
Cross an indoor pond of creamy limestone and granite paving stones to find yourself in the lower living area with its luxurious lounge setting. The living area is completed by a gorgeous ten-seater dining table served by staff working from two kitchens.
The media room is to the left with a large comfortable couch and 70- inch (4K) flat screen, cable television and sound system with streaming services like Netflix, Iflix and Spotify. There are also gaming consoles and a small business center with a 21 inch iMac, a laser printer and a scanner.
Outdoor access is granted when you open up the glass-fronted sliding doors of the living area to step out into the courtyard towards the dazzling infinity pool and limestone cliff tops of the Melasti area.
Quick Fact
Swimming pool 21.5m x 8.6m, Depth 1.5m
Facilities : Spacious Garden Area, Living and dining area, 3 guest toilets, Fully equipped kitchen, Spa and wellness area, media Room & library, Gazebo at Clifftop, BBQ area
6 Bedrooms en-suite

Bedding configuration:
1 Master Bedroom  62 sqm: King size(Bath tub & Shower)
2 Master Bedroom  62 sqm: King size(Bath tub & Shower)
3 Private Suite 71sqm : King size (shower)
4 Private Suite 62sqm : King size (shower)
5 Deluxe Room(49sqm) : King size (shower)
6 Deluxe Room(49sqm) : Twin Bed (shower)
Clifftop Area
The glass-fronted sea deck sits to the left of the pool and is graced by a bale (pagoda-style hut) that's plush with cushions and offers a stunningly beautiful place to look out at the ocean. To the right, you can follow the pathway down toward Melasti Beach with its white sands and clear blue water.
For those who aren't confident with stairs, the beach is only two minutes away by car. The clifftop area is lined with well-manicured gardens that neatly weave back towards the main house creating a serene and spacious vibe.
Living
The living spaces are all lavish escapes in their own right. Villa 3387 has indoor and outdoor living areas with everything from lush couches to day beds and sun loungers. There is also a self-enclosed suite with its own lounge area inside the pool villa
Dining
The indoor dining area is perfect for ten people while the outdoor areas can be extended to cater to larger parties. One can also host more intimate alfresco dinner events at smaller tables all over the estate.
The menu can be found here and adapted for individual food preferences. We also offer special cultural food events including Babi Guling (baby pig) and fresh seafood banquets.
The Suites
The top floor contains four of the five master suites with different configurations. The two oceanfront rooms have spectacular views through full-length windows that look over the peak of the property and out toward a seascape that seems to go on forever. Neutral interiors are blended stylishly with pops of oriental colour to create an atmosphere of total decadence. Behind these bedrooms are two more equally impressive double and queen rooms.
Each has a stunning double ensuite bathroom and all the accouterments you could require with either outdoor bathtubs, powerful rain showers or both. Downstairs you'll find room five, the last master suite. It's been outfitted in complete luxury and is perhaps the most spacious of all the rooms with an extra office area, glass windows overlooking the ocean, and an ornate teak mirror mounted above the bed.
The Private Pool Villa
The private pool villa is a haven for couples and guests wanting quieter. It sits separate from the main villa as entry is gained through a discreet panel on the hedge of the main upper gardens. You wander through a hidden gate, past a small private pool and into the private suite which forms a studio environment that's seeped in quiet. Luscious fuschia and gold accents pop from carefully placed cushions on the armchairs, and elegant screens separate the ensuite and dressing room areas.
There's a work desk, a mini library and a 32-inch screen television so you can snuggle up with a loved one and enjoy the serenity.
Food and Beverage
At the villa, we are pleased to present you our vast selection of menu made by our in-house chef Adi Gunawan to satisfy any cravings. All our ingredients are fresh-bought, mostly locally produced and additive free. Any questions regarding the food or any requests can be directed to any of our villa Butlers
Outdoor BBQ
Outdoor BBQ facility is also available for our staying guests. We will provide the necessary cooking equipment, grill, cutlery, plates and bowls for you to enjoy an outdoor BBQ with a view. Our friendly staff will also be able to assists from preparation, cooking and until cleaning the area, all for the convenience of our guests.
Alcoholic and non-alcoholic beverages are also made ready for this occasion. Whether you want a traditional Balinese Baby Guling, Satay or Seafood theme for your BBQ, our personal butler will be ready to fulfill all of your needs for your BBQ activity.
Staff
There's a highly trained yet humble team of staff ,  You'll find yourself surrounded by professionals who are attentive but also know how to be discreet with their style of service.
The complex includes an English speaking villa manager, a chef, housekeeping, on-site maintenance and security guards. They have a multitude of skill levels, every person works together to ensure the complex runs at its best. The staff will assist your stay in any way they can.
The team includes housekeepers who will reset the villa each day to a state of perfection. Ground staff who care for the pools and the garden. The kitchen staff who prepare and serve meals. Butlers to bring you cold drinks while you lay in the sun, a driver and our security team who protect the estate 24/7.
Spa and Wellness
The spa sits at the top of the property and has two massage tables which can be used for a range of treatments including body scrubs, facials, manicures and, of course, massage. We partner with the best beauty technicians and use only the highest quality products.
Entertainment
Entertainment is in abundance at the Villa. A mixture of Apple and Satellite television options is dotted throughout the villa; including gaming set up and a boutique library. There's all the equipment you need for sports, and it's easy to organise activities.
Fitness and Gymnasium
The villa have an excellent recreation centre with a fully equipped gym. There are a rowing machine and several treadmills, a shoulder press and curl bench as well as a range of free weights. The gym is air-conditioned and comfortable with its own locker and shower rooms.
The full-size clay tennis court is best used in the early morning or evening when the heat of the day has subsided, and there's a ping pong table for light entertainment. If swimming laps is more your style, you'll be pleased to know that the villa pool is 25 meters long. We can also have trainers and teachers of every sort come to work out with you. From yoga classes to surfing lessons to paddle boarding and beyond.
The gymnasium and entertainment complex is well equipped and available to all guests at the estate. Treadmills, an elliptical, free weights, yoga mats, a curl bench and resistance training. There's also a clay tennis court next door and full changing room facilities.
Courtyard and Pool
Outdoor living is perhaps our specialty with a courtyard and clifftop area that's nothing less than magnificent. Close to the villa, a bamboo terrace provides shade for daybeds and coffee tables that are strewn with colourful cushions. Further out towards the ocean you'll find the infinity pool, stretching across the width of the property it's cerulean blue waters beckon you to dive in. Palm trees tower above the pool and sunbeds with crisp white umbrellas line the decking which meets granite paving stones to create dual pathways out towards the front of the property.
Tennis Court and Basketball Hoop
Our guests are able to enjoy our Tennis court private facilities within the complex area, whether you are looking to have a single or double setup we have you covered for the rackets and tennis balls. The tennis court is perfect for our guests that are looking for a private outdoor sporting activity without leaving the complex area.
Our court can be turned into a basketball court as well, we will provide the hoops, ball pump and a ball. The court only available for our staying guests only, therefore you will have a private court anytime during your stay.
Transportation:
It's easy to get out and about in the Bukit Peninsula, and our driver is on call to take you wherever you need to go. Whether that's just down to the beach so, you can avoid the stairs, or further out to dabble in a bit of shopping in Bali's famous Seminyak area. All and all we have standby drivers for our guests, to get around from and to our premises. Our drivers are all English speaking, this to ensure our guests are able to communicate their preferences directly to the drivers.
Aside from exploring Bali, getting to Ungasan or Uluwatu area can be challenging from the airport, due to the secluded and exclusivity of the area. Therefore, we assigned a designated driver for Airport transfer. Whether you are arriving to start your holiday and to check-in or checking out to end your holiday, we will be ready to provide you the transportation convenience.
Or otherwise if you want to ride a bicycle, an e-bike, a scooter or even a motorbike just let us know, we can quickly provide rentals to those with the appropriate license.
Read more
Rates
6 Bedrooms | USD $2,850 per night - USD $3,400 per night +15.5% Tax
| | | | |
| --- | --- | --- | --- |
| Low | Sep 1, 2023 - Dec 19, 2023 | USD $2,850 per night | 3 nights min |
| Peak | Dec 20, 2023 - Jan 5, 2024 | USD $3,400 per night | 7 nights min |
| Low | Jan 6, 2024 - Jan 24, 2024 | USD $2,850 per night | 3 nights min |
| High | Jan 25, 2024 - Jan 31, 2024 | USD $3,200 per night | 5 nights min |
| Low | Feb 1, 2024 - Apr 12, 2024 | USD $2,850 per night | 3 nights min |
| High | Apr 13, 2024 - Apr 19, 2024 | USD $3,200 per night | 5 nights min |
| Low | Apr 20, 2024 - Jun 30, 2024 | USD $2,850 per night | 3 nights min |
| High | Jul 1, 2024 - Aug 31, 2024 | USD $3,200 per night | 5 nights min |
An additional tax of 15.5% will be applied.
Booking/Inquiry
Uluwatu Villa 3387
Need help?
Contact us for personalized service and customer support.