Booking/Inquiry
St. Tropez Villa 1086
Villa Amenities
Ocean View
Pool
Air Conditioning
Similar Villas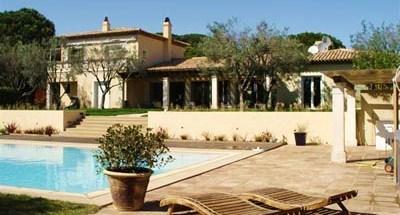 ---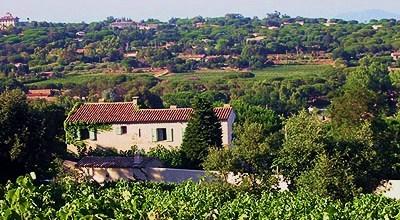 ---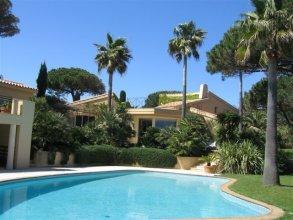 Villa Details
Perched atop a sun-drenched hill overlooking the sailboat-dotted Bay of St. Tropez, this superb villa commands an incredible view of the French Riviera's splendor, amidst a modern yet inviting décor that invigorates the senses. The villa's roomy six bedrooms and en-suite bathrooms, expansive great room with atrium ceilings, luxurious furnishings, and exclusive amenities such as central air conditioning, plasma television, and security and video systems all contribute to the exceptional accommodations that typify the lavishness of St. Tropez.
While the Villas interior spaces are undeniably inviting, the true pleasure of the resort lies in its outdoor living spaces. In addition to the wide panorama of the Bay, the outer terraces and gardens that surround the villa feature an exclusive vanishing edge pool with Jacuzzi, outdoor gas fireplace and pit, several lounge areas with outdoor furniture, and exquisite lighting provide an optimal space for relaxing as well as entertaining guests.
Location
Gassin, 5 minutes from St Tropez, 90 minutes from the airport, closest beach is 5 minutes away, 10 minutes from golf, and 5 minutes from tennis courts.
Features
Total area: 29,060 sq ft (2,700 m²)
Interior space: 4,310 sq ft (400 m²)
Year built: 2008
6 bedrooms including: 1 king-size master suite with bathroom 5 king-size bedrooms with bathrooms
Living room
Dining room
Media Room
Indoor Bar
Outdoor Jacuzzi
Outdoor bar
Automatic entrance gate
Swimming pool: 49 ft (15 m)
Beaches & Club Information

There are a few beaches on the Baie de St. Tropez, east of town, but most are along the beautiful Baie de Pampelonne, three miles southwest of town (technically in Ramatuelle). While a few are public, you can only access the worthiest stretches by paying admission to one of the beach clubs listed here. They're fancy affairs, with facilities including restaurants, lounge chairs, changing rooms, and showers, and occasionally dance floors and open-air hot tubs. Many have live DJs, and each has its own personality. Fees for private beaches average $20 to $40 for a dressing room and lounge chair.
La Voile Rouge - Plage de Pampelonne Ramatuelle
If you've never seen a group of five young women wearing nothing but spike heels and metallic bikini bottoms grinding together on tabletops, this infamously hedonistic beach club will change all that. Arrive pretanned and with at least two different "dry" outfits (one for lunch and another for lounging after a swim and a shower). Plenty of nudity and sexy high jinks earn this place an NC-17 rating. Open daily from 9 am.
La Bouillabaisse - St. Tropez
Not far from the center of town, this quiet, sandy beach club is ideal for families with children, since it overlooks the calmer, shallower waters of the bay. The stylish restaurant is a fashionable place to dawdle over grilled fish and a chilled bottle of rosé. Open daily 10 am to 7 pm.
Le Club 55 - Plage de Pampelonne Ramatuelle
With a mix of French movie stars, Russian and Middle Eastern businessmen, and aristocratic young couples with children, Club 55 is often referred to as the Beverly Hills of beach clubs. Everyone seems to have a Vertu cell phone, a Louis Vuitton beach bag, and an impossibly expensive watch. Open daily 9 am to 7 pm.
Tahiti Plage de Pampelonne - Ramatuelle
Long-running, exclusive, and expensive. The most common sound is the pop of Champagne corks. The guests are "mature" French showbiz types, but it's quieter since the opening of Nikki Beach. There's a hotel here as well, if you can't tear yourself away. Open daily 9 am to 7 pm.
Nikki Beach Plage de Pampelonne - Ramatuelle
Hangout of the same supertanned, blonde-streaked, designer-clad Euro crowd who spend winter roosting at the original Nikki Beach in Miami or the St. Barths branch. Disco music thumps away all day long, and the young rich get their kicks by spraying one another with bottles of icy bubbly. Expect men in leopard-print posing cups (think Speedos, but much, much smaller) and topless women in white cowboy hats. Open daily noon to 8 pm.
Plage des Graniers - St. Tropez
A public beach located just below the citadel that overlooks the harbor, Graniers is the best bet for those without wheels or who don't want to get stuck in the traffic jams that begin and end any day at Pampelonne. It is free, and there is a restaurant on-site.
Read more
Booking/Inquiry
St. Tropez Villa 1086
Need help?
Contact us for personalized service and customer support.