Booking/Inquiry
Private Island Villa 102
Click to see bigger map
Villa Amenities
Ocean Front
Ocean View
Pool
Air Conditioning
Maid Service
Personal Chef
WiFi
Tennis Court
Similar Villas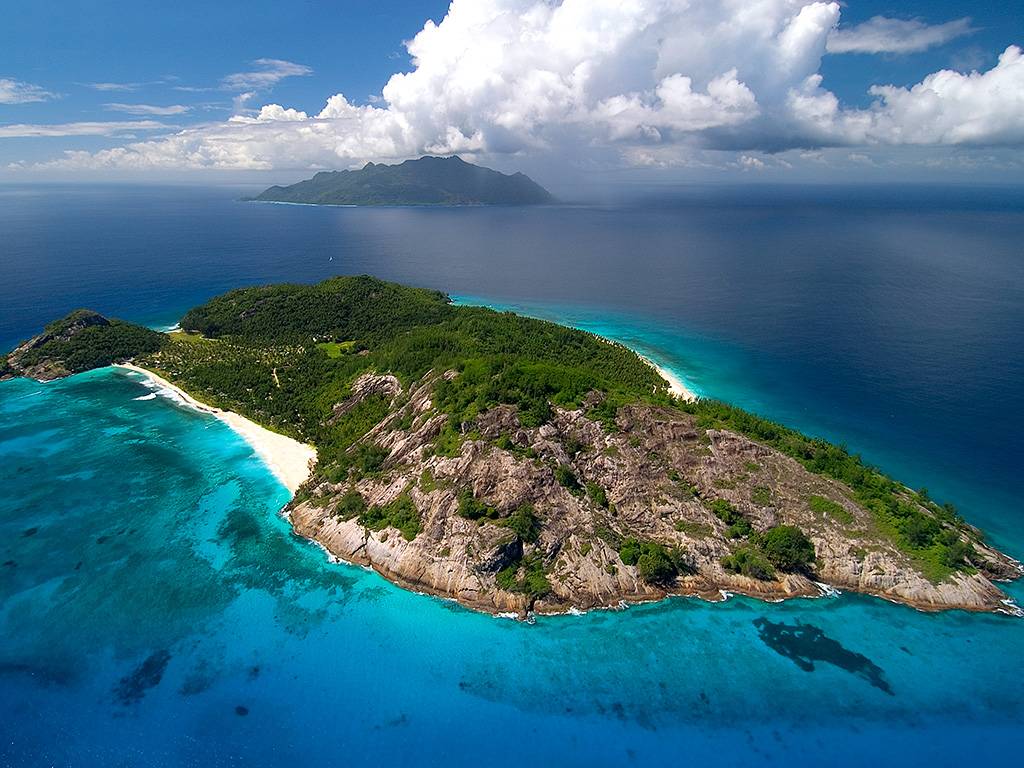 Villa Details
Four degrees south of the equator, a 20-minute flight away from Mahé, this private island of outstanding natural beauty; a uniquely peaceful setting of verdant, tropical interiors and abundant nature fringed by seven dream beaches, each a brilliant sweep of powdery white sand sentinelled by giant, iconic granite boulders. The preservation, protection and nurture of its unique flora and fauna has always been - and continues to be - a fundamental raison d'être for the Private Island. With only 16 villas and one Presidential Villa, guests are invited to experience the rare luxuries of space, security and seclusion within a tropical island setting of exuberant natural beauty.
The Villas
Positioned to guarantee ultimate privacy, each villa is built of native mahogany and clad in rich African Chamfuta Teak wood, blending harmoniously into its natural surroundings. The typical villa plan features square spaces rotated 45 degrees, maximising views of the ocean through two facades. The tropical feel of the buildings is intentionally casual, in keeping with the surroundings; in addition to an indulgent private infinity pool, each villa features a large terrace - with day bed and Jacuzzi - which flows from the interior as part of an extended living area. Interior architecture is simple and elegant. The post and lintel structure is mirrored inside, framing picture-perfect views of the island; African Chamfuta Teak skirting boards edge cream Botticino marble floors, while vaulted roofs and Merbou timber framework faithfully reflect a diverse colonial architectural heritage. The Private Island introduced a comprehensive butler concept; a private butler is assigned to each villa to assure personalised and individual services throughout the guest's stay, providing anything, anytime, anywhere on the island.
The Spa Villa
approximately 500 square metres
accommodates maximum of 4 adults and 2 children
one bedroom; one living room; interconnecting vestibule with dining facilities
one mini spa, which can also be converted into a second bedroom
two big bathrooms; one small bathroom; three outdoor showers
large terrace with private pool, Jacuzzi; day bed and dining pavilion
telephone, wireless internet access, TV, DVD/CD player, air-conditioning and a ceiling fan, hairdryer, safe, mini bar, tea- and coffee-making facilities
private butler service
personal island buggy
Rock Spa
The Rock Spa is a natural haven of serenity, nestled on a cliff-top plateau commanding panoramic views of the sea. Reached via a dramatic rock archway at the apex of a canyon of granite boulders and banyan roots, flanked by freshwater pools and cascading waterfalls, the spa celebrates the island's unique surroundings and embraces the traditional elements of earth, air, fire and water. Eschewing the commercialism of branded spa products and merchandise, the Rock Spa is a truly natural Seychellois spa experience which embraces the ecology of its unique surroundings.
In the Rock Spa's own Apothecary, Madame Dibwa (derived from the French for "the fairy woman from the forest") and her team of qualified therapists blend indigenous know-how with the principles of herbalism and aromatherapy to create unique scrubs, pastes and oils which form the basis of traditional treatments for relaxation, revitalisation, detoxification or specific ailments. The island-wide emphasis on the principle that 'fresh is best' ensures ever-changing daily specials on the spa menu, depending on which plants, fruits and herbs are in season.
Island Dining Experiences
In keeping with its committed approach to ecological issues. The Private Island continues to strengthen the connection between restaurant menus and island-grown produce. Influenced by the abundance and diversity of ingredients cultivated on the Island, the executive chef takes guests to new gastronomic heights with innovative demonstrations of the extraordinary flavours that nature can deliver. His inspired recipes are the expression of a distinctive culinary style applied to the freshest seasonal produce, ensuring every dish is unique in character and flavour and a true reflection of the bountiful tropical setting in which it is enjoyed; the island's own plantation and hydroponics house ensure guests can enjoy fresh fruit and vegetables every day.
In addition to the restaurants and bars, guests can enjoy bespoke dining experiences anywhere on the Island is their oyster! Dinner in the Tree House, serenaded by birdsong… barbecues on the beach or at the Yacht Club… private candlelight dinners in the privacy of their villa… or a favourite setting of their own discovery.
Activities & Amenities
With an enticing plethora of recreational and sporting activities, the Island is a natural playground for absorbing the natural vitality of the Seychelles and energising the mind, body and soul. Right beside the spa, the Rock Gym with its wonderful views into greens and rock formations offers fitness equipment from dumb-bells to multifunctional gym systems. Facilities also include a full size, hard surface tennis court; a grass volleyball/badminton court; paved mountain biking/jogging tracks; and boccia ball; while beginner and advanced yoga classes are also available. Sports equipment and facilities are provided for guests free of charge.
Watersports
Experience an ocean of kaleidoscopic colours on, in and under the glistening waters, with the Island's own marina and fleet of boats, including kayaks, sailing dinghies, catamarans and motor yachts. Skim across tranquil turquoise lagoons aboard a hobie cat or kayak, ride the lapping Seychellois waves windsurfing, and discover a dazzling array of underwater wonders snorkelling in mesmerising aquatic realm. For younger children there is an Optimist dinghy, ideally suited for 'learning the ropes' in the safety of the marina basin. Fully PADI certified scuba diving excursions are available for deeper exploration of the vibrant marine life living in an oasis of coral reefs. The Island's Dive Centre offers various diving courses and certifications, with numerous dive sites suiting all levels of diver, from beginner through to experienced. By the harbour's edge, the newly renovated Yacht Club - with its intimate bar, billiard table, terrace and hammocks – is the perfect place to unwind after an invigorating day on the water. The bar is open into the evening, offering home-spiced rum specialities and BBQ events on request.
Nature Walks and Trails
Encounter magnificent Aldabra giant tortoises, roaming the dense undergrowth and swampy terrain, savour a spellbinding panorama of paradise upon Mont Signal, an imposing 125-metre granite peak… Behold the sight of the island's most famous inhabitant, the Seychelles-Shama Thrush, commonly called the Magpie Robin… Listen to the glorious musical improvisations of the Seychelles Blue Pigeon. Safari through lush forests of extraordinary Coco der Mer palms and giant Banyan trees; the unique tenebrionid beetle, only found on the island; and the Seychelles terrapin.
Fishing
From the comfort of one of the Island's stylish, fully equipped fishing vessels, both expert and novice fishermen can enjoy the excitement of deep-sea fishing in one of the world's richest fishing grounds. Reel in yellow-fin tuna, dorado, wahoo, sailfish, marlin, and even billfish. On return to the island, the chefs will create a gastronomic delight prepared specially with the catch of the day; the perfect dining experience by which to enjoy the bounty.
Wedding
A glittering natural gem, set like a solitaire amidst the silvery expanse of the Indian Ocean, The Private Island  is the ultimate paradise setting for couples seeking to share an unforgettable wedding day.
A haven for those seeking intimacy and tranquillity, the Island offers dream beaches, crystal clear waters and abundant tropical flora and fauna, inviting comparison with that paragon of romantic idylls, the Garden of Eden.
Couples choosing to tie the knot at this award-winning, ultra-exclusive luxury island resort can look forward to a host of complimentary romantic treats that will live long in the memory, including:
Enjoy a complimentary "Aroma Lovers" treatment at the "Rock Spa" (60 min)
Delight in a body scrub prepared with a bark blend of cinnamon with honey after enjoying a warm shower followed by an aroma of essential oils of your choice flowing on your skin enabling you to relax body, mind and soul. Romantic Sunset Cruise around the island and
Sample the culinary delights of Creole cuisine in and enjoy a traditional Seychellois trio Wedding Cake
Savour a romantic candle light dinner on our beach Grand Anse
Immerse yourselves in a romantic bath surrounded by a multitude of candles with a chilled bottle of wine
Take home memories forever of this sacred union with a wonderful collection of exceptional photos celebrating your special day.
Late check-out subject to availability.
This offer applies for minimum stays of 4 nights, is valid for travel dates until 31 October 2013 and is subject to weddings taking place on The Island.
Please note it does not include the actual wedding package
Honeymoon
A sparkling green jewel rising from the crystal waters of the Indian Ocean, The Island is an idyllic haven for honeymooners seeking a blissful beginning to married life. Seven magnificent beaches, irresistible tropical waters teeming with kaleidoscopic marine life, and a profusion of rare and exotic flora and fauna  is a natural oasis of peaceful seclusion that recalls the ultimate touchstone for romantic escapism, the Garden of Eden. Newlyweds touching down at this ultra-exclusive luxury island resort are showered with complimentary romantic treats from the moment they are welcomed with frangipani garlands and fresh coconut drinks, including:
Welcome Frangipani Garlands & Fresh Coconut Drinks.
A complimentary "Pomme d'Amour" Spa Ritual offered to our honeymoon couple at the "Rock Spa" (60 min)
In typical Seychellois fashion, this unique therapy making use of home grown tomatoes will allow you to emerge from this treatment totally revitalized and rejuvenated making your skin feel fresh and smooth for the touch of your loved one.
Enjoy the privacy of spending the day blissfully alone away from it all on our beach Anse Macquereau
Join the "Adopt-a-Tortoise program"
This unique program safeguards the juveniles of the Aldabra Giant Tortoise, The Island houses the second largest population of this rare species of tortoise in the world with between 1500-2000 giant tortoises living on the island.
Sample the "Passion Cocktail" with some canapés up in our "Love Nest" cocooned in the private surrounding of the Marina lookout
Experience the Honeymoon High Te on Glacis Cerf with rose ice-tea and complemented by exquisite friandise
A romantic candle light dinner up in our "Tree House" with a "Coco d'Amour Honeymoon Cake" and a bottle of sparkling wine
Your special moment captured for eternity and presented to you in a beautiful "Frégate" photo frame
Late check-out subject to availability
This offer is valid until 31 October 2013 and applies for minimum stays of 4 nights. It is valid within one year following the wedding and a copy of the wedding certificate should be produced.
Read more
Rates
All Bedrooms | EUR €7,560 per night - EUR €9,600 per night
| | | | |
| --- | --- | --- | --- |
| Low | Nov 1, 2023 - Dec 22, 2023 | EUR €7,560 per night | 5 nights min |
| Peak | Dec 23, 2023 - Jan 4, 2024 | EUR €9,600 per night | 7 nights min |
| Low | Jan 5, 2024 - Mar 22, 2024 | EUR €7,560 per night | 5 nights min |
| High | Mar 23, 2024 - Apr 6, 2024 | Contact Us | 5 nights min |
| Low | Apr 7, 2024 - Oct 31, 2024 | EUR €7,560 per night | 5 nights min |
Booking/Inquiry
Private Island Villa 102
Need help?
Contact us for personalized service and customer support.