Promotion
15% Disccount applied for all stays Nov and Dec 2023 
Availability
Booking/Inquiry
Phuket Villa 428
Click to see bigger map
Villa Amenities
Ocean View
Pool
Air Conditioning
Maid Service
WiFi
Similar Villas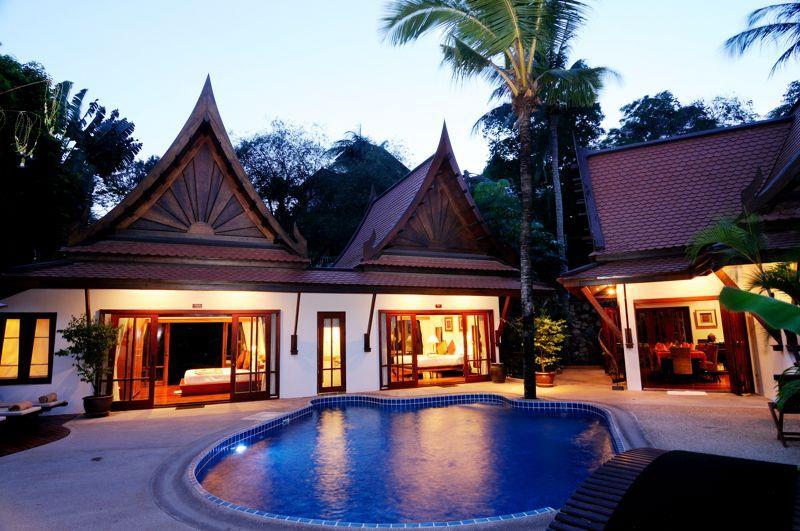 ---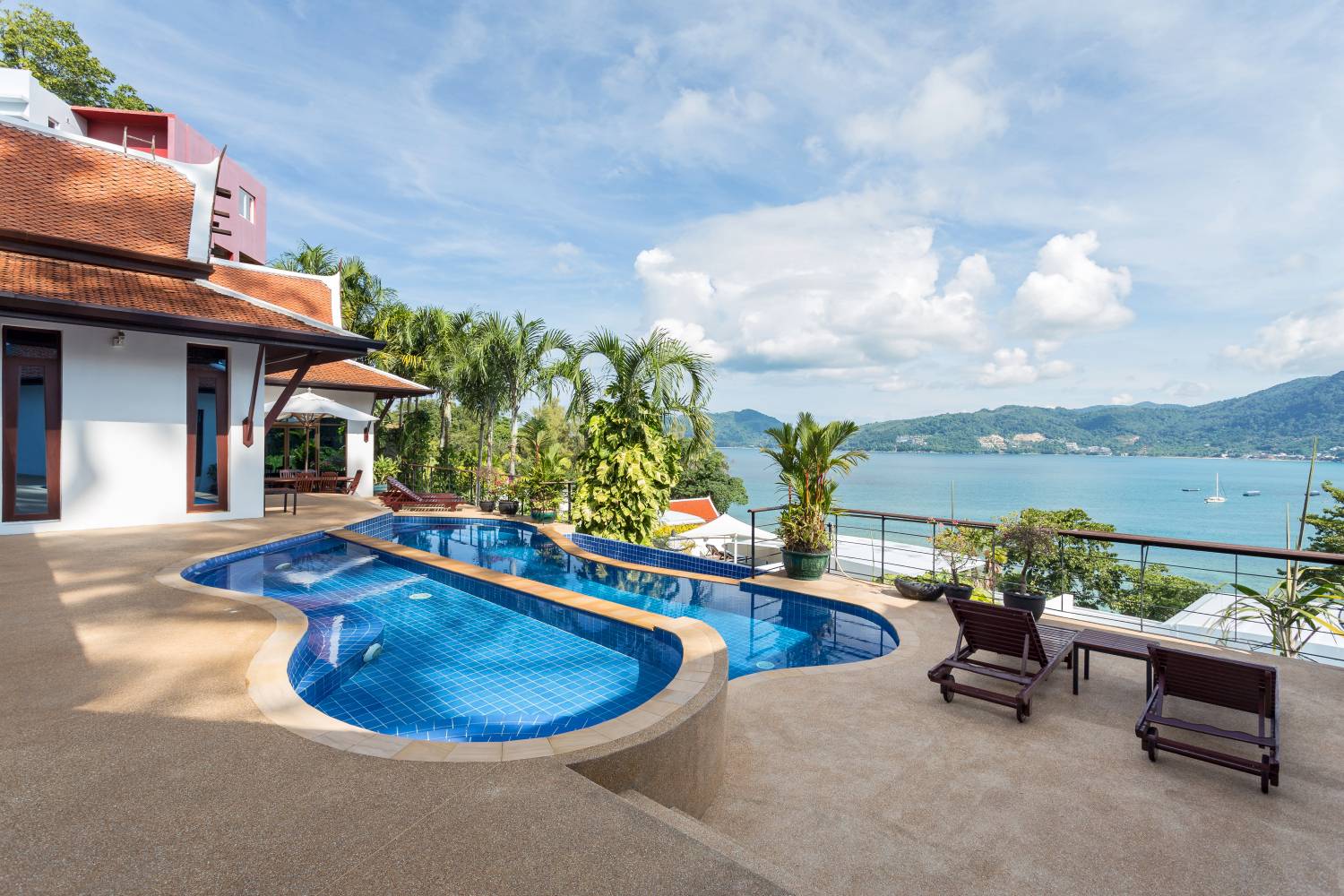 ---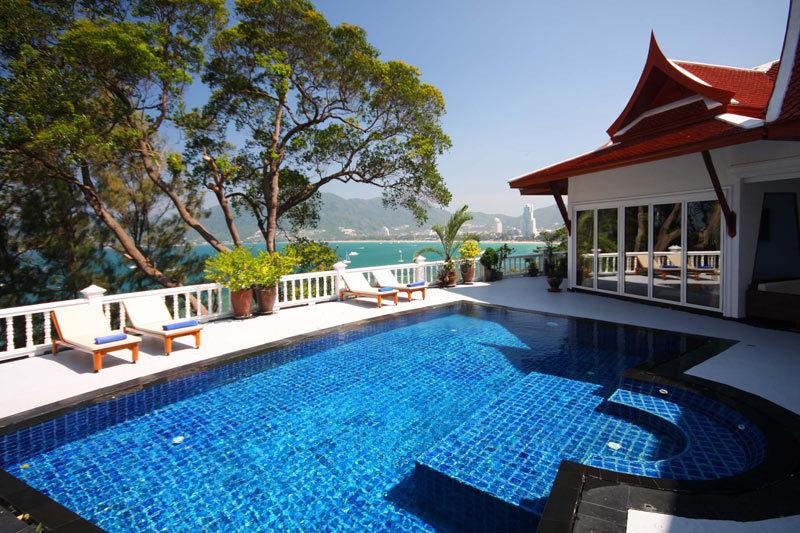 Villa Details
Baan Paradise is managed exclusively by Villa Getaways
Dive into decadence amid the tropical sounds and stunning vistas offered at the exclusive Baan Paradise Villa in Patong. Set atop a hill at the southern end of Patong Beach near the road headed around to beautiful Karon Beach, you'll find your luxury destination. Baan Paradise is the perfect holiday residence, a short three-minute ride to beautiful beaches, endless shopping, sensational dining and the intoxicating nightlife on offer in Patong in the Kathu District. Yet your lavish villa is hidden away in complete privacy with enough solitude to enjoy a restorative luxurious Phuket escape.
With the vibrant strip of Bangla Road drawing thousands of tourists from around the globe, you get your very own front-row seat to Phuket's epicentre with the Patong Bay panorama set out before you and 180-degree views out over the Andaman Sea. Stunning floor-to-ceiling windows afford an extravagant vista from the sumptuously appointed main living area, while the dining room dazzles at night overlooking the twinkling lights of bustling Patong. Yes, it's all about the views – even the luxurious spa bath overlooks the bay.
The opulent villa is part of the stunning portfolio of luxury holiday residences managed by Villa Getaways, and boasts a peaceful hilltop setting and is positioned around an infinity pool. Separate wings and levels comprise 5 master bedrooms, each with magnificent views over the bay. Relax in the main living area overlooking the pool or entertain guests with the latest BOSE audio/visual entertainment system. Surround sound makes the poolside a very tempting location to while away the hours, with your own optional chef and service staff operating throughout your stay.
So close to the busy tourist throngs that come to see the exotic sights that only Thailand knows how to dish up so well, your luxury Patong accommodation is a private sanctuary away from the crowds, making it the ideal setting to spend your holiday.
Phuket Island offers so many treats, including friendly locals, postcard-perfect beach settings and island tours to some of the most stunning strips of sand you'll ever see. Even James Bond has given his stamp of approval with an island chosen for the filming location of The Man With The Golden Gun named after the fictional icon. For the more adventurous you'll find quad-biking and elephant trekking or perhaps taming a tiger is on your bucket list.
Private villa manager – who speaks fluent English – will ensure your first-class vacation exceeds your expectations, while at your luxury Phuket villa two resident maids attend to your daily requirements. Make sure to take advantage of your villa manager when organising restaurant bookings and tours.
A premier holiday destination, Baan Paradise – complete with friendly and accommodating staff – will help create a highly memorable occasion for your family vacation, getaway with friends or romantic interlude for two.
Facilities
Stylishly appointed and furnished
Rich wooden flooring throughout
Original artworks
Antiques
Rich fabrics typical of the villa's exotic setting
Modern appliances
Comfortable surroundings
Bedrooms
Five generously sized master bedrooms, all with spectacular west-facing sea views. Each has its own storage and ensuite bathroom. Large comfortable beds invite you to open the curtains and lie back to wonder at the ever-changing colours as the morning sunshine glistens over the water. With so much on offer, while it might be difficult to leave your tranquil room, the effort will be worth it with an array of Thai temptations awaiting you.
Swimming Pool
Nestled between the luxury villa and the stunning view is a breathtaking 14-metre infinity-edge swimming pool. Comfortably appointed with teak timber sunbeds and massaging spa jets, you can easily spend a day – or days on end – relaxing poolside while listening to your choice of tunes.
Entertainment Room
Away from the main guest entertaining area, you'll find a games room downstairs, which operates as a handy kids retreat, fun party room or an enjoyable escape from rainy days during the wet season. Housing an impressive 60-inch wall-mounted plasma TV, the room comes complete with a surround sound home theatre that includes a DVD the latest movies and games for you or the kids to enjoy. Enjoy a game of pool at the American pool table, complete with a full set of sticks and balls.
Wi-Fi and Broadband PC
For your convenience, the entire Villa is Wi-Fi enabled. So, laptops and handheld devices can use WiFi to connect to friends, family and work colleagues back home. Baan Paradise includes the latest broadband PC with scanner and printer so you can download images from your holiday to take home.
Kitchen
This extravagant Patong villa has two full kitchens. On the main level, a large open-plan chef's kitchen services both the inside dining room and poolside areas. The lower kitchen can be used for late night snacks or as a maid's kitchen. Both are fully equipped and if you'd like to take over the cooking for the evening, the staff will help you feel right at home.
Staff
Baan Paradise comes with a minimum of two resident maids to look after all your daily needs. Your private villa manager speaks fluent English and will handle your personal interests, such as restaurant bookings, tours and recommendations. She can arrange afternoon massages and events, such as poolside cabarets if you're throwing a small party. Feel free to discuss all your needs with her.
Food and Drink
Your personal Thai chef for an additional cost can prepare various tasty Thai dishes
Check-In and Checkout
Check-in time 15.00pm and Checkout time is 10.00am. Late checkouts can be arranged at an additional cost and are subject to availability.
Read more
Rates
All Bedrooms | USD $900 per night - USD $2,200 per night
| | | | |
| --- | --- | --- | --- |
| High | Dec 1, 2023 - Dec 14, 2023 | USD $1,400 per night | 5 nights min |
| Peak | Dec 15, 2023 - Jan 5, 2024 | USD $2,200 per night | 10 nights min |
| High | Jan 6, 2024 - Apr 30, 2024 | USD $1,400 per night | 5 nights min |
| Low | May 1, 2024 - Jun 30, 2024 | USD $900 per night | 3 nights min |
| Prime | Jul 1, 2024 - Aug 31, 2024 | USD $1,100 per night | 4 nights min |
| Low | Sep 1, 2024 - Nov 30, 2024 | USD $900 per night | 3 nights min |
Real Client Reviews
Highly, highly recommended.
10 of us visited the villa (5 kids and 5 adults) and we loved it. Noy, Pat and Joyce took great care of us, the villa is absolutely beautiful with plenty of space, even with 5 kids running around, and the view is breath taking. The villa is very high up the hill but we had Jeab always on hand with a 10 man mini bus to take us wherever we needed and there is a convenience store and fantastic pizzeria a few minutes walk away. Highly, highly recommended.

Date of arrival - 24 May 2022


Impressive
Impressive, excellent location and very good service, I would repeat without a doubt.
I have been staying at this Villa for almost a week now with 5 adults. I previously have stayed in hotels and resorts however this Villa has been a lot more of a positive experience. Plenty of space, beautiful views, breakfast, cleaning and laundry done daily by the maid service I cannot recommend this place enough, I would give it 100 stars if I could. Joyce has been our contacted during our stay and has been extremely helpful too, with organising rental vehicles, taxis or even traditional massages to the Villa. I would rather stay here than a hotel or resort

- Matthew Simpson

Thank u for having us
Fantastic property unbelievable good service in the best location Beautiful home with everything a 5 star location has to offer Joyce was amazing and very very helpful Would highly recommend and we will be back Thank u for having us
Would definitely come back
Beautiful villa in an ideal setting. Would definitely come back.
An unforgettable stay
An unforgettable stay and one of the most lavish villas. The scenery, the amenities, the host, and the staff were all amazing. Everything was pristine from beginning to end. The host was beyond helpful! Her hours of availability made her easy to reach for support or questions. The staff would keep the place looking well kept in such a manner that you didnt see them but you saw how efficiently they cleaned the 5 room villa. The view from all the 1st and 2nd floor bedrooms were breathtaking. By day and by night!

Date of arrival - 16 January 2023


Thank you for an amazing stay
Amazing stay at george place Great view Location Especially need to mention about the service and cleanliness Just like a 5 star hotel Definitely recommend
Would definitely come back again
Beautiful villa in an ideal setting. Would definitely come back.
We are in very good hands the staff here are amazing
Hi Ika

We are in very good hands the staff here are amazing and helping us with everything we need. Particular credit to Joyce she is amazing!!

Many thanks for checking in
Lucie
The overall experience was amazing ???
The overall experience was amazing . the villa looked like the pics, what made it better is the staff, especially the villa manager she was so helpful and responsive whenever we needed her.
Beautiful place
Beautiful place with attentive staff. Joyce was an absolute pleasure to have around and she performed exceptionally. Highlight of our trip to Thailand was having this beautiful place to stay.
House was great! Highly recommend. Joyce was very responsive and helpful as well with dinner reservations and cars!
The stay at Villa Baan Paradise couldn't have been better. The place itself is beautiful, incredible views, private and generally an amazing place to stay. The villa staff were brilliant, their assistance with bookings, breakfasts and dinner and cleaning the place really made the difference. Will 100% return and won't actually consider a hotel again! Thank you George, Joyce and team
Good location. Secluded and yet just a short tuk tuk ride to Patong Beach. Amazing pool overlooking the Patong bay. The view is breathtaking day and night. Very spacious. The only nitpick is that the interior is a bit dated though very well maintained. Joyce, the host, was fantastic and very responsive. She's practically a personal concierge! Highly recommended.
An amazing experience, will come back.
Perfect location. Even better than the pictures, close to Patong but away from the chaos. Clean house, good layout, beautiful pool/ outdoor area. The kicker was Joyce the villa manager, she anticipated every need and handled any request promptly. An amazing experience, will come back.
hidden oasis
This hidden oasis was just what we needed. The staff even arranged for my party to have massages at the villa which was very convenient and much needed.
Booking/Inquiry
Phuket Villa 428
Need help?
Contact us for personalized service and customer support.