Availability
Booking/Inquiry
Koh Samui Villa 4216
Click to see bigger map
Villa Amenities
Ocean View
Pool
Air Conditioning
Maid Service
Personal Chef
WiFi
Similar Villas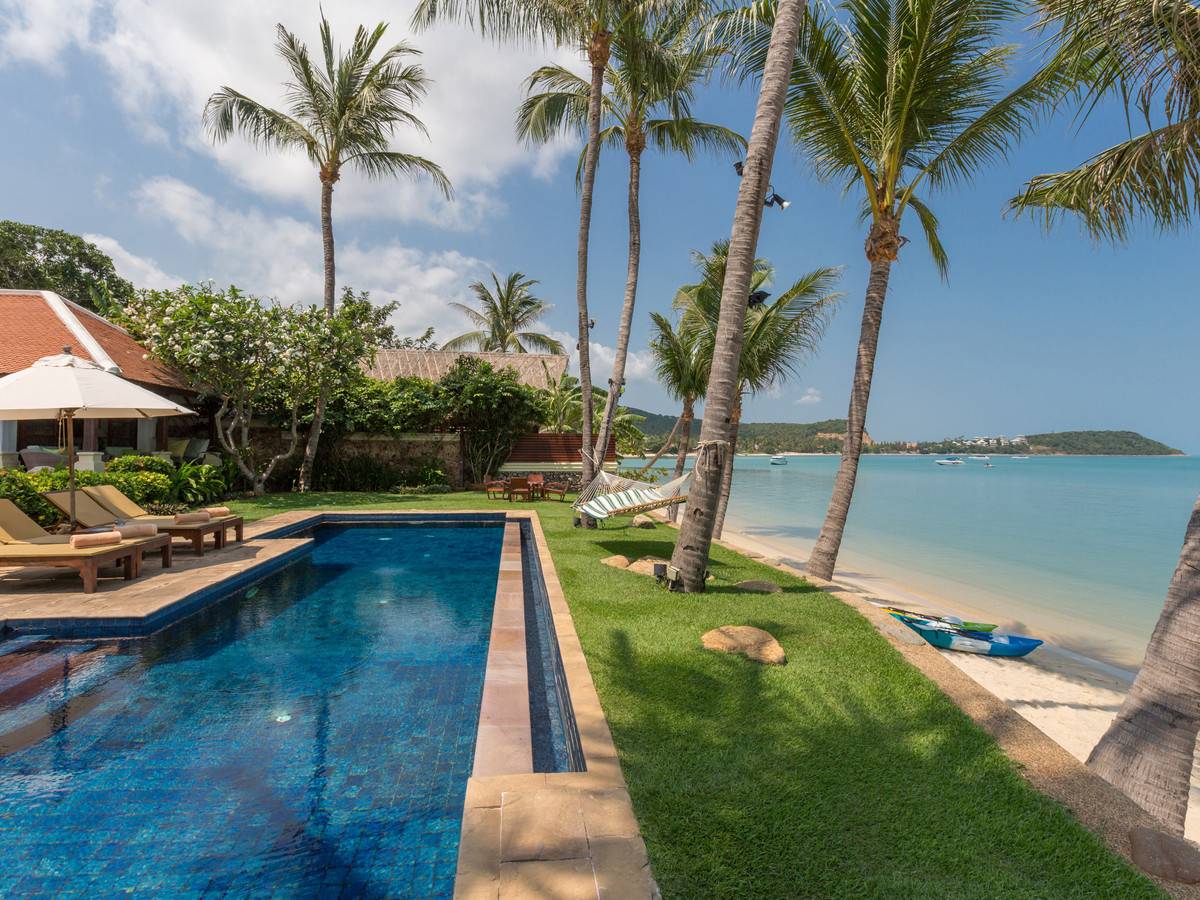 ---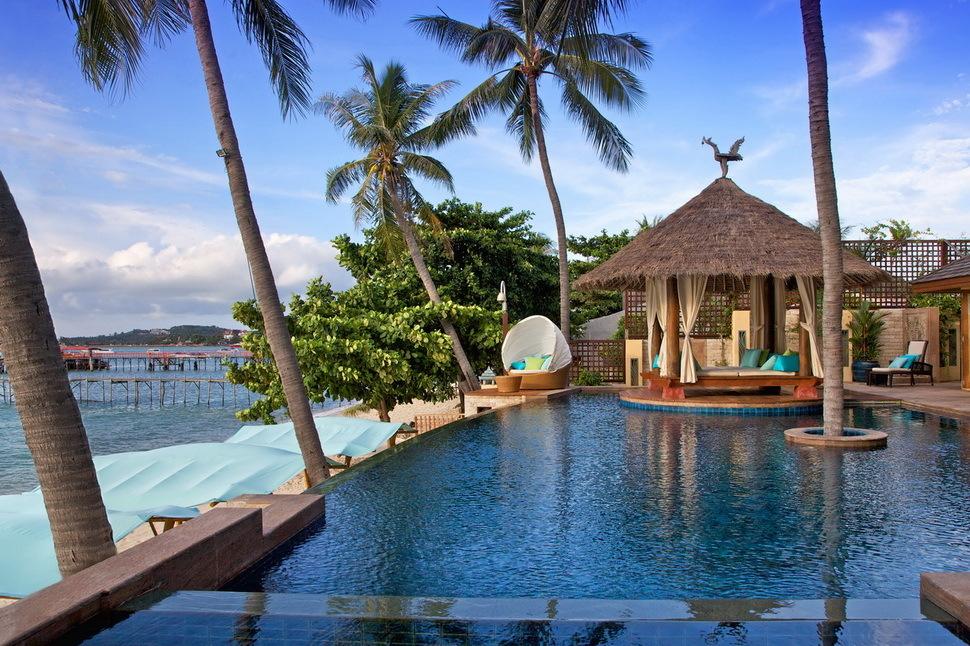 ---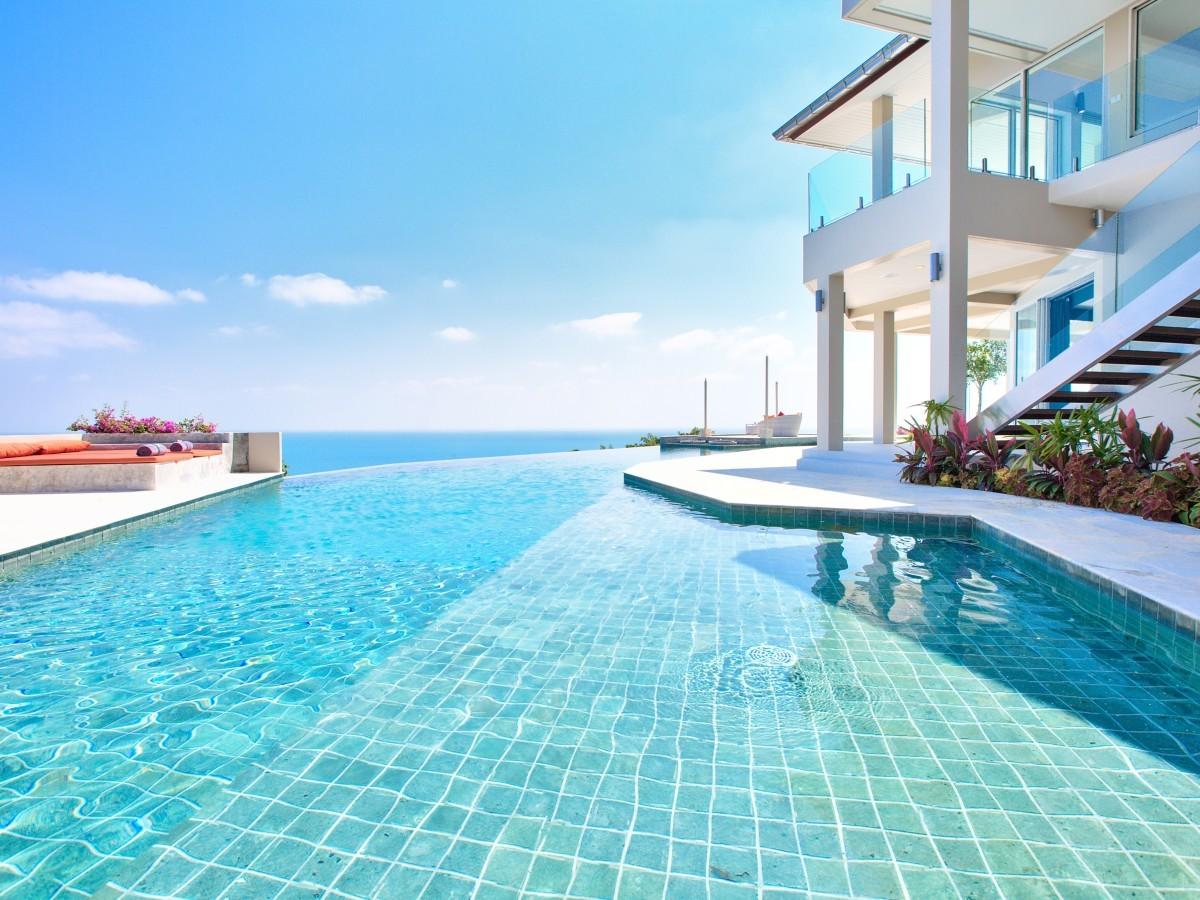 Villa Details
This stunning private residence features six bedrooms, a 20m infinity pool, private Life Fitness gym and ultra-modern architecture and interiors. Not to mention uninterrupted, breathtaking views of Samui and Koh Phang Ngan.

Extreme contemporary designs and furnishings are created and crafted using a range of natural materials and the finishing of this villa, with wooden-tiled pitched roofs, enables it to look at home in the tropical mountainside location. This mix of cutting edge technology, modern design and natural materials results in a remarkable and unique property.

The imposing residence can be seen from the approach up the hillside which gives it an aura of magnificence. The driveway approaches the rear of the property and on entering into the villa from above you will feel literally on top of the world. The entrance pathway leads over an expansive natural stone waterfall which flows behind the main building.

Steps lead up to a reflecting pond and to the left is a huge living room with wooden lined vaulted ceiling. Once in here you're faced with a tough decision as to where to look first. The room is exquisitely furnished with contemporary furniture, artwork and ornaments. But the whole front of the room opens onto a balcony with a low glass ballustrade that affords a spectacular view across mountains and valleys; you can see the whole of Bophut Bay and right over to Koh Phang Ngan.

Starting with the interior of the room, the first feature you see is the polished dark wood dining table complete with modern white chairs. After this there's a flamboyant black-gloss and chrome finished open kitchen which runs parallel to the view. The black and chrome is expertly contrasted and complemented by a white polished island and breakfast bar. Between this and the balcony is a red leather chaise-longe accessorised with black leather cushions providing the perfect place to savour the view. At the far end of the room is the comfortable lounge area consisting of plush white leather sofas, stone tables, modern sculptures and a 50in flat screen TV. This sophisticated room is finished with polished grey terrazzo floor tiles and dark wood.

The wide stone balcony has plenty of outdoor furniture, a further dining area and looks over the garden below, the large pool terrace and the black tiled infinity pool. On either side of the balcony are stone staircases leading to the other levels of this expansive villa.

On the right, steps lead down to the lower level where there are three bedrooms situated below the main living area. Each double bedroom is stylishly fitted with contemporary furniture and artwork, has built-in wardrobes and benefits from an en-suite shower room with twin sinks. Each of these three bedrooms also has a private balcony with seating that looks across the sea views and down over the garden and pool.

Staying on the right side, further steps lead you down into the garden and to the pool terrace and pool. At the right end of the pool is a large Sala complete with bar and stools sunken into the pool itself. The Sala has built in benches and comfortable seating.

Steps from the Sala lead down to a corridor that runs underground and alongside the pool. There are a number of storage rooms and at the far end of the pool you arrive at the private, well-equipped gym which also has windows, allowing sea views, and doors that open into a garden and lawn area.

Stepping stones lead from this garden up to the first of three master suites that occupy a three-storey building. The ground floor suite sits below the pool level with views over the garden and over the valley to the ocean. It has a separate dressing area, twin beds and an en-suite bathroom with a shower and a distinctive grey circular terrazzo bathtub.

Above this room, at poolside level, is another suite with separate dressing area, a modern four poster bed and an en-suite bathroom with a shower and an oval shaped grey terrazzo bathtub.

On the third story of this master pavilion is yet another suite that again has a dressing area, a four poster bed and an en-suite bathroom with shower and grey oval shaped terrazzo bathtub. In each of these suites the bathtubs are positioned at the front of the rooms with windows maximising the stunning panoramic views.

Finally, steps lead back up onto the wide balcony and to the lounge, kitchen and dining area. This is a very large property that has been well designed and thought out so as to provide private and practical accommodation that's suitable for large families or groups of friends. The flexibility of the villa also makes it an ideal choice for weddings and events.

Internally every room is finished and decorated with high quality furnishings, unusual modern artworks and high-end electrical appliances. Each room has a 30in flat screen TV and the whole villa benefits from a sleek Bose sound system that's piped everywhere including the garden and the sala.

The grey natural stone effects and extreme contemporary furniture and artworks are brought to life by the water features, the neat lawns and the tropical planting of the garden areas. This is an exceptional villa that combines modern luxury and design with the complete privacy and exclusivity that comes from being at the top of a mountain.

Guests at the villa can also enjoy beach access should they wish through a special beach club arrangement at the exclusive Sala Samui Resort & Spa. They can also enjoy discounts on food and drink at the resort.
Location
In Bophut area, northern coast of Koh Samui, 10 minutes drive from the airport and to Chaweng
Bophut Hills golf course and its 9 pitch and put course are just minutes away from the villaFacilities
Facilities
20m infinity-edge swimming pool
Private fitness room
Bose Hi-fi system with outdoor speakers
ADSL internet connection (WIFI throughout)
IMac computer for guests use
TV satellite with 50in plasma screen, DVD players
Fully furnished inc. linens/towels
Two fully equipped kitchens
All bedrooms are air conditioned
All bedrooms are fitted with 30in plasma TV, DVD player, ipod dock, mini bar and safe
Services
The resident villa staff will ensure the villa is kept clean and tidy while the Villa Manager is available to cater to all Guests specific needs and help organise activities, massage and spa treatment as well as communication with the Thai chef and dealing with any matter arising at the villa
Our Guest Relations & Concierge team will visit guests during their stay (usually the day after check in) to further help ensuring guests have a pleasant stay or address any matters arising at the villa
Bed linen is changed every third day
Pool & Bath Towels are provided and changed as necessary. We do appreciate our guests help to conserve water usage and thus sustain our pristine island environment
On site Thai Chef (Thai cuisine and Western favourites) with shopping list available. Food cost on Guests account. Terms & Conditions may apply for chef service
In-Villa wine selection
Concierge service for all tours and activities; private tours can also be arranged
Car rental can be arranged with full insurance coverage, with or without driver
Baby sitting service on request and availability
In-villa spa treatment with extended menu
Guests of Suralai can enjoy complimentary beach access and food and drink discounts at Sala Samui Resort & Spa
Attractions
Big Buddha Temple
Water sports
Easy access to the dive centre of Koh Tao
Boat trips to outer islands
10 minutes from Chaweng shopping centres and restaurants
Read more
Rates
6 Bedrooms | USD $1,000 per night - USD $1,900 per night +18.7% Tax
| | | | |
| --- | --- | --- | --- |
| Low | Oct 8, 2022 - Dec 12, 2022 | USD $1,000 per night | 3 nights min |
| Prime | Dec 13, 2022 - Dec 19, 2022 | USD $1,500 per night | 5 nights min |
| Peak | Dec 20, 2022 - Jan 5, 2023 | USD $1,900 per night | 10 nights min |
| Prime | Jan 6, 2023 - Jan 22, 2023 | USD $1,500 per night | 5 nights min |
| High | Jan 23, 2023 - Feb 1, 2023 | USD $1,200 per night | 3 nights min |
| Prime | Feb 2, 2023 - Mar 27, 2023 | USD $1,500 per night | 5 nights min |
| High | Mar 28, 2023 - Apr 25, 2023 | USD $1,200 per night | 3 nights min |
| Low | Apr 26, 2023 - Jun 30, 2023 | USD $1,000 per night | 3 nights min |
| Prime | Jul 1, 2023 - Aug 31, 2023 | USD $1,500 per night | 5 nights min |
| Low | Sep 1, 2023 - Sep 25, 2023 | USD $1,000 per night | 3 nights min |
| Prime | Sep 26, 2023 - Oct 7, 2023 | USD $1,500 per night | 5 nights min |
An additional tax of 18.7% will be applied.
Booking/Inquiry
Koh Samui Villa 4216
Need help?
Contact us for personalized service and customer support.