Availability
Booking/Inquiry
Phuket Villa 4129
Click to see bigger map
Villa Amenities
Ocean Front
Ocean View
Pool
Air Conditioning
Maid Service
Personal Chef
WiFi
Similar Villas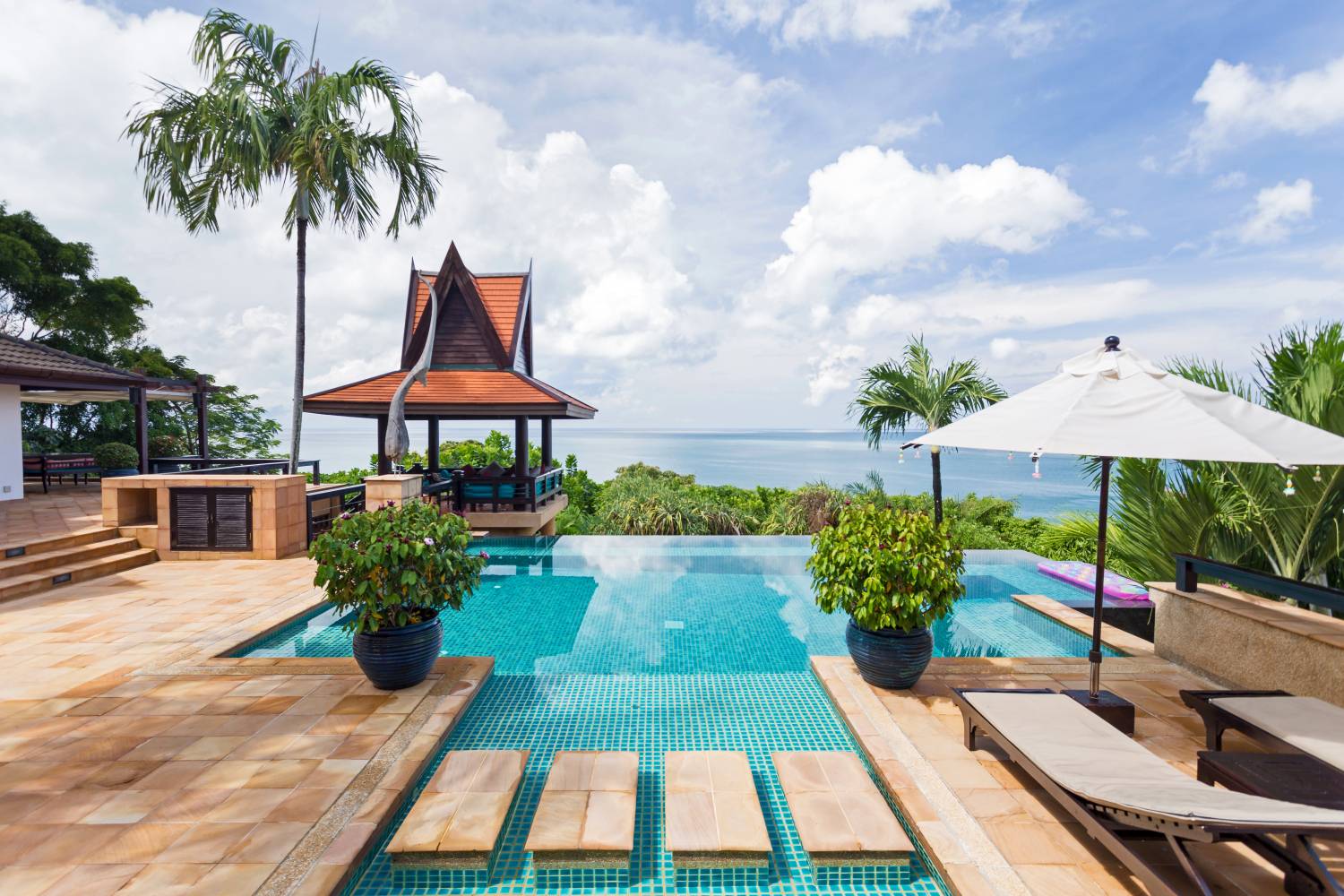 ---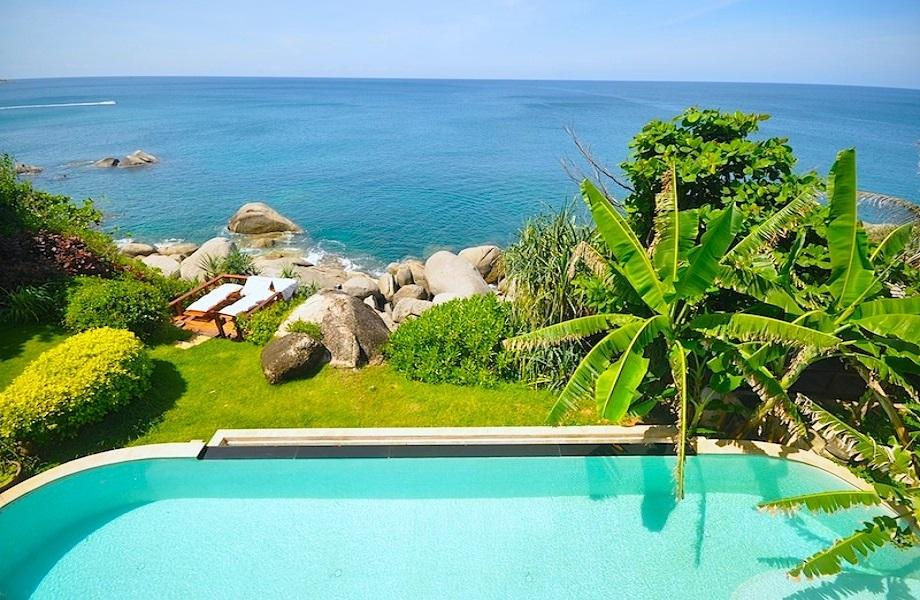 ---
Villa Details
Villa Baan Perwah in Kata

Villa Baan Perwah is managed exclusively by Villa Getaways
Magnificent sea views greet you from the main bedrooms of the stunning 4-bedroom Baan Perwah, perched on a headland between beautiful Kata Noi and Kata Yai beaches. Overlooking the Andaman Sea, this exclusive residence offers an intimate Thai getaway you'll remember for years to come. Privacy is paramount at your own luxury villa, with a large infinity pool and well-appointed amenities throughout.
This upscale address is just 10km from popular sightseeing destinations such as Wat Chalong temple and the picturesque Phromthep Cape. Plus you're perfectly positioned to walk to your choice of sensational restaurants, such as award-winning Mom Tri's Kitchen at the Villa Royale overlooking the water and The Boathouse Wine & Grill right on the beach.
You'll find plenty more exotic and delicious dining options – across many price ranges, from budget to high-end – in the charming Kata precinct.
Baan Perwah boasts a delightful balcony – the focal point or the luxury Phuket residence – that rests high above the rocks with splashing waves below. Daytimes spent relaxing by the pool are complemented by evening sessions under the stars at your western facing location to take advantage of magical sunsets over the water. Nuch, your friendly and accommodating maid and cook, will provide meals upon request at your indoor and outdoor dining facilities. Nuch can also organise many Phuket holiday attractions including game fishing or FantaSea show tickets.
The swimming pool features a swim-up bar to enjoy cocktails with friends and family while lazily looking out over the Andaman Sea. Baan Perwah in Kata luxury villa is ideal for a relaxing getaway or festive sojourns with friends. Built on three levels that slope down to the seashore, each with expansive views of across the water, this premier villa has everything you need for a perfect Phuket escape.
Facilities
Four bedrooms, two with king size beds and two with queen
Main bedroom features Thai style wooden floor and vaulted ceiling, private balcony overlooking swimming pool
Outdoor terrazzo bathtub off main quarters
Second bedroom with direct pool access features terracotta floor tiles and sound-absorbent ceiling tiles and blockout blinds for the ultimate in privacy and tranquillity, along with 9mm thick laminated windows for excellent soundproofing
All bedrooms have ensuite showers and toilets
Outdoor dining to enjoy magnificent morning breakfasts perched among the trees, directly overlooking the Andaman Sea
Entertainment room with high-speed WiFi internet connection and satellite TV, with DVD, PC, MP3 available
CD music can be piped to the pool area
Basic laundry is provided, along with washing machine and dryer as well as ironing facilities on site
Two levels complete with own dining/sitting rooms and pantries
Fully air-conditioned
Room safes in bedrooms for security of valuables
Solar power and high-pressure water
Salt-solution swimming pool that is moderated at 29-32 degrees centigrade, and Jacuzzi attached
Servants quarters
Staff
Nuch, your maid, cooks superb Thai meals. All meals can be prepared at your cost.
Nuch performs all grocery shopping duties to ensure you enjoy 5-star service for the duration of your stay
Nuch provides basic laundry services and can provide dry-cleaning services at an off-site location
Nuch can arrange taxis, self-drive hire vehicles or chauffeured limousine services upon request
Nuch also books tours, shows, in-house massages, game-fishing trips, golf rounds or elephant safaris upon request
Two assistant maids are available if required
Jit, the handyman, maintains the pool and checks water daily
Read more
Rates
All Bedrooms | USD $675 per night - USD $1,750 per night
| | | | |
| --- | --- | --- | --- |
| High | Jan 10, 2019 - Apr 30, 2019 | USD $950 per night | 3 nights min |
| Low | May 1, 2019 - Dec 15, 2019 | USD $675 per night | 3 nights min |
| Peak | Dec 16, 2019 - Jan 9, 2020 | USD $1,750 per night | 10 nights min |
Real Client Reviews
Amazing group holiday
For a group of eight, this Villa was perfect! It had great rooms, friendly and efficient service, blue skies, amazing food (better than the street), and the views were perfect! It is close to town, but we didn't feel the need to leave! I would highly recommend this Villa for an awesome holiday with some close friends!!!
Magical memories & exceptional staff
It's hard to know where to start so I'll break it down ...

Villa getaways - Although we were a little apprehensive about booking through a company we couldn't meet with face to face, hadn't heard of before & couldn't get many reviews on ... we are so glad we took the plunge to receive the experience we've just had. Everything went smoothly & was just as promised ... thank you Meg.

Airport transfers (included in price) - From the moment we touched down in Phuket & was greeted by our driver "Mr Gun" ... we knew we had booked something special. Mr Gun became the preferred driver during our stay & looked after us every step of the way. Keeping your wits about you on Phuket roads is a must & Mr Gun comes highly recommended. On time every time, lovely clean & air conditioned van, english music & he even put on a video for the kids to enjoy on the way home after a night out at Phuket Fantasea.

Arrival at the villa - Met by our lovely Villa Getaway representative who gave us a quick tour of the complex. Staff took care of bags & offered us cool drinks. The Villa has breathtaking views from almost every angle ... we were in awe from the word go. Chris the Villa Owner (nice man) stopped in that afternoon to say hi & show us how computer/sound system worked & left us with recommendations & contact numbers we may need.

The villa - Peaceful (apart from the sound of the ocean), tranquil, traditional & well set out. We stayed for 9 nights with friends late September - Early October 2013 ... it was supposed to be monsoon season but most days were lovely. There were 7 of us in total ... 4 adults, 1 teenager & 2 children. The Villa accommodated all of us without a problem with enough room to spend together or apart when required. Apart from the bedroom at the very top of the stairs ... all bedrooms were very spacious with own en suite & added extras like toothpaste, soaps, shampoos & bottled water. The pool & bar area was excellent to spend the afternoon enjoying a few drinks, snacks & a nice cool swim after a hot day ... listening to music & taking in the views was heaven. Insect repellent was provided to ward off mosquitoes. The many stairs didn't bother us but could be a problem for families with young children & elderly people.

The staff are an asset to this Villa & what makes it extra special ... we just adored them & their kind, caring nature. Nuch (Villa Manager) is a gorgeous & very talented lady who cannot do enough to please ... amazing chef (Thai meals to die for) & exceptional with the kids ... even accompanying my teenager with a few friends to the night markets during our stay. Nuch spoke enough English to get us by without hassles & took care of booking all tours (we hadn't already pre-booked) for us. Chan assisted Nuch with cleaning, laundry & meals service ... speaks very little English but has an absolutely beautiful nature. Chan was also great with the kids & good at what she does with a smile that lights up a room. There was also a young man (never did get his name) who appeared first thing in the morning & late afternoon to clean the pool, sweep grounds, light mozzie coils, put out towels & restock fridges etc ... very respectful. We left the Villa at 6.30am & all staff plus Nuch's lovely daughter & Chris (villa owner) was there to help us with our bags & say goodbye ... we miss them already & wish them all the very best. From the Skinner & Chalmers families
Just so special - A brilliant family holiday
We had a fantastic time in Phuket. The accommodation is great (quite a few mozies), but Khun Nuch just makes the stay so enjoyable. She is an awesome host and a brilliant chef. The staff are wonderful and catered for our very need, including delicious Choc chip cookies after a long day at the beach.
must do
excellent spot and pool. The service is superb and the food cooked by the staff is great.
Awesome spot in Kata and very private with plenty of room.
Will be back in the future.
Awesome Villa (Homely Environment with best view)
Villa 4129 is one of the best villa that I have ever stayed. It offers a stunning view of andaman Sea.. It offers amazing infinity pool with bar. It has a deck near the pool with beautiful view and seating.

Two large bedroom and two medium size bedroom are well equipped. Kitchen and Dinning facility are also very good.
They offer in-house Chef and cooks fantastic Thai Food. They cook different stuff too.

It 5 minutes away from Kata Beach and Main Market.

I highly recommend this Villa to two or three family group.
We had a wonderful time
We had a wonderful time in Phuket at the villa. many thanks.
We enjoyed our stay
We enjoyed our stay at villa 4129 very much.
All was great thanks
All was great thanks.... The staff were perfect.
The villa was superb
"He had a great welcome from the housekeeper, Nuch and her helpers Dan and Dec. Later in the day Chris the owner called rounded to explain how things worked and to assure us that he was easily contactable in case of need. The villa was superb and we were all impressed with the views and location. The pool bar and fridges were kept well stocked and we just had to pay cost price. We highly recommend using Nuch to cook some of your meals, she is fantastic and provided better than restaurant quality for authentic Thai dishes. She also did our basic laundry daily, we would not have lacked so much had we known that her service was going to be that good. All rooms were comfortable with good bathrooms and showers. The pool and pool bar were a favourite to watch the sunsets daily. The villa was located within 5 mins walk of 2 excellent beaches and loads of restaurants and bars, albeit a bit of an uphill walk on a busy road on the way back but you could get a tuk-tuk cheap. We were all sorry to leave and would love to return in future."
Amazing Villa, great staff!
My husband and I stayed at this villa with our three adult daughters and their partners. The villa was perfect as it had 4 en-suited bedrooms. The bedrooms were very comfortable and air conditioned. The whole lay out of the villa suited us perfectly. Being there in March/April when it was very hot the swim up bar in the pool area got lots of use. The villa is about an hours drive from the airport but you get picked up in a comfortable, air-conditioned van and that was easy. It is beautifully located in between two lovely beaches only a few minutes walk away. Nuch the caretaker/chef was amazing. She was such a good cook that we found that we ate in a lot. She does all of the shopping for you and only charges you cost price for food and drinks. Everything is done for you. The beds are made and rooms cleaned every day. She even does your washing for you every day. Nuch (who speaks very good English) can organise anything you want from arranging tours to simply getting a driver to pick you up. We spent a perfect 10 days there. I would highly recommend this villa for a group of eight adults.
Thank you again we really enjoyed our stay and would love to visit again
The pictures of this place accurately represent the Baan Chill Kata. Our stay was very pleasant we enjoyed swimming in the pool while looking out over the ocean, the location is very good close to Kata beach, shops, restaurants, however we did not eat a lot as the staff at Baan Chill Kata are some of the best we have experienced. Senior housekeeper Nuch cooked everything we requested to restaurant quality including western meals at times for our children. This place is very private, however not too far from beach - we would recommend this to families, or up to 8 adults.
highly recommend this property
We are a family of 2 adults and 8 children. When you are greeted by the owner at your arrival, it shows how confident he is in his property and service. Chris took the trouble to greet us and walk us around the place and explain everything we would need. He kept his contact for further assistance and handed us to his helpers Nuk and Jane. Both were excellent and helped us with kids. They cooked us excellent breakfast and dinners. They took care of our laundry and all weird requests. Kids fell in love with them, I could not say enough to thank them. The property is really awesome and better thank pictures. 4 bedrooms, 2 of them are really large. Kitchen with dinning area large and clean and have a nice view of the sea. We really enjoyed dining there and Nuk was really an excellent cook. Very spacious and neat. There is a computer/ theatre room with many movies to chose from. The view is unbelievable and being at top of hill makes it breezy and nice to enjoy sunset in a complete privacy. The pool is large enough for adults with a nice bar, Kids would have to be guarded though Since there are deep parts. The location is excellent in term of privacy and very close to three top highly recommended Restaurants by trip advisor. Kata beach is 10 min walk away and all shops and Restaurants are nearby. I've been many times to Phuket and it's my favorite. I highly recommend this property and I'm planning to book it again for the next kids vacation.
Baan Chill Kata was simply marvelous!
Dear Ika,

our stay at Baan Chill Kata was simply marvelous! Everything was perfect for us and back in Berlin we will certainly rave about it on Tripadvisor.
Especially, Norch an the other staff members are so wonderful people. They took care of everything in a friendly, warm and considerate manner.

Also our thanks go to you and the other Villa team members for enabling and organizing our stay in the smoothest way possible. Dankeschön (German for thanks)!

Best,
Hans and family
Baan Chill at Kata was like our own private resort with unsurpassed views
Our family of 8 adults and 4 young children stayed here in January and we had an amazing experience. We never wanted or needed to step out of our private little resort. Nuch who lives on the premises was fantastic in every way and nothing was a problem. We didn't have to lift a finger. The cooking, washing, cleaning, was all done for us. They even minded the babies while we had meals.

Massages etc could be ordered at the villa very cheaply and both Kata and Kata Noi beaches are 5 minutes walk which we visited daily and some of us would swim around from the rocks at front of villa.

I can't recommend this property highly enough.
The only concern is that if you have little children you need to watch them vigilantly as there are no safety fences around the pool(not unusual for Thailand) and there are a few dodgey fences around decks which really need to be attended to for everyone's safety.

Booking/Inquiry
Phuket Villa 4129
Need help?
Contact us for personalized service and customer support.