Availability
Booking/Inquiry
Phuket Villa 4505
Click to see bigger map
Villa Amenities
Ocean View
Pool
Air Conditioning
Maid Service
Personal Chef
WiFi
Daily Breakfast
Car & Driver
Similar Villas
---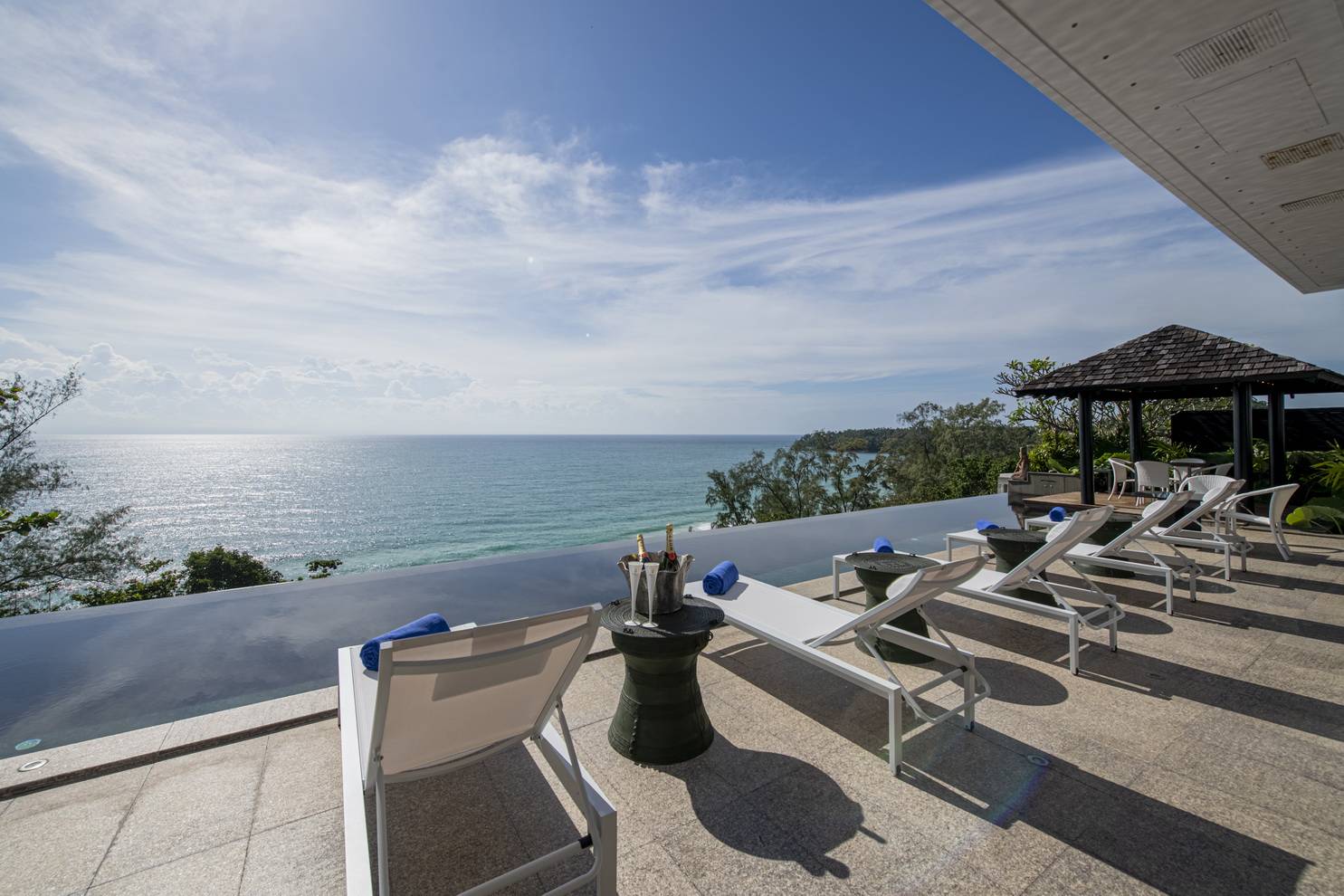 Villa Details
Welcome to Villa 4505, one of Phuket's most spacious luxury rental properties, and a place you'll be inspired to call home for a while.
Situated in the majestic green hills of Northwestern Phuket, and overlooking the glorious sun-drenched sands of Bangtao and Surin Beaches, the villa offers what may just be the best view on the island. Gaze northwest all the way to Phang Nga. Look to the southwest over the Amanpuri resort, or relax over a glass of wine while savoring the phenomenal sunsets.
Even with the spectacular outdoor setting that makes the most of our incredible views, the opulence and comfort of the modern interior at the villa may make it difficult to decide whether to spend your time indoors or out. Sophisticated and understated, the Villa was designed to showcase the contemporary style of our decor and art work. And perhaps best of all, the 1800 square meters of luxurious living space features ten bedrooms and eleven bathrooms that can easily accommodate up to 16 adults and 6 children in full comfort.
Indoors
The ground floor houses a professionally equipped, restaurant-sized kitchen where both Thai and Western cuisine are prepared. Just tell your personal chef what you're in the mood for. Or, if you prefer barbecue, a six-burner outdoor grill is always on standby. After dining indoors or alfresco, why not enjoy an espresso or cappuccino from our Faema E61 espresso machine? We have our own personal blend of fresh espresso beans on offer at the Villa, and we take great pride in the quality of our coffee.
All of our bedrooms are beautifully appointed, with bathrooms that feature a separate Jacuzzi bathtub, in addition to shower and toilet. The largest master bedroom suite boasts an adjoining second bedroom and attached office. Our children's room is furnished with two double bunk beds, and a flat screen with gaming console. And eight of our ten en-suite bedrooms. Accommodating guests comfortably never requires additional beds at Villa 4505.

A fully-equipped home theatre, and a separate spa area complete with Thai massage beds, are yours to enjoy. Kick back and relax in a home theater that boasts seating for eleven, a 120-inch screen with projector and Blu-ray, and a PlayStation 4 console with games. Or perhaps you'd prefer to work out with the free weights or one of the eleven brand new machines in our professionally equipped gym.
Outdoors
Sun beds and king-size day beds overlook the sparkling sea, and surround the magnificent 20-meter infinity pool with Jacuzzi and waterfall shower. Large Salas provide comfortable seating for multiple guests, and allow you the opportunity to enjoy meals out of doors. Or why not relax with a drink from the outdoor bar, and head up to the roof terrace to enjoy the splash pool and experience those incredible views that allow you to see forever during the day, and to touch the stars at night.

Sometimes it's the little things that guests remember most about their stay at Villa 4505. Maybe it's the wine cellar, cigar collection or billiards room. Maybe it's the way the Villa's setting encourages the natural and refreshing cross breezes that effectively keep the area's mosquitoes at bay. Or perhaps it's even the fact that almost 100 square meters of solar panels hidden away on the Sala roofs provide the bulk of our electricity and hot water. When we welcome you as our most privileged guest at Villa 4505, we want to be certain that you'll want for nothing, and worry about nothing. From our world-class Purapool cleaning systems, to our fully functioning back-up power generator, you can rest assured that your utmost comfort and well-being is always foremost in mind.
Experiences
When you're ready to explore, Phuket's best nightlife, restaurants, and beaches are just minutes from the Villa.
The fantastic restaurants of Cherng Talay, the exciting evening entertainment of Surin Beach, and some of the best beach clubs on the island are all easily accessible to you.
Even Phuket's finest beach, Bangtao/Layan, is only moments away.
And with the Villa's Eleven-seat Toyota Mini-bus and personal chauffeur at your disposal, you're free to explore the area, throw a party, or simply have friends come over and visit.
Of course, should you prefer to hire your own car or motorcycle during your stay, our four indoor and four outdoor parking spaces are available for the convenience of both you and your house guests.

At Villa 4505, the choice is always up to you. Can't decide? Then might we suggest booking a traditional Thai massage or some other decadent spa treatment for yourself, with service that can be easily arranged (at guest's cost).
Facilities
Modern, split-level luxury accommodation with 1800 square meters of living space, featuring incredible views and contemporary interior design and art work
10 luxuriously appointed bedrooms and eleven bathrooms
19-Meter infinity pool with a freshwater system and Jacuzzi (19m * 3.5m * 1.3m)
Rooftop jacuzzi featuring with an absolutely incredible view
Movie/Projector Room with 11 plush chairs
Fully equipped kitchen with the capacity to serve 50+ guests
Breakfasts served daily at no extra charge
Full-size professional gym
Pool table
Ping pong table
Outdoor bar
Air-conditioning
Bottled drinking water
Elevator (110 * 90 cm)
Dumbwaiter for transporting goods from the ground floor kitchen to the level 4 lounge area
Integrated Sonos sound systems at upper and lower lounge areas, pool, and in Salas
300 Mbps free Wi-Fi throughout the Villa
Spa treatments arranged in-Villa (at guest's cost)
In-house laundry facilities (laundry at guest's cost)
Indoor garage with parking for 4 vehicles
Outdoor parking for 4 vehicles
The Staff
The staff of the villa is at your service for the entire length of your stay with us.
Their role is to ensure that your visit is as relaxing and enjoyable as possible, and at least one staff member will be available to you from early in the morning until 10:00 pm in the evening.
This is a premier class accommodation with full service, and our staff welcomes you as their privileged guest.
Chauffeur Services During Your Stay
During your stay, our driver and van are at your disposal daily 08:00-17:00. Due to new Phuket regulations in 2017,

no more than 11 guests

may travel in the van.
The cost of this service is the price of the fuel, which is quite inexpensive in Thailand.
If you need the driver during other hours, the price is 500 Baht/hour plus fuel if the driver is available.
If your group is too large for the van or if the driver is not available outside his working hours, other transportation can be arranged by our manager.
Phuket van services usually have fixed prices for set tours or destinations.
As the prices vary on a case-by-case basis and are subject to changes, the manager will inform you of the cost of each requested trip.
Villa 4505 at a Glance
Level 1: garage, wine cellar, restaurant-style kitchen, staff area
Level 1.5: Gym
Level 2: 2 king size bedrooms (one with ocean view and one without), home theatre, spa, lower lounge, billiards area, ping pong, outdoor terrace with bar and lounge seating
Level 2.5: King size bedroom with a double jacuzzi
Level 3: Master Bedroom Suite, 3 king size bedrooms, library/lower lounge
Level 3.5: King size bedroom with a double jacuzzi
Level 4: Main lounge, indoor dining, bar and kitchen area
Outdoor Area Level Four: Infinity pool, waterfall shower, sun beds, lounge seating, roofed Sala for 16, dining table, 6 burner BBQ grill.
Level 4.5: King size bedroom with a double jacuzzi
Outdoor Area Level Five: The spectacular glass front rooftop jacuzzi, sun beds, lounge seating, roofed Sala for 16.
Our state-of-the-art kitchen features a gas stove, refrigerators and freezer, ice machine, Faema E-61 professional 2-head espresso machine, and bar seating for 8 people. The comfortable lounge area is complete with sumptuous sofa, dining table for 16 people, and a 60-inch flat screen TV.
All of our bedrooms except bedroom 10 (double bunk beds), boast their own terrace or balcony with magnificent views of the sea, luxury king-size bed, air conditioning, 46-55 inch flat screen TV with Truevision + 100 channels satellite TV, DVD, amplifier and built-in speakers, en-suite bathroom, and walk-in or built-in wardrobe.
Our multi-leveled accommodation is serviced by a fully-functioning elevator for your convenience
The Cuisine
Villa 4505 is all about great food! When you stay with us, your accommodation includes a selection of fresh, local fruits upon arrival, and a full American breakfast served every morning between 8:00 am and 10:00 am.
For the duration of your stay, you can select between ordering a set menu for a fixed price, or having our staff purchase groceries and prepare the food for you. The Thai chef specializes in both Thai and Western food.
The lounge area on level 4 has a dining table that can accommodate up to 16 people at a time, with bar seating available for another 8 people.
Outdoors on the same level, there is a dining table for 6-8 people, and level 5 (the roof terrace) offers open-air dining for another 16 people at the dining table there.
Additional seating is also available in the Salas on both levels.
The villa offers full service for weddings, private parties and other special events for 50+ guests. Please just communicate your wishes to us, and we will see them fulfilled!
Location
Phuket International Airport is a 30 minute drive.
Laguna and Banyan Tree Resort & Golf Club is a 10 minute drive.
Blue Canyon Golf Club is a 20 minute drive.
Phuket International Hospital, Central Department Store and the bright lights of Patong is a 20 minutes drive.
Notes
Please note that standard prices are for a maximum of 16 adults and 6 children.
3-night minimum stay for bookings that include a wedding reception.
Tipping – prices do not include tips for staff, please tip at your discretion when you have received good service.
Food –Kindly ask staff for current meal arrangements
Read more
Rates
10 Bedrooms | USD $2,029 per night - USD $4,397 per night
| | | | |
| --- | --- | --- | --- |
| High | Nov 1, 2023 - Dec 15, 2023 | USD $2,368 per night | 2 nights min |
| Prime | Dec 16, 2023 - Dec 26, 2023 | USD $3,213 per night | 4 nights min |
| Peak | Dec 27, 2023 - Jan 4, 2024 | USD $4,397 per night | 6 nights min |
| Prime | Jan 5, 2024 - Feb 7, 2024 | USD $3,213 per night | 4 nights min |
| Peak | Feb 8, 2024 - Feb 15, 2024 | USD $4,397 per night | 6 nights min |
| High | Feb 16, 2024 - Feb 29, 2024 | USD $2,368 per night | 2 nights min |
| Low | Mar 1, 2024 - Apr 1, 2024 | USD $2,029 per night | 2 nights min |
| Low | Apr 2, 2024 - Oct 31, 2024 | USD $2,029 per night | 2 nights min |
Real Client Reviews
Greatly Impressed
Firstly, a big thank you to you and the villa staff in Phuket for all the work making the trip work so well. Everyone at our end were greatly impressed with the villa and the lovely staff.
Booking/Inquiry
Phuket Villa 4505
Need help?
Contact us for personalized service and customer support.