Availability
Booking/Inquiry
Viti Levu Villa 724
Click to see bigger map
Villa Amenities
Ocean Front
Ocean View
Pool
Air Conditioning
Maid Service
Personal Chef
WiFi
Tennis Court
Daily Breakfast
Car & Driver
Similar Villas
Villa Details
The most exclusive, extravagant private beachfront Villa in the South Pacific. Set on two splendid acres with absolute beachfront Villa 724 is your own secure private sanctuary.

Situated just 40km (40min) west of  Suva and 140km (2hrs) south of Nadi outside the adventurous town of Pacific Harbour, the Villa can also be reached via helipad and runway a mere 3 min down the road.
The villa is designed in a Balinese layout with rooms spread around a central pool....10 000 square feet of luxury, this 5 bed, 6 bath beachfront estate houses up to 15 guests; boasts a championship tennis court, a 25 meter infinity pool, a golf green and self standing exterior bar. Not forgetting the private library and 3d cinema with sonos sound to boot  ...residential experts have classified this Villa's title as the absolute ' epitome of beachfront bliss ' south of the equator.
No expense has been spared in constructing this complete magnificence run with the eternal smiles of impeccably trained staff. Six years in the making, Villa 724  was built to be the ultimate in matrimonial memories....come make yours a reality.
US$60 per day per adult (US$25 Child <13) covers the cost of all meals, chef and serving staff. Our chefs prepare full top end resort class fare and can cater for all dietary requirements.  The menu is fully flexible and can be modified each day to include the options your group would prefer. Vegan, vegetarian and gluten free options available.
The meal plan is mandatory and a refund will be offered for any meals not used.
There is a $3000 security deposit and a $40 per person per day bar deposit due at final payment.
Return airport transfers are included with your stay.
There is a 7 seat van on site at all times and our staff are happy to transport you around the local area.
Included in your rate is internet.  Yes high speed wifi is available throughout the property.
The main areas of the Villa have a Sonos system installed with an extensive music library.  With the Sonos App on your smart phone you can easily link to the system to play any of your own music stored on your device through the system.  Each of the bedrooms have music/tv systems that can link into both the music and video libraries to enjoy these in the privacy of your own room.
Rooms are given a daily clean as well as a further turn-down service in the early evening.
2 members of staff live on site in separate quarters away from the main living areas of the villa.
Activities
Zip line-
Zip Fiji is located 25 minutes from Pacific Harbour. Trained guides assist you fly through the rainforest canopy over a 2km course of 8 zip lines. The tour operates in almost all weather conditions and includes transfers from Villa Takali and light refreshments. FJ$225 per person
Telephone: +679 930 0545
Email: adventuredivers@connect.com.fj
Website: zip-fiji.com
Scuba diving-
Pacific Harbour is home to Beqa Lagoon, one of the world's greatest dive sites. Beqa Adventure Divers is known for their World famous Shark Diving and in addition to their soft coral and wreck dives.
Morning trips check-in at our dive base at Lagoon Resort in Pacific Harbour
at 8:00am and return at 1:30pm; afternoon trips check-in from 12:30pm and return at 5:30pm. Towels and refreshments are provided on-board with hot showers, changing facilities and secure storage available at the dive base. Equipment Hire and Nitrox also available.
The Shark Dive:
Mon, Tue, Thu, Fri & Sat (am)
2-tank dive: FJ$300
1-tank dive: FJ$200
Soft Coral / Wreck:
Wed & Sun (am)
Mon, Tue, Thur & Fri (pm)
2-tank dive: FJ$270
1-tank dive: FJ$190
Snorkeling: FJ$80
Telephone: +679 345 0911
Email: adventuredivers@connect.com.fj
Website: fijisharkdive.com
Jet ski safari-
Jetski Safari offer self–drive tours to circumnavigate spectacular Beqa Island. The modern Yamaha VX700 jet ski's comfortably carry two passengers. Snorkelling gear is provided along with a complementary lunch.
Telephone: +679 345 0933 +679 992 0944
Email: sales@jetski-safari.com
Website: jetski-safari.com
JETSKI-SAFARI TOUR
Regular 4 hours – 65 km waterways. Individual tour (snorkeling gear, lunch & certificate included)
FJ$290 per person, on twin
share base (FJ$580 per jetski)
FJ$530 per jetski for solo rider
JETSKI-SAFARI EXPLORER TOUR
Seasonal 2 hours – 30 km waterways. Individual tour (snorkeling gear, lunch and certificate included)
$200 per person on twin share base ($400 per jetski)
$370 per jetski for solo rider
JETSKI hire from the beach
15 Min: FJ$95,  30 Min: FJ$175, 1 Hour: FJ$300
Glass bottom reef viewing-
Sea Venture is a revolutionary and innovative 35ft glass bottom boat (a 'Looker 350') with a unique hydrofoil wave piercing system that allows the vessel to literally fly along the surface of the water at speeds up to 40 knots (70kph). Sea Venture allows families with children and the elderly to safely explore the reefs of Beqa in comfort.
Ultra Hi-Output LEDs fitted with specialized optical lenses for maximum light spread and enhanced illumination to greater depths gives passengers unprecedented evening and night reef viewing opportunities.
Also available for full and half-day private charters which include beach picnic lunch and snorkeling around Beqa Island.
Beqa Lagoon 2 Hour Day Tour
Adults: FJ$160
Children (ages 4-12): FJ$99
Beqa Lagoon Night Tour
Adults: FJ$180
Children (ages 4-12): FJ$99
Island day trip-
A full day island visit to Yanuca with Pacific Harbour Ocean & Island Excursions departs every Tuesday and Friday from the Pearl Resort at 9am, returning at 4pm. The tour includes snorkeling from the sandy beach (gear provided) sea kayaking and SUP-ing, games, optional jungle trek to 'lookout cove', authentic kava ceremony and a tasty 'Lovo' (traditional earth oven) feast.
Adults: FJ$165
Children (ages 3-12): FJ$82.5
Under 2's: FOC
**Please note there is an additional village levy payable in cash on the island of FJ$10 per adult and FJ$5 per child.
Telephone: +679 973 068
Website: pacificharbourexcursions.com
Email: info@pacificharbourexcursions.com
Game fishing/fishing-
The Beqa Lagoon and outer lying areas provide for some of the most diverse fish found anywhere, so all skill levels can be accommodated. We recommend Freedive Fiji who offers a varied range of fishing styles and options with as much or little guidance as you require.
Telephone: +679 973 0687
Email: charters@freedivefiji.com
Website: freedivefiji.com
Offroad driving and waterfall tour-
Terratrek offers a self-drive guided tour into the hilly interior of Pacific Harbour. Accommodating groups of up to 16 (two per buggy) the tour lasts approximately 4 hours long and includes an easy 15-minute hike through the rainforest canopy to a beautiful clearing with two waterfalls and clear fresh water pools. You'll be served a picnic lunch before starting the fun drive home, complete with ocean views.
FJ$299 per person
**Please note you will need to present your driving license.
Telephone: +679 928 2397
Email: terratrekfiji@gmail.com
Website: terratrektoursfiji.com
Shopping at the Arts Village and Cultural Center-
For guests wishing to experience Fijian Culture, the Arts Village and Cultural Centre is located just 5 minutes drive from the Villa and offers a variety of shops featuring handicrafts and clothing.
Visitors are able to interact and learn about Fiji's arts and customs through cultural tours of the recreated traditional Fijian village. The tour ends with a spectacular meke (dance) and fire walking show that includes the phenomenal Beqa Firewalkers.
Telephone: +679 345 0065
Website: artsvillage.com.fj
Golf-
Pearl Championship Golf Course
Conveniently close and set amongst tropical rainforests and winding canals, with 66 bunkers and multiple water hazards, you will find the Robert Trent Jones Junior designed, 18-hole championship golf course. You will find a fully stocked Pro Shop and are free to enjoy the Clubhouse.
Refreshments can be organised for delivery on the course. Clinic and lessons with the onsite golf pro can also be organised.
Natadola Bay Championship Golf Course
The par 72 course measures 6566 meters, and traverses some of Fiji's topographic diversity. You will enjoy breathtaking ocean views of the Coral Coast as you play.
Guests of Villa Takali may enjoy preferential rates however please note that a member of the Villa Takali team must confirm all bookings. Green fees includes the shared use of an electric cart and range balls prior to play for one person. Tee off is between 7:30am and 3:30pm.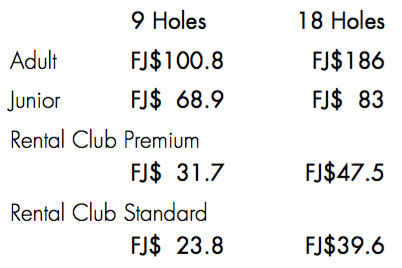 Before 48 hours prior to play – no green fee payable
Before 24 hours prior to ply – 50% of the green fee. Within 24 hours prior to play – full payment.
Telephone: +679 673 3500
Email: play@natadolabay.com
Website: natadolabay.com
White water rafting-
The Navua River offers the country's best river rafting. The full-day tours are operated by Rivers Fiji and requires a moderate level of fitness. Rivers Fiji also offers inflatable guided kayaking trips to the upper Navua River to explore the expansive waterways and tropical vegetation. Sea kayaking experiences are also available.
Frequently Asked Questions about Fiji
---
Here's some helpful information to help you plan your visit, courtest of Tourism Fiji.
The temperature
We have two seasons: warm and even warmer. It's a sunny, tropical climate that'll wash the winter chills from your bones. That doesn't mean it never rains here, but you can expect May to November, our cooler months, to range from 19° to 29°c. And from December and April, the temperatures register from 22° to 33°c.
Geography
Fiji is a very hospitable land of blue-green lagoons, lush rainforests, pine forests, mountains and 1,666 kilometres (1000 miles) of white sand beaches spread over 300 islands scattered across 709,660 square kilometres (200,000 square miles) of ocean.
Time Zone
Straddling the 180th meridian, Fiji has frequently been called "the crossroads of the Pacific". In fact, the International Date Line has been adjusted so that the entire archipelago falls into the same time zone, 12 hours ahead of Greenwich Mean Time.
From November to February, Fiji moves one hour ahead with its own daylight savings.
Population and Language
Fiji's population is approximately 837,000 made up of indigenous Fijians, Indians, Chinese, Europeans and South Pacific Islanders. English is the official language with Fijian and Hindustani also spoken.
Religion
Fiji is a multi-cultural nation with many religious beliefs. The people are primarily of the Wesleyan persuasion. Various protestant denominations, Roman Catholicism, Hinduism and Islam are also represented.
Local Customs
It is important to dress modestly when away from hotels and resorts and particularly when visiting a Fijian village. Avoid wearing a hat in a village, it is considered an insult to the village chief. It is also insulting to touch someone's head. It's best to not wear shoes if visiting someone's house. When visiting a village it is customary to present an inexpensive gift of 'yaqona' or kava to the "Turaga Ni Koro", the traditional head of the village. Be prepared to shake hands and answer personal questions as to where you are from, whether married; and, if so, how many children.
Health
Fiji is free from malaria, yellow fever and major tropical diseases. Inoculations are only required if travelling from an infected area.  There is an effective medical system in place with government and privately run hospitals, clinics, surgical centres, dental service and pharmacies.
Phone calls and Internet
Fiji's country code is +679. Many hotels and resorts have direct dialling facilities (IDD), and card phones are available in many shops and stores. Look for the Telecom call card signage on display. Fiji is well serviced by local mobile networks including Vodafone Fiji Limited, Digicel and Inkk Mobile. You can also arrange roaming status before travelling here as well as on arrival.
Access to the internet and email is available in most parts of Fiji. In addition to sites at all major hotels, internet cafes are abundant in major cities and towns.
Currency and Banking
The Fijian dollar is the basic unit of currency, available in denominations of $5, $10, $20, $50 and $100. Coins are 5c, 10c, 20c, 50c, $1 and $2.
  Normal banking hours are 9:30am to 4:00pm, Monday – Friday and 9:00am to 1:00pm on Saturdays at selected areas. There is a 24 hour currency exchange service at the arrivals concourse at Nadi Airport. ATMs are located around the country and at larger resorts and hotels.
Bargaining
You'll find many sophisticated retail outlets here, suitable for traditional tourist shopping. And if you venture a little further, you'll discover fruit and vegetable markets, overflowing with produce, curio and handicraft vendors, Indian merchandise and speciality gift stores. It's here that you might find yourself in a bargaining session over price. It's all part of the experience, so go ahead and enter into the spirit of it.
Tipping
We don't encourage tipping, but you may, if you wish, offer extra payment for outstanding service.
Electricity
The electric current is 240 volts AC 50Hz. Fiji has three-pin power outlets, which are identical to Australia and New Zealand. Leading hotels and resorts offer universal outlets for 240v or 11v shavers, hair dryers and other electrical appliances.
Quarantine
To avoid the introduction of foreign plant and animal pests and diseases, we prohibit the importation of vegetable matter, seeds, or any animal product without a permit from the Ministry of Agriculture, Fisheries and Forests.
Taxes
A 9% Government Value Added Tax (VAT) is applicable to all goods and services in Fiji. Visitors staying in hotels and resorts are subject to 10% Hotel Turnover Tax (HTT) and Environment Levy of 6%.
VAT refund scheme
The Fiji VAT refund scheme allows tourists to claim a refund (subject to certain conditions) of VAT paid on goods purchased in Fiji and taken out of Fiji via Nadi International Airport or Suva Wharf as the final port of departure to a foreign destination.
What are the conditions of the Scheme?

To be eligible for a VAT refund under the Scheme, you must satisfy all the following:
Spend a minimum of F$500 (VAT Inclusive) in any of the approved licensed retailer outlets during your stay in Fiji and take the goods out of Fiji within 2 months from the date of purchase.

Carry the goods with you as check-in baggage or hand luggage.

Purchase the goods from an approved licensed retailer. You must ask the retailer for a refund form and a tax invoice(s) for goods purchased.
So if you are spending over FJD$500 at Jacks, Tapoo etc make sure you ask them for the refund form. The licenced retailer must complete the form and attach receipts.
Customs Duty and Duty Free Concessions
A bona fide passenger disembarking in Fiji is entitled to the following duty and VAT free concessions:
Dutiable goods accompanying passengers (other than alcohol and tobacco products) not exceeding F$1,000.00 in value.

Goods that are owned by passengers and not intended as gifts or for sale – personal effects, household effects for returning residents or intending residents, articles taken out of Fiji on departure on which duty and tax have been paid.
Every passenger 17 years and over can bring into Fiji the following goods duty and VAT free, provided they are accompanied and not for sale:
Cigarettes, not exceeding 250 sticks or

Cigars, not exceeding 250grams net weight or

Tobacco not exceeding 250grams net weight or

Any combination of (1) to (3) above, provided the total net weight does not exceed 250grams

Spirituous liquors not exceeding 2.25 litres or

Wines, not exceeding 4.5 litres or

Beer, not exceeding 4.5 litres or

Any combination of the goods in paragraph (5) to (7) above, provided that the combination does not exceed the equivalent quantity under any one paragraph

Other dutiable goods, not exceeding F$1,000.00 in value.
Read more
Real Client Reviews
This house exceeded all expectations
Wonderful staff, incredible cooking, contemporary high-end materials and architecture placed on a gorgeous empty beach. You cant go wrong at Takali!!
Best Vacation Ever
My family and friends stayed at Villa Takali over Christmas and had the most incredible experience that we cannot even put it into words. The house was incredible and it is not possible to have a better location on a better beach - way better than we expected! The staff is accommodating and incredible and rivals the excellence of the house! We all thought it was the best view of anywhere we had ever stayed and all of us including our teenage kids believe it was the best vacation we'd ever had!!!
Stunning unbridled luxury on the idyllic Pacific Ocean Shores
Arriving on Easter Sunday on our inaugural trip to Fiji we were blown away by the majestic Villa.
From the moment we arrived until leaving our family of 5 were treated like royalty.
The service we received was as good if not better than any 5 Star hotel in the world.
Sumptuous food prepared by a Gourmet chef was served for breakfast, lunch and dinner.
Our hosts went out of their way to arrange day trips such as surfing, golf, snorkelling, shopping and entertainment.
There was plenty to do at the Villa, including stand up paddle boarding, canoeing, Swimming, Tennis and a large indoor cinema for those occasional rainy days.
Our rooms were expansive with deluxe bedding and furnishings including oversized baths, outdoor jacuzzi and showers all set in lush tropical vegetation overlooking the sea.
The entire villa was meticulously maintained and our rooms serviced daily.
Thank you to the team at Villa Tikali for vastly exceeding our expectations.
Booking/Inquiry
Viti Levu Villa 724
Need help?
Contact us for personalized service and customer support.