Booking/Inquiry
Chiang Mai Villa 427
Click to see bigger map
Villa Amenities
Similar Villas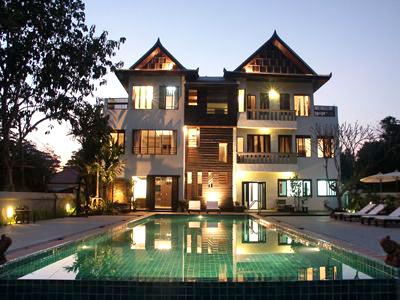 ---
---
Villa Details
Villa 427 was designed by one of Thailand's top architects. The house incorporates the best of colonial design and only the finest materials, equipping it perfectly to blend with the semi-tropical environment. The floor area covers 750 sqm. There are 4 double bedrooms, 3 with king size beds and en-suite bathrooms, the other with 2 singles and a cot. Additional single beds can be arranged on request. All bedrooms have air conditioning. The communal areas include living room, play room, great room, library, guest bathroom, kitchen and the 'crow's nest' (perched high in the roof to afford the best views of the lake and mountains. This room can also be used as a bedroom).
Of course in the semi-tropics you will want to maximise outdoor time. There are 9 covered terraces in total, a courtyard, 2 acres of gardens, a traditional sala (ideal for yoga and fitness) and of course a pool with decked surround. The house is furnished to a very high standard. All the floors are made from teak, as are the doors and shutters.
Staff
The Villa is serviced by between 4 and 6 staff members, depending on guest numbers and the time of the day. Staff are either recruited locally or from disadvantaged hill tribes. They are fully trained and wear beautiful locally inspired uniforms. All staff are paid a fair wage, above the market rate. They also partake in a profit sharing scheme, which allows them to benefit from all food and beverage sales.
Our housekeeping staff will clean the entire house each day. If you wish to prepare your own meals, they will of course do all the washing-up! Beds are made up every day and linen changed twice a week.
An in-house laundry service is available at a nominal rate (not an exorbitant hotel rate).
In house restaurant
This Villa recognises that food is a very important element of any holiday experience. We are fortunate to have khun Tim as our head chef. She is the founder of a famous Thai cookery school and she has been a regular feature on TV both in Thailand and abroad. She has developed a delicious menu with a focus on fresh food and local dishes and trained our staff in the preparation of her dishes.
Vegetarian and children's dishes are available on request. We also encourage guests to cook with our staff if they so wish. All guests will be asked about food preferences before arrival so our menu can be customised appropriately.
Breakfast comprises a selection of cereals, breads and fresh seasonal fruit. Thai breakfast is available on request. A light lunch menu offers a choice of Thai dishes, salads and sandwiches. Picnics are also available for those who wish to go exploring in the national parks.
Northern Thailand is famous for its coffee. Cool mountain slopes are the perfect host to Arabica coffee plants and we exclusively stock northern coffee in our house. Both coffee and tea are available at no extra charge to our guests. You can either serve yourself or use our bell service to call a staff member. A freshly baked cake is available every day on request for a small surcharge.
Internet and TV
A satellite internet service is available at no charge. Generally this is very reliable, providing a moderately quick broadband service. Wireless connections are available for up to 4 laptops.
Satellite TV is available in both the main living room and kids' play room. A wide selection of channels are available in the English language including five film channels, BBC and CNN news, up to 10 sport channels (all English Premier games are broadcast live) and a host of documentary channels. A small DVD library is available at no charge.
In addition to our own activities, we can offer advice on tours, shopping, car hire and drivers, and restaurants. Of course the advice is free, but has tremendous value. You will be getting the inside track of what is best to do and see in Chiang Mai. Not what travel agents and guides tell you. This will ensure you get a truly authentic and unique view of Thailand.
Location
Chiang Mai, in the north of Thailand, is surrounded by beautiful, lush mountains, offering visitors a chance to experience local cultures as well as the luxury of nature. Villa 427, a classic lanna inspired Chiang Mai house, is an exclusive luxury rental villa, set in the green mountains a mere 35 minutes drive from the Chiang Mai international airport.
This Chiang Mai villa offers a relaxing or adventurous Chiang Mai holiday experience for families and friends looking for a Chiang Mai vacation which is not only luxurious, but peacefully private.
This beautiful house is near one of Thailand's top golf courses, waterfalls, national parks and numerous other tourist attractions making it a perfect place for a vacation.
Read more
Booking/Inquiry
Chiang Mai Villa 427
Need help?
Contact us for personalized service and customer support.