Availability
Booking/Inquiry
Koh Samui Villa 4293
Click to see bigger map
Villa Amenities
Ocean Front
Ocean View
Pool
Air Conditioning
Maid Service
Personal Chef
WiFi
Tennis Court
Daily Breakfast
Similar Villas
---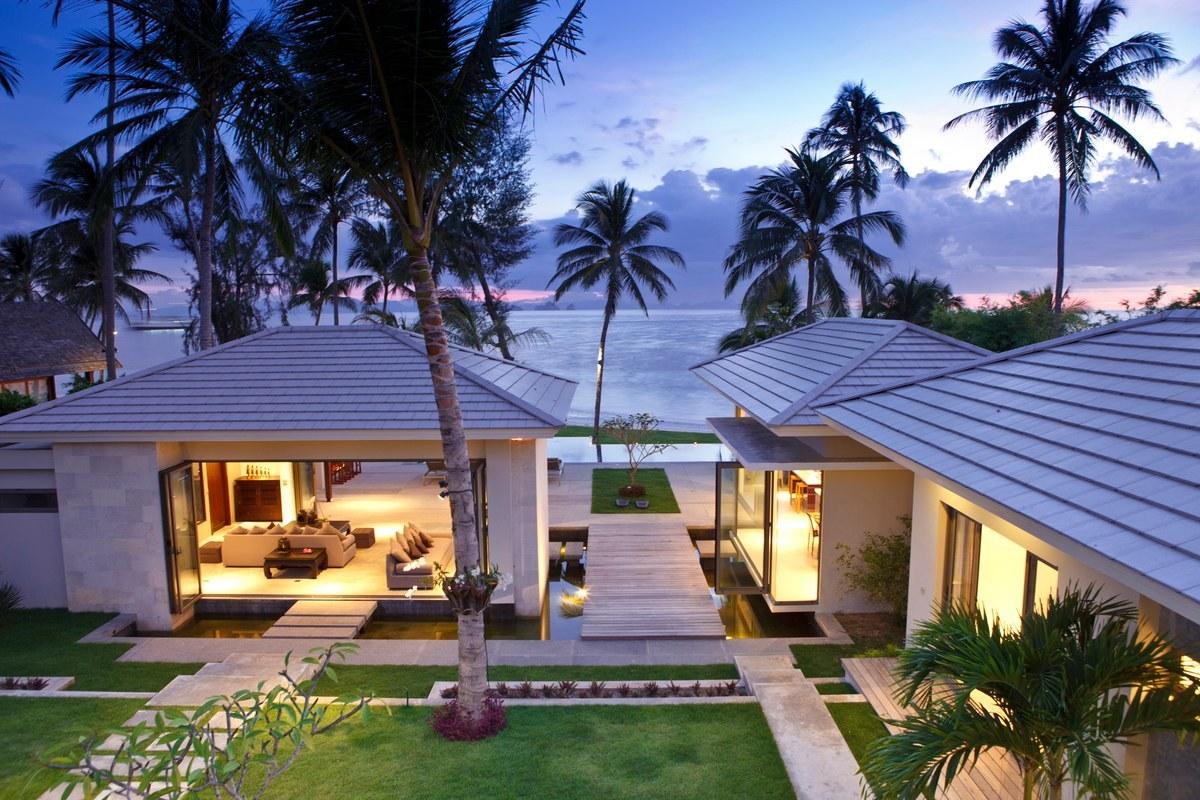 ---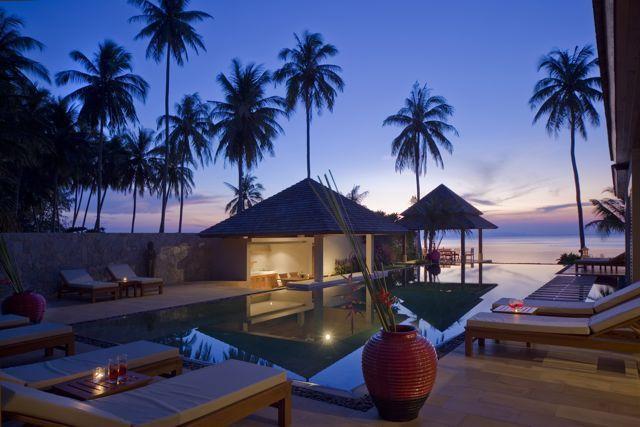 Villa Details
The Luxury villa estate, comprising of two individual five-bedroom villas, set behind a shared tennis court, this exceptional property represents luxurious and flexible accommodation. The villas can be accessed on either side of the full-size tennis court and as you walk through the entrance to either villa you realize both the scale of the property and also the exclusivity of this breathtaking beachfront location.
With a Contemporary layout and southern Thai styled two-tiered roof structures, together with interior décor, apparently influenced from all the world's continents, you get the impression that the designer has taken the best features of different styles and tastes and brought them together to create a unique masterpiece.
Stood in the entrance way to the first villa you have a bedroom pavilion on either side, parallel to the sea in front; each containing two en-suite bedrooms. Straight on there's an expertly maintained central garden, decorated with stunning Frangipani trees, which leads onto the pool terrace, the pool and then down onto the white-sandy beach.
On either side of the garden are two further pavilions. The one on the right houses the kitchen, dining, lounge and children's room. In front of this is an exquisite outdoor sala with comfortable lounge furniture. The building on the left is taken up by a phenomenal master-suite.
The two-bedroom pavilions are identical in design layout. Each of these four bedrooms are tastefully dressed with a mixture of furniture, furnishings, ornaments and artworks which blend styles, eras and genres. For example there are heavy contemporary styled wooden beds with more traditional dressing tables and chairs. There are classic Japanese flower prints in some rooms while other walls are adorned with funky abstract pieces and colorful African paintings.
The bedrooms, three doubles and one twin, all have high vaulted ceilings and modern tropical bathrooms, incorporating twin-sinks and indoor/outdoor shower areas. One thing that stands out is the quality of the material used. From the pelmets covering the wooden blinds, the patterned throws, cushion covers and bedding all the way through to the dark wooden floors and window frames and the tiles and fittings in the bathrooms. Each element of the room looks as though it's been incredibly well made and selected to create just the right ambiance for the space.
Across both of these pavilions is a covered terrace with all-weather seating providing an idyllic location to simply sit, relax and take it all in.
The master-suite is quite an extraordinary pavilion. Firstly you enter a stylish lounge area with access into the en-suite bathroom and the dressing area which leads to the poolside bedroom facing directly across the pool and to the beach. In the distance you can see the Ang Thong Marine Park and the mainland of Thailand.
From the lounge area there's a floating wooden staircase with metal banister which leads to a practical office space. Also off the lounge you can enter the en-suite bathroom complete with a freestanding pedestal terrazzo bathtub with door that open to allow you to relax in the tub whilst enjoying the view out to the ocean.
The bedroom itself is a peaceful haven with the use of muted natural tones and a mixture of textured surfaces providing a calming ambiance. The room has also been carefully accessorized with delicate oriental prints on the walls contrasting with the oversize mosaic vase.
The bedroom opens out onto a very large pool terrace and to the blue-tiled infinity edged swimming pool. From the sala at the end of the pool you can walk past the outdoor shower and directly onto the beach.
A small garden area separates the living pavilion from the sala and a walkway leads around the side of the pavilion to a bathroom which can practically be accessed from inside or outside the building; preventing the need to traipse through the lounge from the pool leaving puddles along the way.
At the pool end of the pavilion there's a comfortable lounge area with large flat-screen TV and a mixture of relaxing chairs and heavy wooden furniture. Beyond is an antique looking wooden dining table which sits facing a window behind which is an astonishing wall-mounted intricate stone carving depicting a mythological scene.
At the opposite end is functional modern fitted kitchen with wooden units and black polished surfaces, there's also a separate staff kitchen leading off from this. Between the kitchen and the dining spaces there's a large carved cabinet and also the room's most eye-catching feature, a spiral staircase which leads up to a loft space currently used as an exciting kid's room.
Both at the poolside level and also by the bedroom pavilion there are doors which can be opened to link this villa with the villa next door. The second villa shares all of the same quality and blend of interior designs as well as a mirrored layout of the first.
This unique feature makes villas 4292 and 4293 perfect for large groups of friends or families who can have the privacy of two outstanding individual properties as well as the ability to open the properties up and enjoy time shared together. As an example this would be an ideal scenario for a wedding group.
Location
• Located at Lipa Noi beach, 35 kms from the airport and 40 minutes from Chaweng.
• Great beach conditions, able to swim all year round, no rock nor dead coral. The villa has got wide beach front open to all sorts of activities such as beach volleyball, beach cricket or simply exploring the rock pools and collecting shells.
Facilities
• Large swimming pool
• Direct beach access
• 5 bedrooms with air conditioning and en-suite bathrooms
• Safe in all bedrooms
• 42 inch Plasma TV with satellite connection and DVD player in the living room
• Satellite broadband (WIFI)
• Fully furnished inc. linens/towels
• Fully equipped kitchen
• Lounging and dining sala by the beach
• Private tennis court
Services
• The resident villa staff will ensure the villa is kept clean and tidy while the Villa Manager is available to cater to all Guests specific needs and help organise activities, massage and spa treatment as well as communication with the Thai chef and dealing with any matter arising at the villa
• Our Guest Relations & Concierge team will visit guests during their stay (usually the day after check in) to further help ensuring guests have a pleasant stay or address any matters arising at the villa
• Bed linen in changed every third day, while towels are changed as necessary
• Pool towels are provided and replenished as required
• On site Thai Chef (Thai cuisine and Western favourites) with shopping list available. Food cost on Guests account. Terms & Conditions may apply for chef service
• In-villas wine selection
• Concierge service for all tours and activities; private tours can also be arranged
• Car rental can be arranged with full insurance coverage, with or without driver
• Baby sitting service on request and availability
• In-villa spa treatment with extended menu
Read more
Rates
5 Bedrooms | USD $1,200 per night - USD $2,400 per night +17.7% Tax
| | | | |
| --- | --- | --- | --- |
| Low | Oct 9, 2023 - Dec 8, 2023 | USD $1,200 per night | 2 nights min |
| High | Dec 9, 2023 - Dec 17, 2023 | USD $1,700 per night | 5 nights min |
| Peak | Dec 18, 2023 - Jan 7, 2024 | USD $2,400 per night | 10 nights min |
| High | Jan 8, 2024 - Feb 9, 2024 | USD $1,700 per night | 5 nights min |
| High | Feb 10, 2024 - Feb 18, 2024 | USD $1,700 per night | 5 nights min |
| High | Feb 19, 2024 - Feb 29, 2024 | USD $1,700 per night | 5 nights min |
| Prime | Mar 1, 2024 - Mar 29, 2024 | USD $1,500 per night | 5 nights min |
| High | Mar 30, 2024 - Apr 14, 2024 | USD $1,700 per night | 5 nights min |
| Low | Apr 15, 2024 - Jun 30, 2024 | USD $1,200 per night | 2 nights min |
| Low | Sep 1, 2024 - Sep 29, 2024 | USD $1,200 per night | 2 nights min |
| Low | Sep 30, 2024 - Oct 4, 2024 | USD $1,200 per night | 2 nights min |
| Prime | Oct 5, 2024 - Oct 8, 2024 | USD $1,500 per night | 5 nights min |
| Prime | Oct 9, 2024 - Oct 13, 2024 | USD $1,500 per night | 5 nights min |
| Low | Oct 14, 2024 - Dec 8, 2024 | USD $1,200 per night | 2 nights min |
| High | Dec 9, 2024 - Dec 15, 2024 | USD $1,700 per night | 5 nights min |
An additional tax of 17.7% will be applied.
Real Client Reviews
Thanks for your suggestion and arrangement for our trip in Koh Samui. It was a wonderful Villa experience for all of us. It was great to do business with you. Thanks again.


Booking/Inquiry
Koh Samui Villa 4293
Need help?
Contact us for personalized service and customer support.