Availability
Booking/Inquiry
Phuket Villa 407
Click to see bigger map
Villa Amenities
Ocean View
Pool
Air Conditioning
Maid Service
Personal Chef
WiFi
Daily Breakfast
Car & Driver
Similar Villas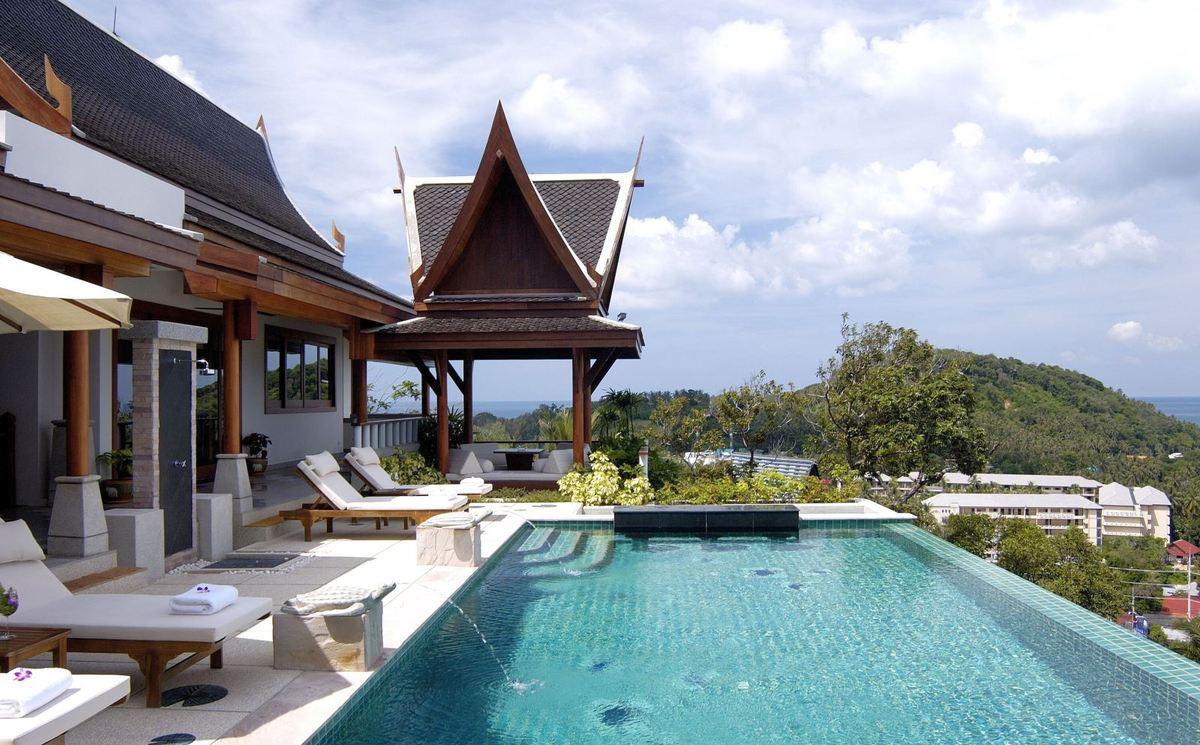 ---
---
Villa Details
Situated privately in the hills above Surin Beach area on Phuket's West Coast, sits the majestic Villa 407. This four level, five bedroom open plan villa has elegant, modern style architecture and sweeping sea and valley views. Come and experience a spectacular Villa vacation getaway offering seclusion, privacy and security with your own infinity pool, well-equipped fitness room and luxury home theatre system.
Living Areas
The spacious open plan living area has folding glass doors opening out onto the deck and pool area with the spectacular views beyond. There is a fully equipped modern kitchen and indoor and outdoor dining provided. The 18-meter infinity pool has decks and seating around it and with a built-in Jacuzzi and sunbeds, provides the ultimate relaxation and entertaining area.
Bedrooms
Set over three levels, the five spacious bedrooms allow much space and privacy for each room with their own luxury ensuites, private decks and terraces with views.
Features
Air-conditioned
Modern kitchen
18-meter infinity pool
Well equipped fitness room
Home cinema, 120" movie screen and surround sound
Games room with table tennis and putting green
Services
Full-time staff to take care of all your needs
Dedicated chef
Security guard
CCTV security system
Location
Perched in the hills above Surin Beach, this Villa is approximately 30 minutes' drive from Phuket International Airport.
Read more
Rates
All Bedrooms | USD $995 per night - USD $2,750 per night
| | | | |
| --- | --- | --- | --- |
| High | Feb 1, 2019 - Apr 30, 2019 | USD $1,250 per night | 5 nights min |
| Low | May 1, 2019 - Oct 31, 2019 | USD $995 per night | 3 nights min |
| High | Nov 1, 2019 - Nov 30, 2019 | USD $1,250 per night | 5 nights min |
| High | Dec 1, 2019 - Dec 15, 2019 | USD $1,250 per night | 5 nights min |
| Peak | Dec 16, 2019 - Jan 10, 2020 | USD $2,750 per night | 14 nights min |
| Prime | Jan 11, 2020 - Jan 31, 2020 | USD $1,850 per night | 7 nights min |
Real Client Reviews
Great Food, Great Views , Great Staff
We stayed here for 10 nights with 3 different families.
Staff were amazing from the time you get up until the time they leave.
The cook is one of the best i have had in Thailand
The Villa itself is very good - multi-leveled, allowing children/family to be grouped or split.

Being a gym junkie, i was able to pump iron on a daily basis with the well equipt gym with great views.
The pool was fantastic - great views over the coastline and surrounds.
One of the biggest benefits of the villa is the driver - Mr Bang. He can drive you anywhere at anytime.

Would recommend to all!
We had a fabulous time
My friends and I have just returned from our stay in Phuket Villa 407.

The villa was sensational; clean, spacious and well designed. The on-site staff were incredibly attentive and accommodating. The chef was amazing, and cooked some of the best food we ate in Phuket!
Lina the Villa Manager was able to arrange anything we were looking for, e.g. in house massages daily and day trips to the islands.

We had a fabulous time and would recommend the villa to anyone looking for a relaxing holiday in Phuket.
we will definitely be using your services again
Firstly, thank you for all your help with arranging our stay! As you know, we had considered booking this villa via another company at first, as I hadn't noticed it on your website. We had huge issues dealing with these people and were constantly waiting days (at one point weeks!) for replies. The way they handle payment also seemed rather dodgy and we simply weren't comfortable, hence the reason we ended up booking with you.

You, however, made the booking process SO easy and have handle every matter professionally. Your responses to email were often so quick I was shocked! I would never expect you to reply on a weekend or very late at night, but you always did and we were really surprised and grateful!

We have holidayed in villas many times, but never had such a smooth transaction as we have with you, and we will definitely be using your services again and recommending you to all our family and friends!

The villa itself was great, but it was the staff who made our stay truly amazing!! Lina and her team went above and beyond in very aspect and I could not fault them at all!

It was my husbands 40th birthday while there, and they arrived early to hang balloons and cook a particularly special breakfast. They arranged a complimentary birthday cake and made reservations at beautiful restaurants for us. It certainly helped make his day special!

The chefs cooking was also incredible. We had the most amazing meals here and found it hard to leave the villa!

Everything was always spotlessly clean and if we needed anything at all, we only need ask. Nothing was a problem for them and we were constantly waited on like royalty!

I would definitely return to Villa 407, especially if Lina and her team are there as they honestly make the villa the wonderful place that it is!

Thanks again for everything and I look forward to working with you again in the future.

we had the best time
The Villa was amazing and we had the best time. The staff were fantastic and very attentive.
The food was yummy and the villa was spotless. We had the best food and never felt hungry throughout the whole stay.
Everyone was so friendly and couldn't do more for us. We had them eating out of our hands. lol We had coffee and cocktail made for us.
Honestly.. It was unforgettable. Thank you so much..
We showed our appreciation with a big tip. They looked overwhelmed and asked us to come again.
We paid a bond. Will that be transfered back into my account.
Thanks for everything. It was perfect.

The Villa was to die for
The ladies had a wonderful holiday.The Villa was to die for, it had everything we need we were Home.Ooh! what a reception we got from Lina and the staff we were treated like royalties.
The service we got from Lina ,the driver was exceptional. I have already recommended your company to few people.

We will also be planning another getaway for next year with 10 ladies.From now on your company was chosen to be the best and very professional.
Exceeded our expectations
The villa we rented was stunning, the view was breath taking and it far exceeded our expectations. But, the entire experience was made memorable due to the team of people assigned to the villa.

Win and his team were friendly, respectful, honest, and efficient. They used initiative anticipating our needs and were so unbelievably caring and loving to us and my two children, my toddler is still talking about them. Oliver cooked mouth-watering meals, nothing was ever an issue, the food was purchased fresh that day and cooked to perfection, we ate ample amounts of food opting to eat at the villa each day and night rather than heading out. A-E happily drove us wherever we needed to go at any time, he had a lovely smile and was attentive with bags and doors. Tee had cold drinks waiting for us on arrival after each trip, she made sure wherever we were we had refreshments, looking after our every need and Wah made sure wherever we had been was clean. Win helped us in so many ways, he really went above and beyond he recommended tourist activities, escorted us places acting as a translator and a tour guide, he took my mother to three different chemists and when she didn't find what she was looking for he went out searching on his own and found it for us. They all took turns attending to my children to allow us all to eat a warm meal and relax, I loved watching them interact with my children with genuine care which was reciprocated. I know I speak for everybody when I say walking away was incredibly hard but we will definitely be back.

I hope this review reaches them all, I could continue mentioning an abundance more examples of how we were cared for and what took place but I think you get the idea.

Each person working in that villa is remarkable and we valued the role they played in our holiday.
Everything is perfect
Everything is perfect, Mr Win and the staff are extremely taking good care of all of us!

Booking/Inquiry
Phuket Villa 407
Need help?
Contact us for personalized service and customer support.