Availability
Click to see bigger map
Villa Amenities
Ocean Front
Ocean View
Pool
Air Conditioning
Maid Service
Personal Chef
WiFi
Similar Villas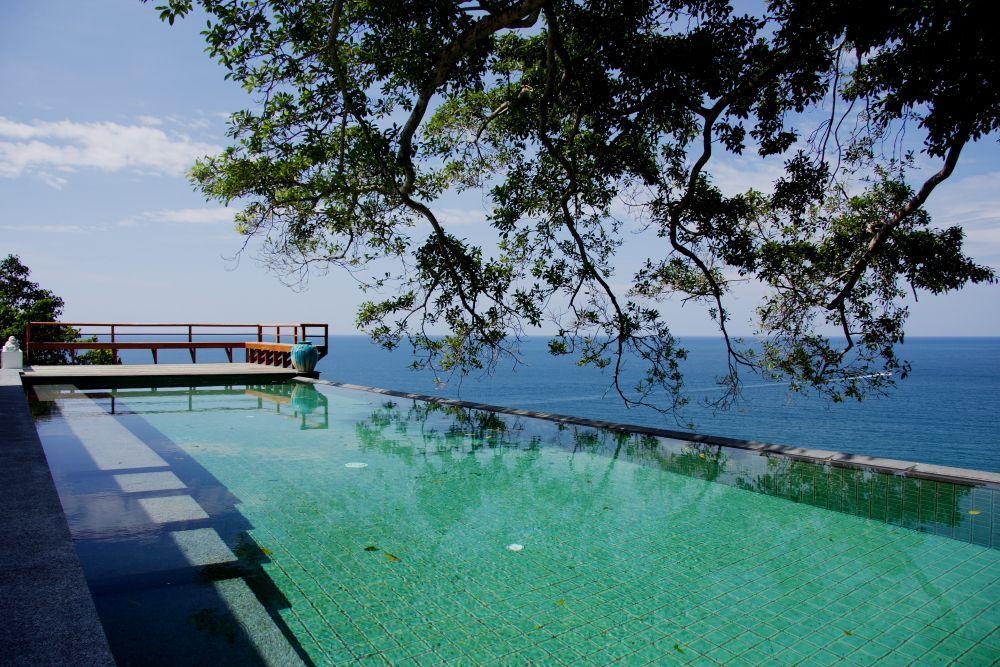 ---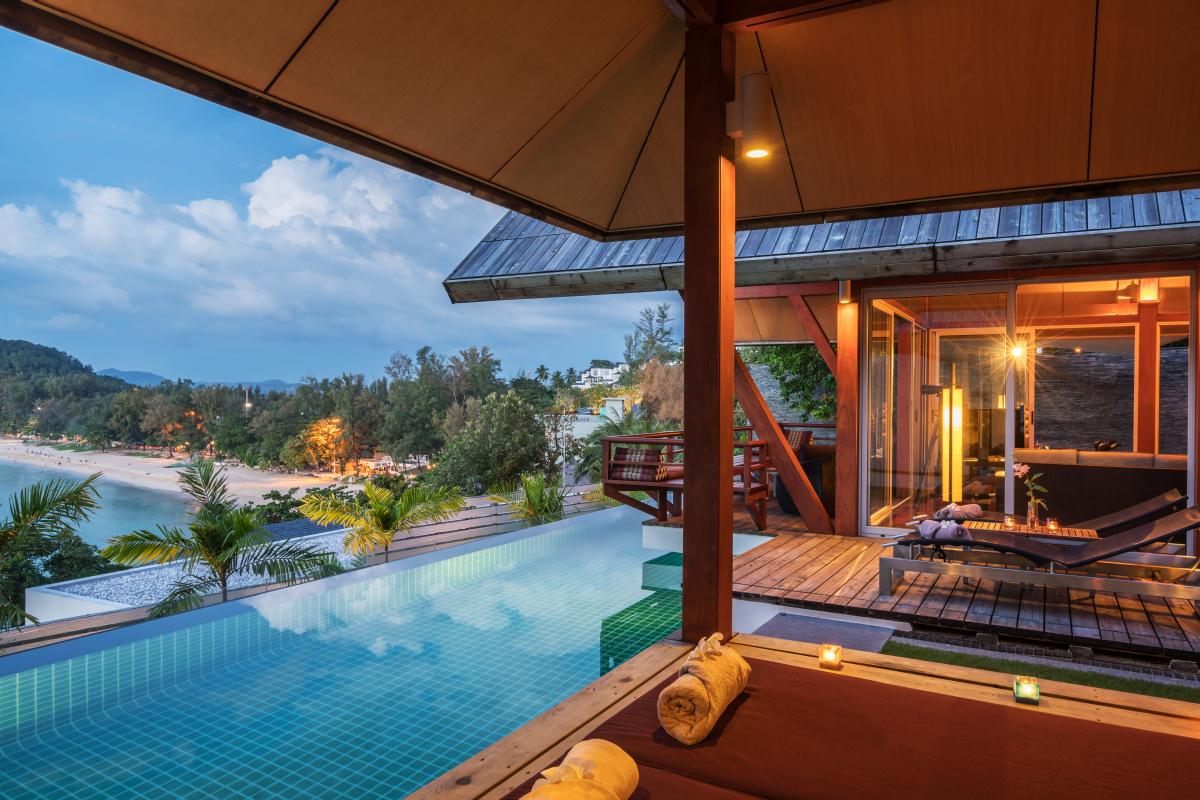 ---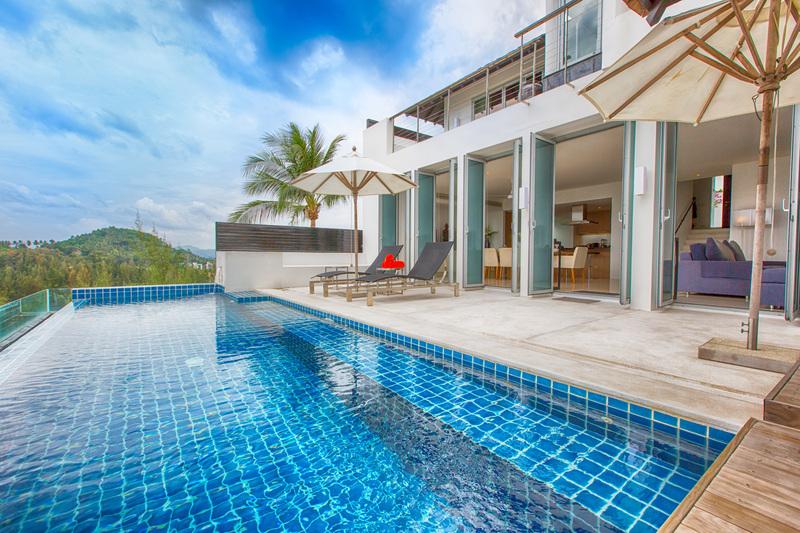 Villa Details
LAEMSINGH VILLA 3 IN SURIN
Laemsingh Villa 3 is managed exclusively by Villa Getaways
Situated on the headland between two beautiful beaches with spectacular views overlooking Surin Beach, this exclusive private villa set in a secure gated community offers luxurious accommodation, pools, private gym and friendly staff to take care of all your needs. This architecturally designed four bedroom residence provides the perfect sanctuary for large families, couples or groups and sleeps up to 10 people.
The light-filled interior offers modern, comfortable seating where you can relax in style while enjoying outstanding ocean views from the expansive windows. There is indoor and outdoor dining available with the outer terrace area opening to the pool and stunning sea views. The large modern kitchen provides all amenities and Thai doors open up a handy day bar. A second staff kitchen and living quarters are fully separate.
All four bedrooms have their own luxury ensuites providing privacy and seclusion for all guests. On the upper level, the spacious master bedroom comes with a small lounge area, office space and deck with daybeds and wide ocean views. Another bedroom on the main level can be configured to one or two beds with a fold out lounger converting to a third if required. Two more private bedrooms are located on the ground level.
With an infinity edge pool, a smaller glass-fronted pool with jacuzzi jets and a spacious deck with loungers and daybed, you can absolutely relax here while the friendly staff take care of all your needs. The Maid/Butler service also provides concierge duties such as organizing massage bookings, tours, elephant safaris, scuba diving and day trips to outlying islands. This exclusive Phuket luxury villa is managed by Villa Getaways Premium Vacation Residences.
Facilities
4 bedrooms

4 ensuites / Rain showers and 2 bathtubs

Sleeps 10

Luxury bed linen

WiFi / DVD players

Preloaded iTouch iPods

Close to beaches

Infinity edge pool

Kiddie safe pool with Jacuzzi jets and sunken lounge

Mini gym with Cross trainer, treadmill, upright bike and weights

Separate staff and kitchen quarters

Covered garage for 2 vehicles

Bathroom amenities - Shampoo, conditioner, shower gel and soap
Services & Inclusions
Villa Manager - Khun Amp, speaks fluent English

Daily maid service -  Each bedroom will be cleaned and tidied daily along with the various living spaces and outdoor areas

Concierge to arrange all services and activities

Chef service - Our professional expert Chef will shop and prepare delicious Thai or Western meals daily

Separate maids quarters

Security 24 hour

Welcome refreshments

1 airport transfer
Extra's
Grocery service charges - Groceries at cost plus a 20% service fee THB 10,000 cash float
Spa & Massage - In-villa spa and massage treatments can be arranged by the manager (extra cost applies)
Additional Airport transfer - THB 1,500
Read more
Rates
All Bedrooms | USD $850 per night - USD $2,500 per night
| | | | |
| --- | --- | --- | --- |
| Low | May 1, 2023 - Dec 14, 2023 | USD $850 per night | 3 nights min |
| Peak | Dec 15, 2023 - Jan 5, 2024 | USD $2,500 per night | 14 nights min |
| High | Jan 6, 2024 - Apr 30, 2024 | USD $1,250 per night | 5 nights min |
Real Client Reviews
A relaxing vacation
Location : On the west side of phuket between Laemsing & Surin beach. About 30-40 mins drive from the airport and Central festival shopping center, 15 mins away from Bang Tao Beach. Rooms : Rooms on the G/f and 1/f were very nice + roomy with great sea view. The master bedroom (only room) on the 1/f is in fact the best in the villa with panoramic sea view and a sizeable balcony so be prepared to run for it before others. As the front of the villa is facing north, 1/f floor balcony is probably the only place indoor for the amazing sunset. Rooms on the LG/f were however not as nice because of the sewage problem that was giving out some bad smell. The lemongrass fragrance oil helped a bit but I think the villa really has to sort this out soon. Apart from that - all good. Pools : The infinity pool is in fact bigger than it looks compared to the pics shown on the internet. There is also a jaccuzi pool as well. Personnel : A group of nice and helpful staffs were always there to entertain your needs during the stay. Chef will cook for you at your request so all of us were pretty much spoiled. Special thanks to the 2 live-in maids - "Kale" and "Ian" (not sure the spellings) who were very sincere and helpful with a warm smile on the face all the time. Security : People usually worry about the security of vacation villa rental because after all it is not a stared hotel operated by large organization... Over there 1 less concern as all 5 villas are pretty secured and with 24 hrs security at the main entrance (the only entrance) with gates only open under surveillance. Others : The villa is 5 yrs old according to the manager. Some minor maintenance on the exterior wall and deck were required but all in all it is still a very nice villa with great views. The villa looks exactly the same as the pictures shown on web sites so nothing tricky. One final note is that another villa construction project has just started beside this villa so be prepared for some noise disturbance.
Pure bliss in Phuket!
We had a wonderful stay at Villa Laemsingh 3. Amp, the chef, Boy (the driver) and the 2 maids were very warm, hospitable and helpful. Fantastic thai food, splendid views and truly warm comfortable Thai service.
Pure bliss in Phuket!
We had a wonderful stay at Villa Laemsingh 3. Amp, the chef, Boy (the driver) and the 2 maids were very warm, hospitable and helpful. Fantastic thai food, splendid views and truly warm comfortable Thai service.
the villa was beautiful
Thanks for the arrangements and recommendations – it was a great weekend at the Villa.

Weather was nice, the villa was beautiful, views were stunning, the kids really enjoyed the pool, we loved lounging at the pavilion just relaxing. It was truly enjoyable. The staff made sure we were well taken care of.
The transfer vehicle from the airport was safe and clean.
Overall – it was a great experience – I would highly recommend.
the villa was beautiful
Just a quick note to say how much we enjoyed our stay at the Villa Estate Surin Beach.. the villa was beautiful, the rooms very comfortable but above all the staff were outstanding in their kindness and co operation to this Australian family. Please pass on our warmest thanks and appreciation to Nat, Kayle and Leila..
Many thanks
We had a wonderful time
Thank you for helping organize a wonderful stay for us in Phuket. We had a wonderful time. Amp, the chef, Boy (the driver) and the 2 maids were very warm, hospitable and helpful.
Everything perfect
Everything perfect: villa, staff, manager, perfect
Everything's is great
Everything is great thanks very much

Am back in Singapore now but the family are all still there, enjoying themselves

perfect stay
This was one of the most beautiful Villa's I have ever stayed in. It's 4 bedrooms and absolutely stunning view was just wonderful. The staff took care above and beyond. It was everything to make this a perfect stay.
The staff are amazing
We love it! The staff are amazing, always willing to accommodate to our requests, and fantastic with our fussy toddlers! Villa is perfectly located, between beautiful Surin and Laem Singh beach. Laem Singh beach is easily accessible via a somewhat steep path (nothing too tricky for the kids though) right next to the villa. Or take a short tuk tuk ride to Surin beach. And what amazing views! Such a relaxing holiday... We plan to return!


The house and the staff was incredible
The house and the staff was incredible. They kept the house super clean and supported us fully during our stay. They even provided service without us asking. I'd definitely come back here.
So we had a lovely stay at Villa Laem Singh
So we had a lovely stay at Villa Laem Singh. The staff were wonderful and friendly. The food delicious. The view spectacular. So thank you very much for that!

这个别墅非常不错,地理位置好,风景海景都不错,值得入住…
这个别墅非常不错,地理位置好,风景海景都不错,值得入住…


We were all very impressed with them."
"Amp, our villa manager, was extremely helpful in arranging all the logistics for us and our housekeeping staff were the nicest, most skillful, and attentive people! We were all very impressed with them."
Best vacation ever!
The villa itself was absolutely stunning. Everything from the infinity pool to the comfortable lounging areas to the gorgeous bathtubs to the breathtaking views was just magical. But what really made this place perfect was the staff. From the moment we arrived to when we sadly had to leave we were made to feel right at home. Every want or need was anticipated and our comfort was at the forefront each day. Ying went above and beyond as the villa manager. She is so kind and attentive and made sure that anything we could possibly need was taken care of. Chef Nat made some of the best food I've ever had, truly an amazing chef who is great at her craft. And Mon and Nim kept the home in perfect order and always made us and our belongings feel cared for as they were cleaning. We are so grateful to them all and by the end of our trip they felt like family! Family we were so sad to say goodbye to but can't wait to come back and visit again!
The view is indescribable!
We booked the villa for one week . Our flight arrived midnight, so we came to the villa about 1 am. All the staff were waiting for us with a wonderful orchids wreath . We had such a wonderful time, the staff are just amazing! We enjoyed the delicious meal, made by the chef . The view is indescribable! We'll definitely come back!
Great place and amazing view, just disappointed we were only there a short time.
Beautiful Villa
"Beautiful villa and a great chef. And proximity to the beach club. Staff was quite attentive too.."
Amazing chef
Beautiful place , beautiful villa, lovely staff and an amazing chef thanks a lot for the stay
Best villa ever!
Best villa ever! This was the best villa we have ever stayed at with the best views of Surin beach and the best staff! You will definitely love this villa!!!
The view from the villa was incredible
The view from the villa was incredible and the hospitality from the staff was amazing. We asked our meals to be prepared by our personal chef and they were absolutely delicious. Great luxury getaway with family or friends. Definitely would like to come back again.

Amazing Villa
Amazing Villa with stunning views! Great service by the helpers at the villa! Will come back for sure!
Very nice, clean and peaceful place.
"Very nice, clean and peaceful place. Nice & caring staff. I catch a cold when back island hopping. Sao are so caring boil a glass of Ginger tea to warm me. Every time we stand up. The staff will Come to us to check what we need. Treat us like a queen. We love this villa so much. Thank you"
wonderfully rejuvenating vacation
Beautiful Villa with a very warm & Efficient team taking care of you ???????? many thanks
Beautiful house, great view. Good proximity to the beach. Attentive staff and tremendous chef. Will definitely come and stay again.
Dear Kelly,

Thanks for getting in touch.

We had a really lovely time in the Villa, it is in a great location and the view out from the pool across the beach was incredible. Sao was a real star - she took her job very seriously and was extremely conscientious. The chef was outstanding too, everything we ate was fantastic.

Fantastic place with the best food, service and layout.
Amazing Staff, What a brilliant location
Hi Kris,
Just relaxing on the sofa looking at the view right now while the amazing staff are sorting our breakfast. They went above and beyond to make sure our morning at the villa before our wedding was perfect including preparing flowers and some lovely fruit carving at a fairly last minute request. We are very happy and had a wonderful time (and wedding day, photo attached). Our actual wedding was at The Surin, if you haven't been there for dinner I would highly recommend it, what a beautiful place.
You might have to call security to get rid of us tomorrow we don't want to leave :)
What a brilliant location and thanks for the suggestion to go for this one we are happy we did.
Cheers!
We hopefully come back
We had a fantastic time - the team has taken great care of us at the house. Wonderful stay. We hopefully come back.
Need help?
Contact us for personalized service and customer support.