Availability
Booking/Inquiry
Phuket Villa 465
Click to see bigger map
Villa Amenities
Ocean Front
Ocean View
Pool
Air Conditioning
Maid Service
Personal Chef
WiFi
Similar Villas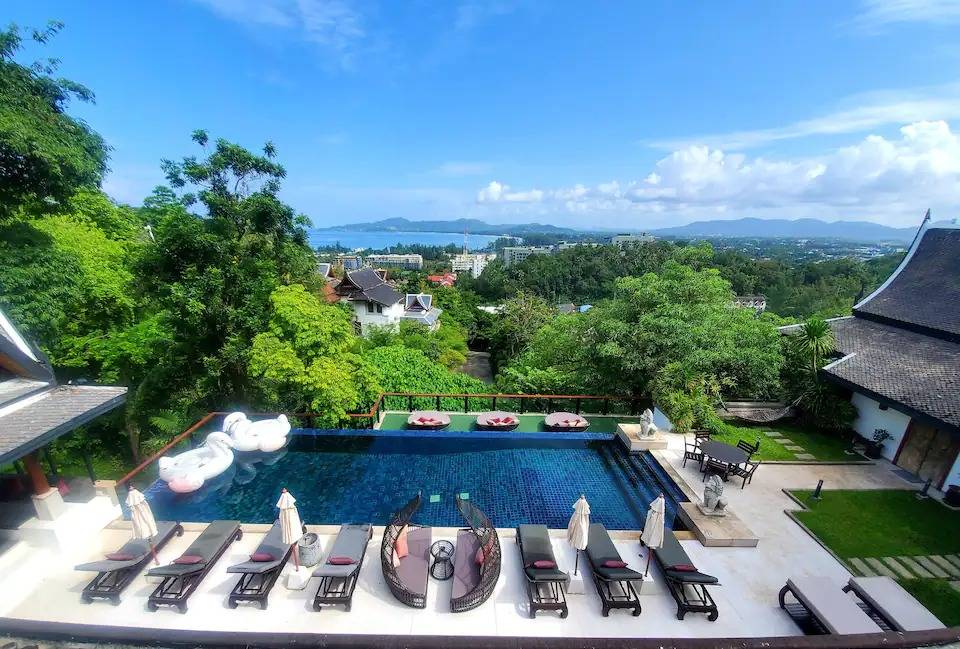 ---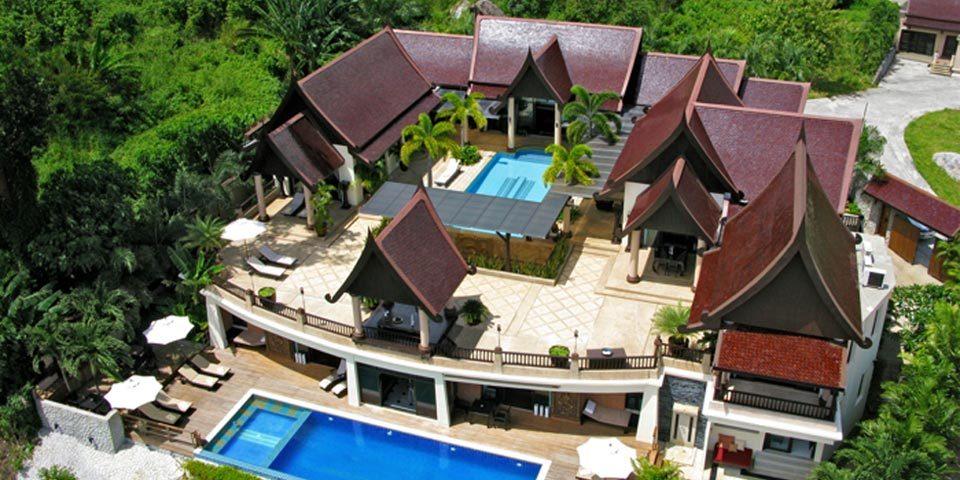 ---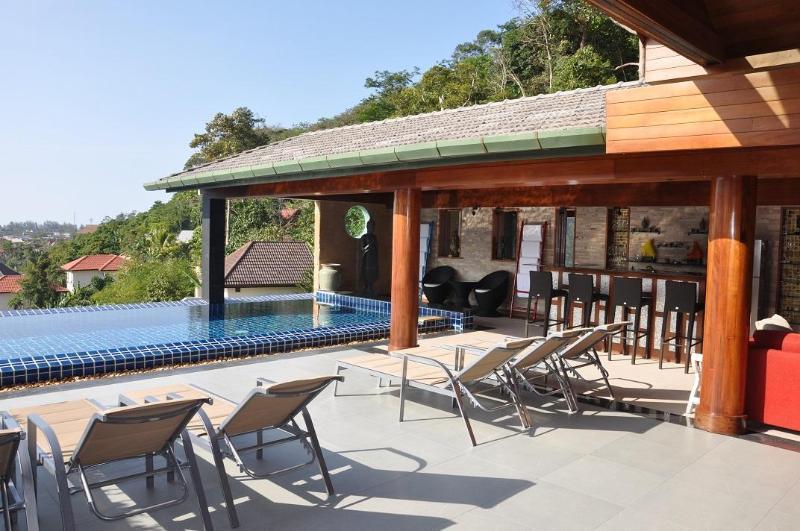 Villa Details
The Villa Aquila
Presenting a remarkable tropical Villa comprising 8 bedrooms spread across nearly three acres of magnificent cliff-top real estate with 165 meters of frontage.
One of the things that makes the property unique is how private and secluded it is. At night there is only one set of lights on a distant hill about half a kilometer away to the southeast.
The beautifully appointed property is the perfect blend of contemporary elegance with a distinctly Asian feel. From the infinity pool stretching to the horizon, the rugged coastline and the tropical jungle, all around is natural serenity and uncompromised privacy.
With direct ocean access to a coral reef in the cove in front of the villa, the idyllic Andaman Sea becomes your own private playground.
The full-service villa ensures that you will experience the ultimate leisure experience. On-site amenities include a day spa, a full-time house chef, wet-bar & pool table, and numerous service staff. If you such desire, there will be simply no need for you to leave the villa for the duration of your stay. Everything will be taken care of by the dedicated service team. This makes this villa perfect for honeymooners, families or those who just desire an expansive house for relaxation, comfort and privacy.
For those who wish to make the most of the paradise that is Phuket, the famous Kamala Beach is a short ten minutes' drive from the compound. There you will find a long, curved sand beach which is great for swimming and is also the home of some of the island's newest beach clubs.
Living areas
The vast Main Pavilion hosts a variety of living areas to suit various moods and requirements. Starting with the impressive Reception Room which can be used to greet dinner guests with a cocktail and a magnificent view in a formal setting, this large room on the second floor is adaptable for a variety of social uses, including events.
For quieter moments, the well-stocked library beside it provides ample space for solitude and reflection, while one floor below, the large living room located adjacent to the pool is simply perfect for watching movies, interacting with friends adjacent to the pool, or simply lounging about.
There is a formal dining room inside the pavilion and also a more relaxed outdoor eating area by the pool in the Northern Sala (a 'sala' is a Thai name for a roofed structure without walls), while the Southern Sala, near the other end of the deck, provides yet more comfy sofas for reading, relaxing, and watching the sun sink daily into the turquoise sea.
Every room in the estate has a view of the sea through floor-to-ceiling windows. All the rooms either feature balconies or open onto the pool area – such as the living and dining rooms. Seamless transitions between indoor and outdoor areas was a stipulation for the architectural design. It is difficult to know where one finishes and the other begins.
There has been a commitment to provide guests with their choice of natural ventilation (bedrooms feature screen doors as part of their configuration), and ceiling fans in every room in the house, or the option of using the strong but quiet remote-controlled ducted air-conditioning remains at a guest's pleasure and can be varied on a whim. The quality of workmanship and imported fittings at the villa ensures all the large glass doors slide easily, and remote controlled blinds can be shut at the convenience of a button-click.
Bedrooms
Minimalist and modern, the bedrooms provide each guest with their own private sanctuary at the villa. Every bedroom boasts sweeping ocean views and a large balcony on which to relax to the sounds of the natural surf below. All the bedrooms, with the exception of the Suite Room which is situated in the Arrival Pavilion, are located in the Guest Pavilion.
Each bedroom has an ensuite bathrooms that are resplendent with open-air showers and most with deep baths; five of the bedrooms feature baths, and all feature waterfall showers. Throughout the bedrooms exclusive imported fittings such as electric shutters, heated bathroom seats and top-hung windows all combine for subtle sophistication.
If you ever tire of the seascape from the floor-to-ceiling windows in each room, then you can choose to watch one of the in-house movies (from a mix of AppleTV and Netflix) on the flat-screen TV.
In every possible way, from the Italian tiles used in the bathrooms, to the mattress and bedsheets, no expense has been spared in providing the ultimate comfort to each and every guest bedroom.
All of the bedrooms feature the same quality and fittings. Five of the bedrooms are configured with king beds. Two of the rooms are normally configured as twin beds, but can be reconfigured as a king bed depending on guest preferences.
The Suite Bedroom, situated in a same pavilion as the spa, has a small living room as an extension and also features a small additional bunk-bed room, suitable only for hosting children, as part of its layout.
Two trundle beds are available for addition children the but villa is strict about keeping to a max of 14 adults and 4 children. These limits are to underpin service levels and such things as capacity on the dining room table.
1 SUITE ROOM
with ensuite bathroom with bath, and attached private living room and adjoining children's bunk room
2 MASTER BEDROOMS
with King Beds, oversized ensuite bathrooms with indoor and outdoor rain showers as well as luxurious oversized oval bath
2 KING BEDROOMS
with King Beds and ensuite tropical-style bathrooms with indoor and outdoor rainfall showers
2 DOUBLE BEDROOMS
featuring twin beds that can be converted to a king with ensuite bathrooms with Japanese style ofuro bath and rainfall showers
Entertainment room
It's quite apt that the Entertainment Room is also the largest room in this villa estate. Located underneath the pool and opening out onto the rugged rock cliff-face with high ceilings, this is a magical spot for entertaining as the sun goes down. Sleek flat screens are at both ends of this room.
There is a stocked wet-bar ready to be used by each of its guests. Among its features is a 3 tap facility for draft beer with each booking receiving a complimentary keg. Pull up a stool and watch your favourite sports match on the 65inch TV behind the bar with your favourite beverage. In between, you may wish to have a casual game of pool on the red-felt table.
Large comfortable sofas and a coffee table, and a massive 75inch TV at the far end of the room form a private movie theatre making this the ideal spot to watch movies. Turn the sound up loud, you won't bother anyone from here.
The large room can comfortably accommodate 30 people for small informal functions or events, featuring a washroom and also access to the private in-house gymnasium at the far end.
Pool
Located in front of the main living room and the dining room, the 30 metre long infinity swimming pool is inviting at any time of the day or evening. The beautiful dark slate tiles used not only keep the pool naturally warm, but are also constantly changing the reflection of the light and thus the colour of the pool throughout the day. The result is the pool never looks quite looks the same colour and always looks amazing. As a backdrop to a wedding or an event, it is even more special.
The infinity-edge backed by the azure sea and sky make for a postcard setting to any photo. The Salas (structures with no walls) on either end of the pool are complemented by a host of sun-beds running down the side of the pool, which are perfect for lounging on underneath the flowering Frangipanis. The salas are configured as a breakfast area on the North side, and the South Sala as a nice area to curl up on the couch to chat with friends, or read deeper into a novel.
Gymnasium
A private gym ensures that time spent at the villa does not necessarily mean time away from your exercise regime. This is a comprehensive facility providing something for everyone.
Choose to take care of your cardio on either the treadmill or rowing machine while gazing at the sea. The room is completely floored in proper rubber gym tiles to assist with comfort and safety during workouts.
A punching bag (professionally filled with cloth instead of sand) and hung TRX suspension trainer will attend to any functional training requirements, while a top of the range multi-function weights machine is positioned in the corner to strengthen muscles. Free weights, kettlebells, Swiss balls and Yoga mats complete this offering.
Waterfall & reef
One of the most unique aspects of this property is the way that refined luxury exists seamlessly with the natural environs. It was a specification of the build that one needs not be at the expense of the other.
For this reason, the existing terrain has been left unfettered as much as possible. The green hills and terraced lawns provide a lush contrast to aquamarine view. Bordering the property on one side is a waterfall which flows from the mountainside down to the sea. It changes from a small stream to a gushing torrent depending on the season, and can be accessed by a short walk along a path from the Main Pavilion.
Few Villas can boast their own walk-in reef, yet The Aquila can. A choice of tracks will lead you from the Main Pavilion down the rocky headland to the ocean below. From here you can choose to visually explore one of the natural crystal clear rock-pools, or the more adventurous can swim to explore the stunning cove.
About 20 metres offshore, but with elements starting within 5 m of the shore, is a naturally occurring pristine reef which can be accessed at your leisure. The occasional traditional long-tail dive boat will stop to access what is on the villa's doorstep, using a mooring to anchor in the middle of the reef.
Distances and Location
MILLIONAIRE'S MILE
Phuket International Airport — 30 km
Kamala Beach — 4 km
Surin Beach — 9 km
Patong Beach — 11 km
Royal Phuket Marina — 26 km
Phuket Town — 25 km
Blue Canyon Golf Course — 26 km
Chalong Harbour — 24 km
Naiharn Beach — 28 km
Read more
Rates
4 Bedrooms | USD $1,550 per night - USD $5,950 per night +17.7% Tax
| | | | |
| --- | --- | --- | --- |
| Low | May 1, 2023 - Nov 30, 2023 | USD $1,550 per night | 3 nights min |
| High | Dec 1, 2023 - Dec 14, 2023 | USD $2,175 per night | 5 nights min |
| Peak | Dec 15, 2023 - Jan 15, 2024 | USD $5,950 per night | 10 nights min |
| High | Jan 16, 2024 - Apr 30, 2024 | USD $2,175 per night | 5 nights min |
5 Bedrooms | USD $1,645 per night - USD $5,950 per night +17.7% Tax
| | | | |
| --- | --- | --- | --- |
| Low | May 1, 2023 - Nov 30, 2023 | USD $1,645 per night | 3 nights min |
| High | Dec 1, 2023 - Dec 14, 2023 | USD $2,175 per night | 5 nights min |
| Peak | Dec 15, 2023 - Jan 15, 2024 | USD $5,950 per night | 10 nights min |
| High | Jan 16, 2024 - Apr 30, 2024 | USD $2,175 per night | 5 nights min |
6 Bedrooms | USD $1,870 per night - USD $5,950 per night +17.7% Tax
| | | | |
| --- | --- | --- | --- |
| Low | May 1, 2023 - Nov 30, 2023 | USD $1,870 per night | 3 nights min |
| High | Dec 1, 2023 - Dec 14, 2023 | USD $2,465 per night | 5 nights min |
| Peak | Dec 15, 2023 - Jan 15, 2024 | USD $5,950 per night | 10 nights min |
| High | Jan 16, 2024 - Apr 30, 2024 | USD $2,465 per night | 5 nights min |
8 Bedrooms | USD $2,125 per night - USD $5,950 per night +17.7% Tax
| | | | |
| --- | --- | --- | --- |
| Low | May 1, 2023 - Nov 30, 2023 | USD $2,125 per night | 3 nights min |
| High | Dec 1, 2023 - Dec 14, 2023 | USD $2,800 per night | 5 nights min |
| Peak | Dec 15, 2023 - Jan 15, 2024 | USD $5,950 per night | 10 nights min |
| High | Jan 16, 2024 - Apr 30, 2024 | USD $2,800 per night | 5 nights min |
An additional tax of 17.7% will be applied.
Booking/Inquiry
Phuket Villa 465
Need help?
Contact us for personalized service and customer support.