Availability
Booking/Inquiry
Phuket Villa 443
Click to see bigger map
Villa Amenities
Ocean View
Pool
Air Conditioning
Maid Service
Personal Chef
WiFi
Similar Villas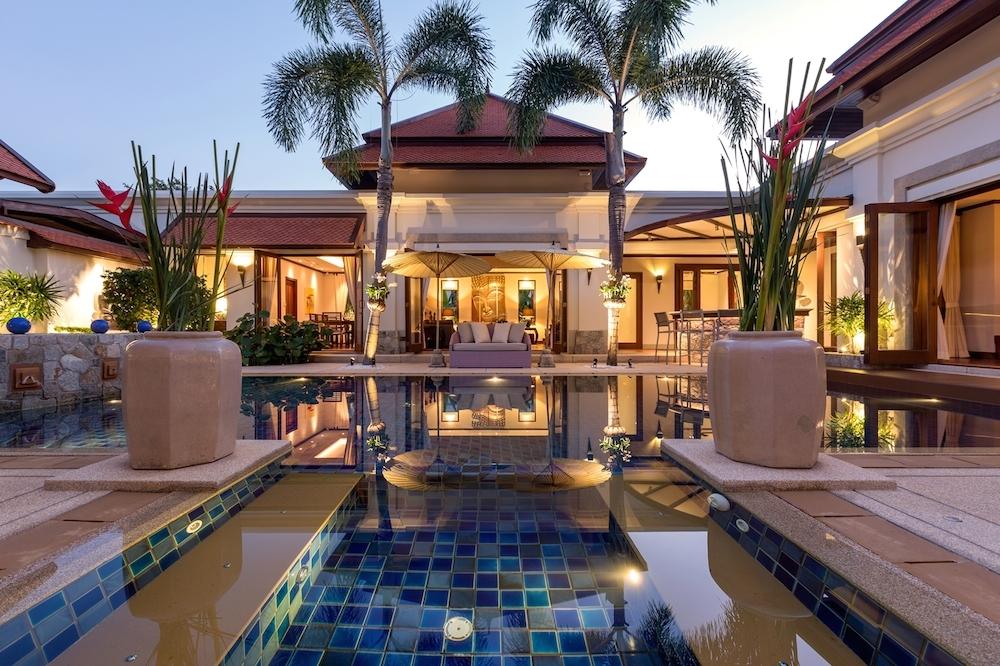 ---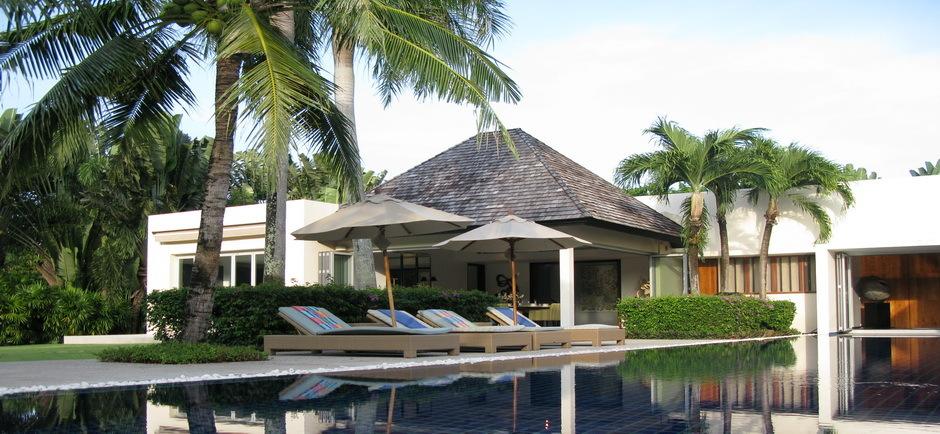 ---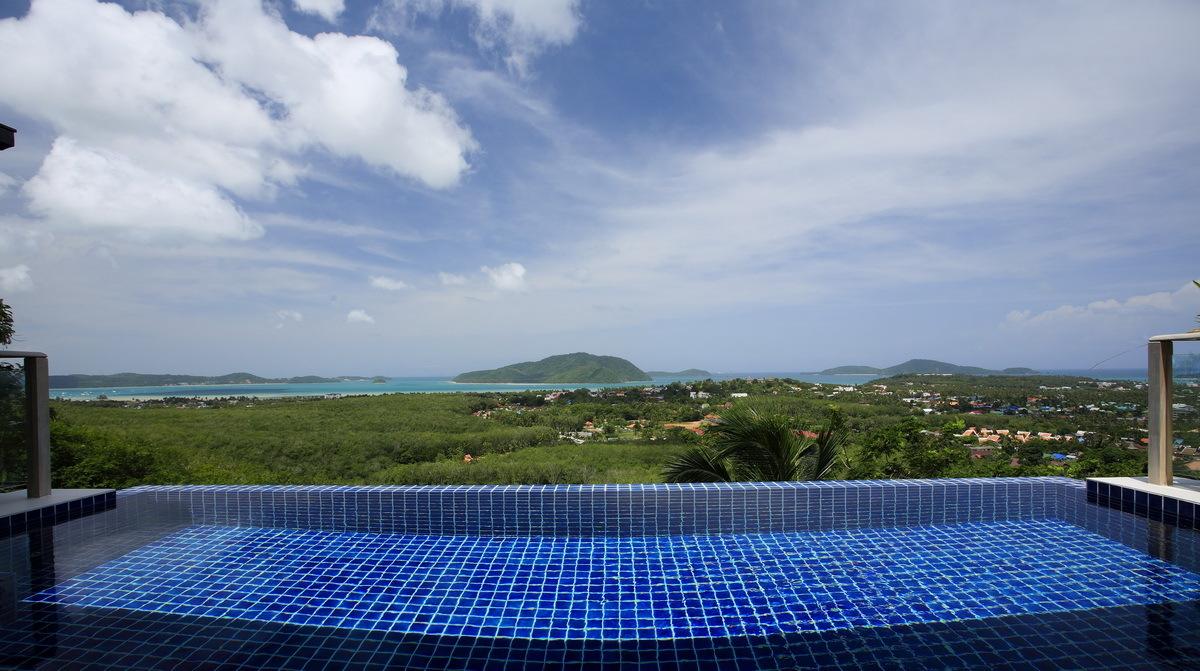 Villa Details
Nestled in the quiet and protected development of Jomchang at the end of Millionaire's Mile, Villa Wang Nam Jai provides guests with the most exclusive and finest villa retreat in Phuket.

As you approach the gates of the villa, the grand wooden doors welcome you into a lookout point facing a breathtaking and picturesque view of Patong and the Andaman Sea that will become a marquee image for memories to come.

Further progressing into the villa, guests are graced with numerous water features flowing down either side of the staircase and looking at beautiful white flowers falling from the frangipani trees guiding you into the main living space of the villa. The main level of the villa gives all its visitors an overwhelming sense of freedom and liberty as you feel you are arriving in paradise.

The design of the villa is truly unique and simple spanning over five floors ranging from a fitness center on the top to the glorious infinity pool overlooking Patong Bay at the bottom. Each room is equipped with sliding doors of floor to ceiling windows and timber rooftops and flooring giving an overall light and welcoming touch to the villa.

The is well equipped with villa-wide surround sound system controlled at the touch of your smartphone, a media and entertainment room to provide guests with group activities and several relaxation spots to help you remember why you have ventured to Phuket in the first place.

This villa will truly give you a naturist feeling with its outdoor paths through the trees and down by the ocean to make your experience unforgettable leaving you planning your next trip back.

We encourage you to relax and take this experience in and feel at home.
About The Villa
This stunning oceanfront villa combines visual elements of Asian style architecture with a Western design by Arte Charpentier of France. It  is unique because it can be featured as a one bedroom grand villa or a 4 bedroom enormous villa. Unlike most other villas, it has numerous common areas spaces to accommodate guests who are interested in either spending time with friends and family or travelling with a companion.
The main living room is surrounded by full length sliding doors which can be hidden making it room completely vulnerable to the fresh breeze of the Andaman Sea.
The Master bedroom contains one of the most stunning views in Phuket as guests overlook the villa and witness Yachts and large cruise ships enter the Patong Bay during the high season. The bedroom also has a spacious ensuite bathroom and a sizeable bathtub to soak and relax after a day in the sun.
The lowest floor of the villa leads into the media and entertainment room equipped with a pool table, library filled with books and a television with surround sound. This is the most frequently visited room as it is commonly used as an activity and family room for all ages. Stepping out the door will lead you right into the infinity pool overlooking the Patong Bay and the outdoor barbeque area capable of hosting ten villa guests.
In continuing the ongoing path throughout the villa, guests travel through a 70 meter outdoor wooden walkway which will take you right up to the remaining three bedrooms all equipped with an ensuite bathroom, balcony with chairs and stunning ocean views.
The top level of the villa, which almost gives a birds eye view of the villa, contains several fitness equipment ranging from free weights, all purpose weight trainer, yoga mats and Pilates equipment to accompany athletes of all types.
With just a short walk down the path made for the villa, guests have the option of swimming and snorkeling at the villa development's common areas space on the ocean. This will be shown to our guests.
Living Room
This spacious living space is designed for ultimate relaxation and gatherings to accommodate every guest at the villa. Equipped with several sofas and chairs, this room is surrounded by movable windows that can be opened to experience the sea breeze and the sound of waves crashing into the oceanfront rocks. Guests frequently will use this as a room to relax, read or discuss among family and friends.
Pool and Patio
This 20 square meter infinity pool has outstanding views overlooking Patong Bay and Paradise beach. Located on the bottom floor, this pool area provides both sunny areas for tanning and also many shaded areas to relax.
Directly beside the pool area, is the outdoor dining area, where guests can enjoy a barbeque lunch/dinner for all villa guests interested in an outdoor experience.
Master Bedroom Suite
The master suite provides arguably one of the best views of the Andaman Sea in all of Phuket as guests can overlook the gorgeous colors of the sky at dusk and the bright lights of Patong at night. This suite provides a large balcony and outdoor furniture for all guests to relax and enjoy the view throughout the day and night.
This bedroom is equipped with an ensuite bathroom with a large soaking bathtub, walk-in closet and a large King sized bed. Guests can enjoy the room enclosed with air conditioning or open all of the doors to sleep to the sounds of the waves in the ocean with a sea breeze.
Guest Suite 1
This is the highest bedroom at the villa, making it the most attractive view of the Patong Bay to capture the bright lights at night. This guest suite provides an ensuite bathroom so guests can have their own hope right in the bedroom itself. As a result of this suite's location, guests will only have to take one flight of stairs up to the fitness and meditation room located on the top floor over the villa.
Guest Suite 2
Nestled in in the middle of Guest Suites 2 and 4, this bedroom is situated on the entrance level of the villa making it the most accessible bedroom with only a short walk to the stairs leading into the main villa. Guests can also choose to take the other set of stairs down for a more naturist path that leads directly into the pool area. This suite is also equipped with an ensuite bathroom and outstanding views with outdoor patio furniture.
Guest Suite 3
This suite is located directly below Guest Suite 2 and only requires a short down one flight of stairs to the pool and outdoor dining area. Along with an ensuite bathroom, the villa also has outdoor furniture which provides a little more of a secluded view for guests.
Entertainment & Media
Located directly next to the pool area at the villa, the Media and Entertainment room is equipped with a cable television and a sofa to accommodate all of the villa guests comfortably. Like the Living Room, the large doors can open up to provide a nice sea breeze or still be connected to the guests in the pool area.
Guests may also choose to be a little bit more interactive and challenge friends and family to a game of foosball or table tennis. Most guests commonly spend time in groups as it is very cooperative and a gathering area for all types of travellers.
Outdoor Living Area
One of the most unique features of the villa is the outdoor living space and this is what makes the villa a marquee property to host weddings and events. At night, with the villa entirely lit up, you can see the property truly does suit its name, which translates to "castle of grace".
Kitchen/Dining
Overlooking the Andaman sea, the Kitchen may also opens its doors up to the open area to accommodate several guests. Just walking out the door, the patio is an attractive way for guests to coordinate small events or weddings as there is a lot of space to host a number of guests. This villa truly is a remarkable way to host events and we look forward to helping.
Outdoor Dining
Beside the infinity pool is an outdoor dining area where guests can enjoy lunch or dinner at enjoying the outdoor feel of the sea. This area is equipped with a barbeque for accommodate different types of dining to put something on the grill. This area also has a separate sitting area for guests to enjoy some wine after they eat.
Yoga & Meditation
Guests at the villa may choose to make the Villa a retreat of sorts, which is why the owners have provided a room as a yoga and fitness area. Guests interested in having a place to do yoga can easily arrange with the concierge a yoga instructor to visit the villa for private lessons. Cold towels and water are also provided in the fridge for our guests.
As the room is designed to be a spacious area, guest may choose to also use this as a relaxation and meditation area while enjoying the sunset and colors of the sky as dusk arrives.
Garden Sala
Guests can approach the outdoor sala by taking a set of beautifully lit stairway into an entrance surrounded by tall trees and shrubs to spend private time relaxing. Our staff can also provide guests with drinks and small snacks for you to enjoy silence at its finest. The sala is neatly lit up with spotlights and truly is a unique area to spend as the sun goes down.
Location
From Phuket International Airport, the Villa is only a 40 minute ride on the highway and a country road past a couple of villages teeming with activities  and open fields.
Distances
Airport 40 minutes
Patong 25 minutes
Phuket Town 40 minutes
Central Shopping 35 minutes
Golf Courses 20 minutes
Surin Beach 20 minutes
Nai Thon Beach 55 minutes
Boat Lagoon 55 minutes
Yacht Haven 50 minutes
Events & Weddings
This Villa makes for an ideal location for small events, weddings and many other special occasions. As the villa comfortably sleeps 8, the Villa and grounds can comfortably accommodate 40-100 people.
Villa Wang Nam Jai provides an idyllic, sumptuous yet intimate location for any event.
Their may be further restrictions in the event of weddings and events to help preserve the integrity of the villa. These are discussed in the villas terms and conditions.
Photo Shoots
Ideal for photo shoots and international catalog photography. Its unique position and style make it a photographers dream environment as the villa provides incredible light and settings for a memorable picture perfect shot.
Read more
Rates
3 Bedrooms | USD $900 per night - USD $3,450 per night +17.7% Tax
| | | | |
| --- | --- | --- | --- |
| High | Jan 13, 2019 - Mar 2, 2019 | USD $1,200 per night | 5 nights min |
| Prime | Mar 3, 2019 - Mar 28, 2019 | USD $990 per night | 3 nights min |
| High | Mar 29, 2019 - Apr 22, 2019 | USD $1,200 per night | 5 nights min |
| Low | Apr 23, 2019 - Jun 30, 2019 | USD $900 per night | 2 nights min |
| Prime | Jul 1, 2019 - Aug 31, 2019 | USD $990 per night | 3 nights min |
| Low | Sep 1, 2019 - Sep 26, 2019 | USD $900 per night | 2 nights min |
| Prime | Nov 1, 2019 - Dec 13, 2019 | USD $990 per night | 3 nights min |
| High | Dec 14, 2019 - Dec 20, 2019 | USD $1,200 per night | 5 nights min |
| Peak | Dec 21, 2019 - Jan 12, 2020 | USD $3,450 per night | 10 nights min |
4 Bedrooms (Incl. Master Bedroom) | USD $1,050 per night - USD $3,450 per night +17.7% Tax
| | | | |
| --- | --- | --- | --- |
| High | Jan 13, 2019 - Mar 2, 2019 | USD $1,400 per night | 5 nights min |
| Prime | Mar 3, 2019 - Mar 28, 2019 | USD $1,180 per night | 3 nights min |
| High | Mar 29, 2019 - Apr 22, 2019 | USD $1,400 per night | 5 nights min |
| Low | Apr 23, 2019 - Jun 30, 2019 | USD $1,050 per night | 2 nights min |
| Prime | Jul 1, 2019 - Aug 31, 2019 | USD $1,180 per night | 3 nights min |
| Low | Sep 1, 2019 - Sep 26, 2019 | USD $1,050 per night | 2 nights min |
| Prime | Nov 1, 2019 - Dec 13, 2019 | USD $1,180 per night | 3 nights min |
| High | Dec 14, 2019 - Dec 20, 2019 | USD $1,400 per night | 5 nights min |
| Peak | Dec 21, 2019 - Jan 12, 2020 | USD $3,450 per night | 10 nights min |
An additional tax of 17.7% will be applied.
Booking/Inquiry
Phuket Villa 443
Need help?
Contact us for personalized service and customer support.