Availability
Booking/Inquiry
Phuket Villa 4186
Click to see bigger map
Villa Amenities
Ocean View
Pool
Air Conditioning
Maid Service
Personal Chef
WiFi
Similar Villas
---
---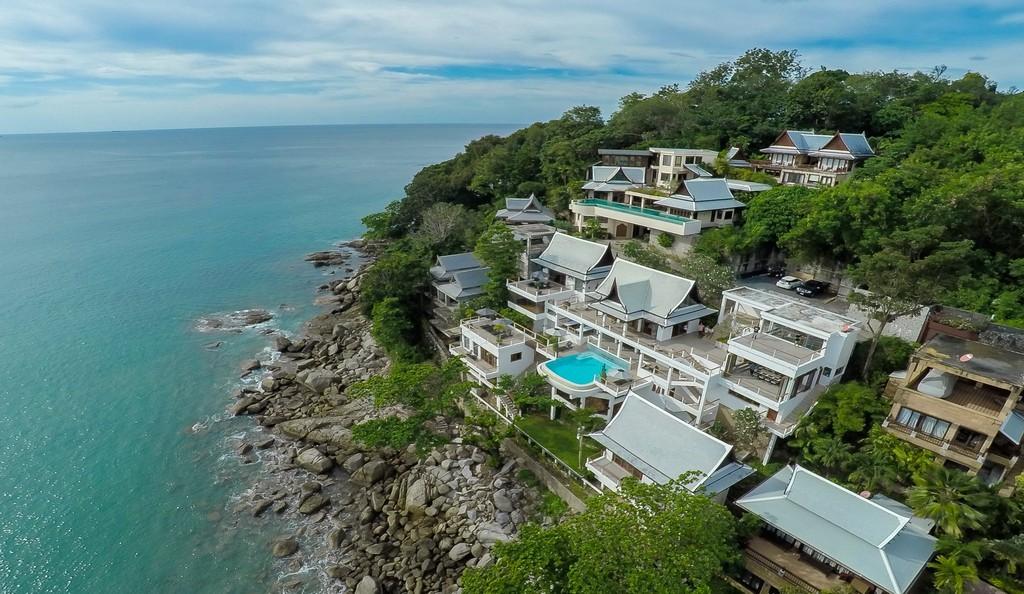 Villa Details
Villa Baan Santisuk in Kamala is managed exclusively by Villa Getaways
You'll return home from your luxury island holiday in Phuket with stories about how you fell in love with the Thai experience. Fabulous food, friendly people, amazing tropical locations and vistas, not to mention your 5-star luxurious Baan Santisuk in Kamala, will all help to make your vacation a memorable one. An outstanding Phuket property, this luxury residence is a favourite among discerning tourists who yearn for elegance with all the trimmings.
Villa Baan Santisuk is surrounded by two white sandy beaches and has panoramic views over the Andaman Sea. The property has been designed to take advantage of its prestigious location, with open-plan living and bedrooms that bring the outdoors in. With the generous use of expansive glass, bifold doors and high ceilings, you'll feel at one with your beautiful surroundings. Space, space and more space help alleviate all your stresses to provide a thoroughly relaxing and enjoyable break from the daily grind or the ideal destination for a special event.
The Phuket Exclusive Villa is managed by Villa Getaways and accommodates up to 10 people with five bedrooms, each with ensuite bathrooms, three with private Balinese-style outdoor shower gardens and one that has an outdoor Jacuzzi. For the ultimate in private entertainment, each bedroom is equipped with its own mini-bar, safe, phone and high-speed broadband internet connection using fiber optic.
The incredible view isn't the only highlight of this luxury Phuket property, with a stunning outdoor sala – one of two – well appointed with lounge and dining areas. The large infinity pool is another popular feature, surrounded by stylish timber decking and comfortable deck chairs to enjoy the entire day relaxing by the pool while enjoying the calming view of the turquoise ocean beyond.
Or you could stroll to your choice of one of the postcard-perfect beaches that fringe the villa on either side.
For those who want to burn some energy, you'll find a fully equipped gym, which includes running machine, cross-trainer, weight machines and free weights.
A visit to Phuket Island isn't complete without a stroll around Patong (a short 10-minute drive from Baan Santisuk) to check out the eye-opening nightlife, along with international shopping, local markets, extensive dining options and heady multicultural mix. For keen golfers, an award-winning 18-hole course is only 20 minutes by car from your exclusive private accommodation.
A premier Phuket property, this luxury 5-star villa in Kamala offers an exceptional holiday opportunity for anyone planning a function, such as a wedding, milestone birthday or anniversary. The villa is open for event vacations, however, guest capacity must be confirmed with the owner beforehand, and may incur extra costs.
The two beaches below the luxury estate where Santisuk is situated are accessed by foot if feeling adventurous.  Naka Beach is via a jungle path and stairs down to a deserted beach. Yae Beach is accessed via a 5-star Resort which built around the access point to the beach so all thoroughfare is via this resort. We recommend booking a table by the pool for drinks/snacks for access to the beach when you wish to leave the comfort of your infinity pool.
Facilities
5 bedrooms, each with its own private ensuite and open-plan, light-filled design
Safes in each bedroom for security
Mini-bar in each bedroom, with a one-time fill upon welcome. Extra fills incur additional costs
3 bedrooms include outdoor shower gardens and 1 includes an exterior Jacuzzi
Gym with running machine, cross trainer and weights
Phone in each bedroom
High-speed broadband internet connection using fiber optic throughout the villa area.

The villa has a TV room with large screen projector (bring your favourite DVDs) and sound system (bring your iPod)

The media room can sleep two children, if necessary at an extra cost

Welcome pack on arrival
All bed linen and towels are provided
Flowers and decorations throughout the property
Staff
The villa's staff includes two full-time maids to ensure you enjoy every minute of your stay in this luxury tropical paradise
The resident cook can prepare breakfasts, lunches and dinners, including a great Thai menu and simple Western dishes for cost price plus a service fee of 20% +THB  500 shopping fee (per shopping)
Full-service team, includes housekeeper, maids and gardener

Car hire available

Visiting Thai massage available, upon request

House staff can arrange tours and excursions, diving and boat charters
F&B System: 20% service charge plus THB 500 per shopping fee.
Please Note: Minimum of 6 nights' stay during Chinese New Year and Easter week period.
Read more
Rates
All Bedrooms | USD $1,380 per night - USD $3,300 per night
| | | | |
| --- | --- | --- | --- |
| High | Nov 1, 2023 - Dec 14, 2023 | USD $1,850 per night | 5 nights min |
| Peak | Dec 15, 2023 - Jan 4, 2024 | USD $3,300 per night | 10 nights min |
| High | Jan 5, 2024 - Apr 30, 2024 | USD $1,850 per night | 5 nights min |
| Low | May 1, 2024 - Oct 31, 2024 | USD $1,380 per night | 3 nights min |
Real Client Reviews
Fantastic Villa
Fantastic Villa between Kamala and Patong on the hill with excellent outdoor space, pool area and living room. Kids loved it as well. Breathtaking sunsets from the villa. Well maintained villa.

Kris at Villa Getaways is patient and attentive. Would definitely book again through him. Owners rep is also a fantastic lady.
I felt like i owned the island from this hilltop villa!
This was the second time I booked with villagetaways.com and both experiences have provided the same level of professional service, villas of superb quality and wonderful memories.

Kris Clements, your hand-holding prior to my arrival at the villa make it easy for me to want to deal with you again. Thanks again for yr patience in answering all my questions.

On arrival, the villa manager as well as on the ground and round the clock staff pampered us without intruding. We were fed well and the staff observed the stringent diets of the few who could not enjoy the rich local delecacies being prepared for the rest of us. We were a group of eight, ages as young as 7 and as old as 66. We all left with the same wonderful experience. We were all sad to leave.

If you do book this villa, when you're in the car from the airport and you feel the urge to point at a villa on a hill to say "Wow, look at that house!", don't be surprised, as I was, when the driver tells you that's where you're headed!
Fantastic Villa
The villa is amazing. fantastic views, well maintained, great location.
We hired a mini-van from the villa - a driver named Mun who was very courteous and extremely safe.
The cook Mundra serves better food than most of the upmarket restaurants on the island. I recommend you order the food with her before you arrive - she wont disappoint.
Wan, Meow and Toi are great support staff who were more than happy to chip in and help entertain our 1 year old daughter.
as the villa is in a tropical setting, make sure you bring some insect repellent with you. we didn't have much of an issue with this except when it rained.
the only downside to the villa is allocating rooms to the guests as they are on different levels and have different layouts. some have very opulent bathrooms while others have fantastic views. its a tough decision.
The experience was sublime!
The villa is awesome. Beautifully appointed and very luxurious. The view is nothing short of divine. The icing on the cake is the cook, Montra (not sure I got that spelling right). The food is probably the best Thai food we have ever eaten. The other staff (Wan and Meouw, again dubious spelling) too are absolutely amazing - very helpful, unobtrusive and very sweet.

Thanks for a wonderful experience.
Luxurious stay in a breathtaking villa
We stayed at the Villa in early November for three days and hosted our wedding reception on the grounds. The villa itself was a delight to stay in, with five-star luxury at our fingertips. The food and amenities were ideal for a holiday retreat, whilst the views were simply amazing. The staff did everything to assist us and were friendly and polite. We had a perfect wedding in Phuket, and the Villa was a great choice.
Magical villa with breathtaking views
We stayed here for a week while we were in Phuket for our wedding. While the villa was ultimately too small to host our wedding we had an amazing week living in the lap of luxury, with the most spectacular views! While it is clearly a stunning design it is also very practical with all the modern conveniences and well laid out.
every room in the villa is unique and each has its own amazing features, views and spectacular bathrooms. The beds were incredibly comfortable and you would not want to leave them but for the amazing views from outside!
The staff were fantastic and made us feel so at home and comfortable without being too obtrusive. The cook was wonderful and would cater fabulous thai food that was so fresh and tasty and at a fraction of the cost of eating out. They would organise for masseurs to come up to the villa for us and they even knew it was our wedding night and decorated our bedroom.
I would recommend hiring a car - taxi drivers struggle to find it and charge a lot as its quite isolated but its so close to Patong and Kamala that its possible to survive without a car.
Overall this was an amazing place to hang out for a week, relax, party and generally feel like we were on the set of entourage! There was so much space and the views were breathtaking! Definitely heading back here for our anniversary!
Fabulous
Kris, it has taken me a month to get around to writing to you to say we had the most fabulous time at villa 4186!

I'm so glad you suggested that one to me, it was just perfect for what we wanted. We totally relaxed and to have Mantra and her team looking after us we were just in paradise. They made such beautiful food and also made a real effort on the night of my 40th to make it so special.

We all want to go back every year as it was just so perfect, we hardly left the place the whole time.

Thankyou also for the lovely flowers from Villa getaways they were gorgeous.

looking forward to booking another holiday with you in the future

Thanks again Kris

Johanna
Everything and more...
Rented the villa for my wife and her friends and was nervous given there were so many to choose from and not really knowing what you'd get when you arrive. This villa lived up to all my hopes and the group of 5 of us had the best week. The staff were attentive and helpful throughout, the food amazing and the location just perfect. If you're unsure which villa to pick, you wont go wrong with this one.
loved the view.
When I left I said, "goodbye room, I love you..." I had the master bedroom. The auto blinds didn't work well - kept jamming, but the maids got the ladders out and rolled them up and down whenever I asked.

the holiday was a treat so I don't know how much it cost. but it was a lovely escape.

the only thing missing was perhaps a storm coming in over the sea, but I won't complain about the big blue skies, gorgeous sunsets or starry nights.
fabulous time in Phuket
We had a fabulous time in Phuket and especially enjoyed our stay at the villa and the picturesque view. The villa stay was truly memorable. The cook was amazing too. Thank you again for arranging this.
Really enjoyed the property
We really enjoyed the property and would certainly recommend you guys to our friends.

nothing but good reviews
We are back from our vacation and have nothing but good reviews for the villa! It was raining the first 2 days we got there but that did not stop us from amassing 25gb of photos and videos (:

We would like to share some with you and have been advertising the wonderful villa to our friends and family.

the Villa was amazing
We have returned from our holiday and the Villa was amazing, thank you.
Very satisfied
Very satisfied with the villa and service, especially your chef service.
Thanks again for your help.

We had a lovely stay
We had a lovely stay at Baan Santisuk and in fact we are planning on getting back for our wedding anniversary. All your villa staff have been really helpful for the great food, the cleaning, ironing of our clothes and gowns, and buying things for us, etc. Please thank them all for us.
Loved everything about the villa
I'm just returning from one of the most amazing vacations I've ever had. Villa 18 and it's staff were far beyond what the pictures could ever portray. We are already looking forward to planning a return trip for Thanksgiving of 2016.

Thank you for all of your help with the booking and recommendation, we loved everything about the villa.

The villa was spectacular
We are back to reality after having such a fabulous holiday. The villa was spectacular, even better than the photos. The staff were wonderful and that Montra, what a great thai cook she is. Everyone really enjoyed the holiday and want to go back next year.
An amazing experience
Villa 4186 was such an amazing experience. The house is built beautifully so that you feel like you're on your own island. I love the open floor plans of the pool level creating a fun atmosphere for our entire group to share.
The villa was great
The villa was great, it is the best villa I have stayed in Phuket. Since i have tried 5 villas before.

The service was excellent. I would like to thank the villa team on there nice hospitality.

Highly recommend
We had a pleasant time staying in Santisuk Villa, the rooms and the pool are very big and clean.Of course the best is the view, this is the best view that i have ever seen among all the villas that i have stayed in Phuket. Due to it is so close to the sea, i did not feel hot even under the sun in the noon, this is the view that you can die for. the staffs on site are efficiency and polite, esp the chef Chin, she did a great job when we were staying, thanks Chin! The best thing is only 10 mins driving, i am already in the Juncylon, very convenient. But of course you need a car if staying in this villa, it will be easier than you call a taxi. George answered our msg very quickly and he helped us a lot, thanks George. Highly recommend to those who want to have a luxury holidays in Phuket
Wonderful Stay
We had a wonderful stay and would like to again extend our thanks to the staff at the villa who were fantastic!

We would definitely get in touch with you again for future holidays in Phuket.

The villa is amazing
Thanks for all your help in organizing the stay, the villa is amazing and the staff were great.

Villa was beautiful and staff were great
Great thank you.

Villa was beautiful and staff were great - and such gorgeous sunsets. We were very lucky with weather. I have sent the link to a couple of friends to recommend it.

ironically our friends that joined half way through know the owner in HK!

When kids have some time we will post something - it has just been manic since we have been back.

Best,
Kaya
everything was great
We had a wonderful holiday in Phuket.
In terms of feedback everything was great.
Villa: it's very beautiful, comfortable, ideal for a group of friends like us.
Service and support: the chef is very good, we mainly had Thai food and really liked it.

Fantastic stay in Phuket at Villa 4186
All family back in France after a fantastic stay in Phuket at Villa 4186.

About the staff, Cooker SU was fantastic and not only like Cooker also very present for all our Family etc, really Nice.
I think that TA has to be more manage for Household and laundry, she was also nice with children, but a villa like this one have to be more cleaning regularly.
Maintenance OK.

Audi always available and arranging.

We'll try to come to this very nice Villa with Friends.
Everything has been fantastic! Will recommend VillaGetaways to all my friends.
food was outstanding
With respect to the 3 staff in the Villa, they were great & the food was outstanding. Audi was super helpful at organising transportation in addition to arranging the hire of a boat for us on one of the days.
The team here is really excellent
Hi Ika
All good here! The team here is really excellent!!!

Thanks so much
Jacqueline

Jacqueline Chua Faquet

很幸运选择了这家民宿 房东第一天会来细心的介绍 每个房间都很大很漂亮 风景也是一绝 地理位置也不错 步行十分钟有个私人海滩 离巴东十五分钟车程 配有接送机服务 管家苏可以帮你订车订船 打扫洗衣 叫人到别墅给你做spa 而且苏的厨艺也是一流 会收取一些服务费 在合理范围内 总而言之 很满意
This villa was everything & more
This villa was everything & more. The service was exceptional. Liana really took care of us in every was possible. The caretakers sea and Mac were beyond helpful. The villa has the best possible ocean view with an infinity pool to die for. Rooms are great and it's a great place to visit with friends and family. Highly recommended. Would certainly love to visit again.


Genuinely beautiful villa
An absolutely wonderful stay. Genuinely beautiful villa, tranquil location, extremely proactive, responsive and helpful host and staff. Sea also cooked for us (fantastic Thai food), arranged a cocktail waiter and masseuses. Taxis into town are relatively easy with a bit of a wait, and we hired mopeds to get to the local sights and beaches.
We had an amazing stay at Baan Santisuk!
Hi Kris,

Hope this email finds you well. We had an amazing stay at Baan Santisuk! We loved the villa, everything was fantastic. The service was superb. We were made to feel right at home and everything was extremely smooth.

Audi was very helpful, patient and kind. Liana was great and active. Si and the other staff members were so kind, generous and helpful!

Thank you so much for all your help Kris! It was an amazing stay and experience.

Hope to stay again sometime soon!

Warm regards,
Dhruvika Bhagat
We really enjoyed our stay
Thank you my dear we really enjoyed our stay
Everyone has had an amazing time and we still have a day to go!
Hi Kris,

Thank you kindly it is appreciated.

Words cannot describe our stay here, the standard and excellence. It has been too class and got to be amongst the best ever.

Everyone has had an amazing time and we still have a day to go!

If you have any villas on an island we are very interested for March/April!

Thanks again Kris
I am over the moon that couldn't be farther from the truth
Hi Kris,

Just wanted to send an email to let you know how things went at Baan Santisuk.

This was our first private villa experience and we are now, unfortunately spoilt, and also kicking ourselves for not doing it sooner. My family, and especially the kids are expecting every holiday to be the same. When I ask my sons what their favourite part of the trip was, their response is "our mansion".

Khun See is an amazing cook, we should've had every meal at the villa. The whole team (Jin, Marc) was lovely, no ask was too much and they were there whenever needed without hovering so we really did feel like we had the place to ourselves.

I had reviewed countless villas in Phuket over the course of a few months and was worried that Baan Santisuk was going to be too good to be true. I am over the moon that couldn't be farther from the truth. Thank you for making things easy and for answering emails a world away, I'd also like to thank Liana for coming to welcome us.

All the best and thanks again,
Nadia
Booking/Inquiry
Phuket Villa 4186
Need help?
Contact us for personalized service and customer support.