Booking/Inquiry
Bay Of Islands Villa 697
Click to see bigger map
Villa Amenities
Ocean Front
Ocean View
Pool
Air Conditioning
Maid Service
Personal Chef
WiFi
Tennis Court
Similar Villas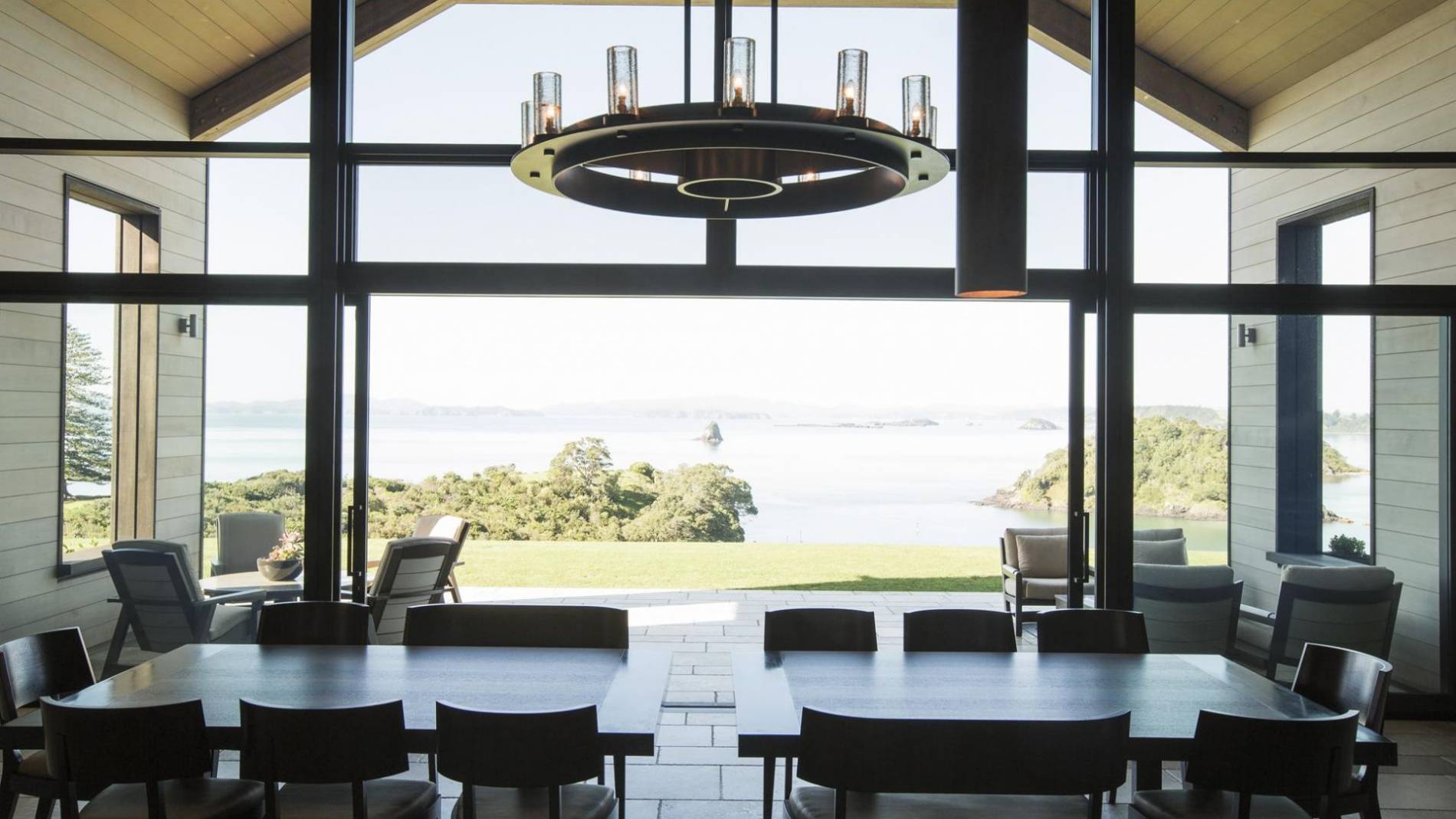 ---
Villa Details
In the northeast corner of New Zealand's North Island lies the Lodge. The property features three kilometres of pristine coastline, four private beaches and many intimate coves. National Geographic Traveler Magazine ranked this location second-equal in The World's Top Rated Islands, Coastlines and Beaches.
The Main House
The inspiration for the architecture of the Lodge came from a desire to achieve timeless legitimacy in the region. For this reason styling ideas were taken from the early European buildings such as The Treaty House in Waitangi, Pompallier Mission House in Russell, Te Waimate Mission House in Kaikohe and the Stone Store in Kerikeri. Modern materials were used, but the appearance is of a building that could have been built a century ago. The base of the building is clad in Northland sedimentary schist, sourced from a nearby quarry, that formed part of the ocean floor 30 million years ago. Fragments of ancient coral, crustacean and mollusc shells have been captured within the stone. Construction of the Lodge began in 2010 and was completed in 2016.

Guests will enjoy exploring the individual rooms of the Main House decorated with its eclectic artwork and treasures, which have been collected by the owners during their travels around the globe.  These captivating and fascinating pieces complement opulent interior design.

Guest facilities are generous and include a gym, sauna, massage room, a 25-metre heated swimming pool, library, lounge areas, both informal and formal dining areas and an outdoor fire pit.
Accommodation
The Lodge hosts a maximum of five individual couples accommodated in five Villa Suites, which are named after New Zealand native birds.

All the Villa Suites have extensive balconies with views overlooking the beach and beyond to the South Pacific Ocean. Leica binoculars are provided for the opportunity to view bird life, visiting whales and dolphins, and vessels tracking across the bay out to sea.

If exclusive use of the Lodge is required for private parties, there are an additional five rooms within the main lodge building.
Villa Suites
Kiwi and Kotare are our two 1,450 square-foot Villa Suites with exquisite sea views and full air conditioning. Each has a separate living room; these can be interconnected to accommodate a party of four travelling together.
The rooms all feature:


Real log burning, gas-ignited fireplaces
Super king beds
In-house complimentary movies channel
Minibar facilities equipped with a microwave and Nespresso Coffee machine
Personal safes
Waterfront balconies

Junior Suites

Our three 700 square-foot Junior Suites – Tui, Kea and Hihi – have ocean views and full air conditioning. They also feature:


Super king beds
In-house complimentary movie channel
Minibar facilities equipped with a Nespresso Coffee machine
Personal safes
Waterfront balconies
No expense has been spared when dressing these suites. There are carefully chosen, sumptuous hand-made linens from Europe, hypoallergenic pillows and duvets by Hefel of Austria and Feiler towelling sourced from Germany. The bathrooms showcase exquisite mosaic tiling, complemented with accessories by Labrazel from Italy and Swiss-made guest robes by Christian Fischbacher. Molton Brown products provide the finishing touches to ensure that every element of the experience at the Lodge exudes sophistication and luxury.
Dining
The Lodge has brought the celebrated Michelin starred Ristorante Don Alfonso 1890 of Southern Italy to New Zealand. Under the direction and the influence of Don Alfonso's philosophy of respecting the local food culture while incorporating the age-old traditions of the Sorrento peninsula and the Amalfi Coast, fine dining will define the hospitality experience at the Lodge.

Significant investment has been made at Helena Bay to offer guests 'Estate to Plate' cuisine. The menus, which change daily, are created following the Don Alfonso philosophy.
Dining Options
Served on exquisite dinnerware by Villeroy & Boch, meals at the Lodge will never feel repetitive. Each night the choice of dining venue is yours; an elegant candlelit dinner in front of one of the many roaring log fires or on the terrace looking out to the Pacific Ocean. These are just some of the options. During the day, poolside lunches or a picnic on one of the private beaches are available. Whatever your mood, the Chefs and Lodge Staff are on hand to look after your every wish.
Wine Cellar
The wine cellar houses more than 1000 bottles of carefully selected New Zealand and international wines; some are true finds which, in the hands of our Sommelier, are the perfect companions for the meals served in our many dining venues.
Experiences
On the Estate there is a wide variety of activities available. For those who wish to relax, lounging around the pool interspersed with fossicking in the seawater rock pools adjacent to the Lodge is a great way to while-away a pleasant day. A newly-laid Astroturf tennis court is adjacent to the Lodge. Trails for hiking and biking have been cut through the bush and down to the private beaches on the property. The Lodge has the latest Trek mountain bikes (two with electric motors). When exploring the farm you will meet the alpacas, donkeys and Wagyu cattle (all behind fences!).

The long-term view of the owners of the Lodge has allowed substantial investment to be made in the property. A comprehensive pest and predator management program has been introduced, with fantastic results. The native trees spread across the property that had been ravaged by possums have seen a significant rejuvenation. The introduction of new breeding ponds for the endangered pateke (brown teal) duck have proven very successful, with a number of breeding pairs making their home here.

For those who enjoy being on the water, we are on hand to launch the paddle boards and sea kayaks. We also have fishing tackle available for guests to fish from the pontoon or one of the beaches. Using our electric four-wheel-drive buggies, with a gourmet picnic on board, is a great way to explore the property.
HIKING & WALKING
Approximately 15 kilometres of private walking or mountain biking tracks within the 800-acre estate.
The hikes take you deep into New Zealand bush; this unique environment is one of the only places on the planet where there is nothing dangerous in the bush to sting or bite you.
The tracks also take you high onto the coastal headlands with astonishing views out to sea or down to secluded golden sand beaches. You are sure to spot many New Zealand birds and come across miniature donkeys, Alpacas and Wagyu cattle.
MASSAGE THERAPY
An experience designed exclusively for you.
We invite you to indulge in an authentic and personalised massage therapy treatment.  Our experienced and highly qualified massage therapists will tailor your massage therapy to offer a comprehensive and holistic treatment.
After a thorough consultation, our therapists will offer advice on the most beneficial personalised massage therapy to achieve optimal results, utilising a combination of the following therapies:
Swedish
Sports
Deep Tissue
Joint Mobilisation
Shiatsu
Reflexology
Trigger Point Therapy
Pregnancy Massage
Fascial Release
Pamper yourself with luxurious massage therapy, easing muscles, soothing nerves and revitalising joints, then relax and unwind in the idyllic and tranquil surroundings.
Pharmos Natur
Our Spa is dedicated to embracing the harmony between Luxury and Nature.
Our carefully selected Signature range PHARMOS NATUR products are formed purely from certified organic European Medicinal plants.  These precious oils supply your skin with rich active ingredients, magnesium, iron, zinc, lecithin, vitamin B complex and all essential amino acids.
Treat yourself to Helena Bay Massage Therapy enhanced by the amazing regenerative power of PHARMOS NATUR products.
SWIMMING POOL, SPA & GYM
Particular attention has been paid to the Gym and Spa wing which has been constructed to reflect the character of a traditional Russian Banya (bathhouse) but in a modern and functional way. Exquisitely decorated with more than a million intricate ceramic mosaic tiles imported from Italy, it has an authentic and welcoming feel. The wing contains a modern gym, massage room, changing rooms, dry sauna, steam room, and cool plunge pool.
The central courtyard of the lodge surrounds a spectacular 25-metre in-ground heated swimming pool. Exclusive to our guests, the outdoor pool is ideal for gentle morning exercise or to unwind after a busy day. Afterwards, in the summer months, enjoy the opportunity to lounge on our poolside terrace soaking up the sun.
SCUBA DIVING
The Tutukaka Coast has an authenticity that sparkles all year round. Twenty-three kilometres offshore lies an international icon – the Poor Knights Islands. A total Marine Reserve and Nature Reserve – and pending World Heritage Site – the 11 million-year-old islands' volcanic origins provide a myriad of spectacular drop offs, walls, caves, arches and tunnels. The added factor of a constant current streaming south from the tropics adds to this truly unique ecosystem.
The islands are abundantly populated with unique and incredibly varied plant, animal and fish life, above and below the water surface. Archways and vertical walls are thick with an astonishing array of encrusting life that supports an incredible biodiversity of fish and other invertebrates. During summer, vast numbers of stingray gather in the archways to mate; the volcanic structures provide protection by confusing the radar of predatory orca.
Our team works with NZ owned and operated Yukon Dive. The full-service dive operators are extremely passionate about our environment and its future and pride themselves in offering a professional, friendly and personal service.
Yukon Dive specialise in fun packed adventure diving trips to the Poor Knights Islands. They can tailor the diving to suit the level of experience of all divers and dive the less crowded sites. Private charter diving reservations can be made through the Lodge which depart from the property.
FISHING CHARTERS
Fishing equipment is provided at no charge to all of our guests who would like to fish from our pontoon. Here it is common to catch trevally, snapper and john dory. For those who would like to venture further offshore we can arrange fishing charters departing from the property for a full or half day, with a selection of vessels to suit your budget.
We work with several local operators including Bay of Islands favorite Back in Black. Back in Black offers New Zealand luxury charters for those seeking superior fishing trips and an unforgettable experience … sightseeing, relaxation, quality family time and fun! Major sport fish are abundant off the Tutukaka Coast. These include striped marlin, blue marlin, swordfish, yellowfin and bluefin tuna and kingfish. Of course, there are always the Kiwi favourites:  snapper, kahawai and trevally.
Chartered fishing trips can be arranged by our reception team. Guests can board their charter vessel from the Lodge jetty.
Read more
Rates
An additional tax of 15.0% will be applied.
Booking/Inquiry
Bay Of Islands Villa 697
Need help?
Contact us for personalized service and customer support.