Availability
Booking/Inquiry
Ubud Villa 3242
This villa is located in: Ubud, Bali
Click to see bigger map
Villa Amenities
Pool
Air Conditioning
Maid Service
Personal Chef
WiFi
Daily Breakfast
Similar Villas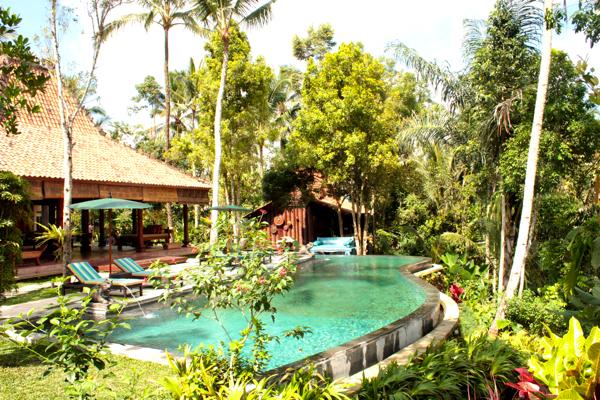 ---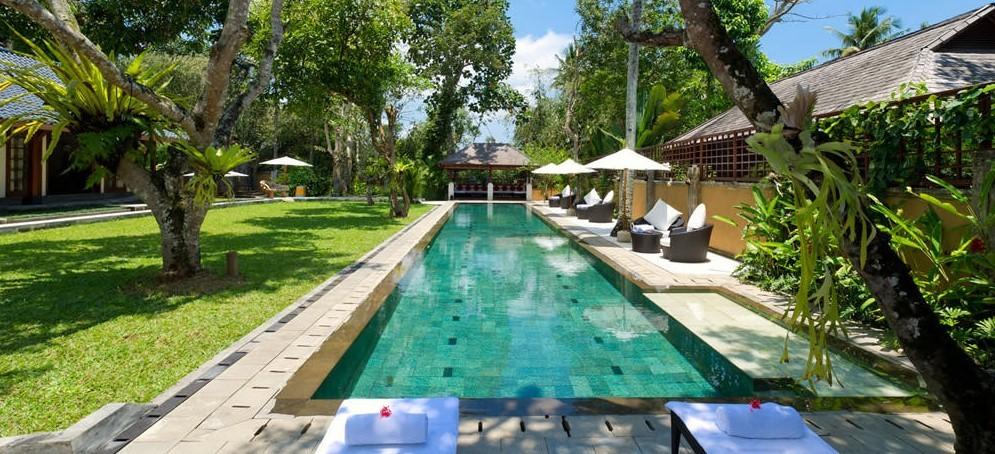 ---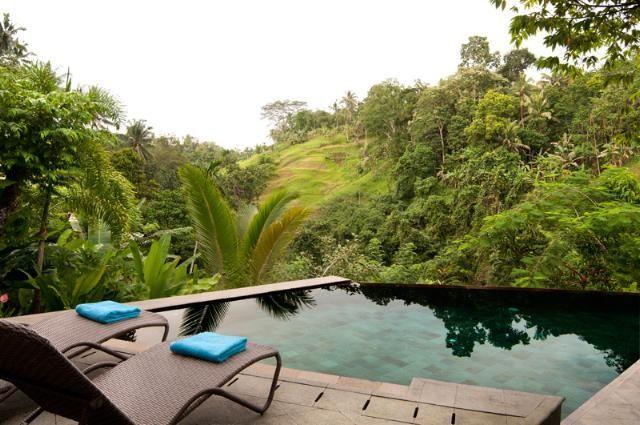 Villa Details
From Kedewatan Ridge the view of the Ayung River valley is breathtaking: a contrast between carefully tended Balinese rice fields and the fast moving, wild river below, between open sky and steep slopes covered by tropical jungle. It is a magical and emotional experience, a feeling as if thousands of years of cultural and natural heritage were unfolding in a huge, panoramic spectacle. This view, one of the most spectacular in the island of Bali, perhaps in the world, is hypnotizing, continuously changing throughout the day, revealing new layers of light, space, color, texture.
Sitting atop this ridge is Villa 3242, a unique modern villa designed by a world renowned architect, built with love and attention to detail, respectful of its very special site, of Balinese culture, land and traditions. Inspired by Balinese landscape and by origami, the beautifully angled roof lines and intriguing asymmetry of the indoor and outdoor spaces shift light and shadow in a continual dialogue with nature. Like a sculpture which enchants and delights as it reveals new perspectives, this extraordinary home offers the ultimate tropical living experience.
Located next to Kedewatan's Pura Desa (village temple) it is in close proximity to the town of Ubud, cultural and spiritual heart of Bali. The immediate area is rich in offering daily music and dance performances, cyclical Balinese Hindu ceremonies, a large selection of local and international restaurants, a myriad of destinations to inspire the most discriminating traveler. Ubud (the name derives from Malay obat or medicine) for centuries is a known place of healing. It is home to numerous yoga studios and has become an international center for yoga practitioners and teachers.
Villa 3242 in Ubud Bali provides services to match any luxury hotel. It includes three air conditioned bedrooms, each with a private bathroom, ceiling fans in each bedroom, an ionized infinity swimming pool overlooking the amazing view of river valley and rice fields, expansive living room extended by a large terrace, staff quarters, two kitchens and private gardens, including lower garden with a traditional meditation Bale and white lotus pond. Our fulltime staff of seven includes housekeepers, cook, gardener and security. Additional help can be hired for special events.
Villa 3242 provide bookings for all local attractions and day-trips, in-house massage and spa services, Indonesian and contemporary international cuisine, and can help with recommendations and reservations in explorations of Bali and beyond, into the vast Indonesian Archipelago. We regard each and every guest at Villa 3242 as unique, and we will make every effort to ensure that your stay be restful, inspiring and most memorable.
Services & Facilities
Staff
Villa 3242 have a well-trained staff of seven, and a house manager to take care of all your needs, to help create a most enjoyable and memorable holiday in Bali, from cooking favorite local specialties, making up your room, maintaining the pool and gardens, to taking you on a personal island tour.
Dining
We have 2 modern Kitchens equipped with a large oven and generous refrigerators. Our chef is happy to cook for you both local favorites and international dishes. Kindly note that we require 4 hours prior notice for your special dinner or lunch order to allow the daily purchase of freshest ingredients. We have our in-house menu, a list of tropical and exotic drinks, a basic list of alcoholic beverages and wine.
Spa
In-house massage and spa services are available upon request.
Living Room
Our dramatic living room offers comfortable seating, plenty of deck space and spectacular views of the Ayung River Valley, and the private gardens.
Bale
Our traditional lower garden bale is available for meditation, afternoon tea or just gazing at the sunsets.
Pool
Our 25 by 4 meter infinity edge swimming pool is ionized: no excessive chemicals are used. Swimming at sunset, looking down into the dramatic view of the river and rice fields with the sounds of nature all around is an unforgettable experience.
Tours
We can customize your private tours with our own air conditioned car, professional guide and driver. As we are located in very center of the island of Bali, most tourist attractions are within 1 to 1.5 hour away.
House Activities
Villa 3242 can organize in house presentations, music and dance performances, and classes upon request: yoga practice, cooking class, traditional Balinese offerings-making class, Balinese dance class.
Read more
Rates
3 Bedrooms | USD $650 per night - USD $1,400 per night +21.0% Tax
| | | | |
| --- | --- | --- | --- |
| Low | Sep 16, 2023 - Dec 19, 2023 | USD $650 per night | 3 nights min |
| Peak | Dec 20, 2023 - Jan 8, 2024 | USD $1,400 per night | 7 nights min |
| Low | Jan 9, 2024 - Jul 14, 2024 | USD $650 per night | 3 nights min |
| High | Jul 15, 2024 - Jul 31, 2024 | USD $1,250 per night | 5 nights min |
| Peak | Aug 1, 2024 - Aug 31, 2024 | USD $1,400 per night | 7 nights min |
| High | Sep 1, 2024 - Sep 15, 2024 | USD $1,250 per night | 5 nights min |
An additional tax of 21.0% will be applied.
Booking/Inquiry
Ubud Villa 3242
Need help?
Contact us for personalized service and customer support.