Availability
Booking/Inquiry
Uluwatu Villa 3682
This villa is located in: Uluwatu, Bali
Click to see bigger map
Villa Amenities
Pool
Air Conditioning
Maid Service
Personal Chef
WiFi
Similar Villas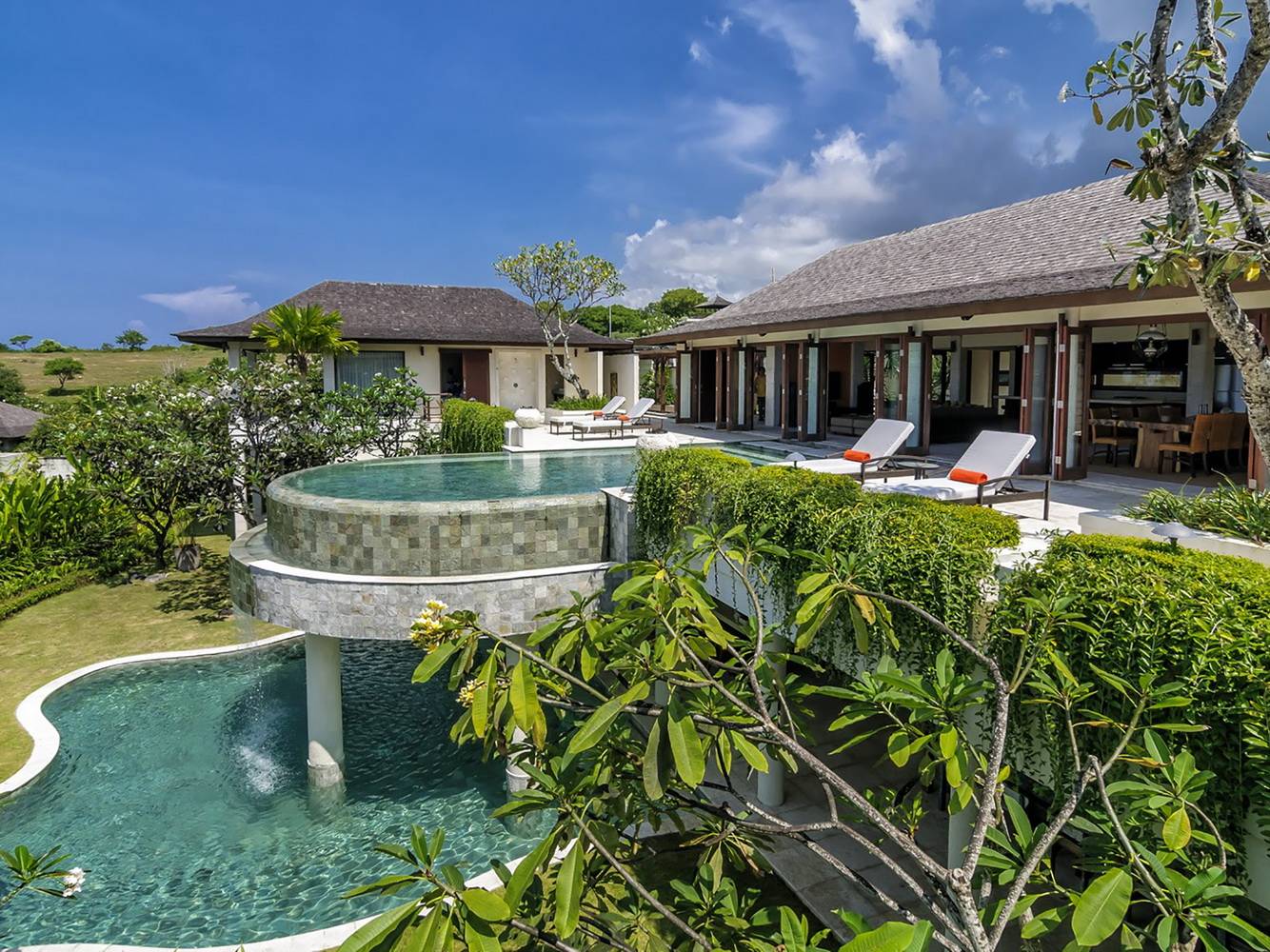 Villa Details
Villa 3682 and Villa 394 form a hillside sanctuary on Bali's Bukit Peninsula, home to many of the island's best beaches. Each with its own swimming pool set in immaculate and generous landscaped gardens, bordered by a tree-lined valley, and with views of the ocean, the two villas make a great choice for weddings and celebrations.
Villa 3682 is a glamorous five-bedroom villa with an abundance of facilities for all ages, including a spa, jacuzzi, fitness room, petanque court, pool table and games room with a home theatre. The villa comfortably sleeps ten adults and up to four children in a series of charming pavilions set within the gardens.
Tucked to one side of Villa 3682 and accessed through a traditional Balinese gateway, Villa 394 is a blissful one-bedroomed hideaway that will delight all romantic couples – be they honeymooners or otherwise. As well as a six-metre private swimming pool, this tranquil, self-contained villa features a semi-alfresco lounge, massive open-air bathroom and a dreamy bedchamber.
Both villas are attended by a full complement of professional and discreet staff, including a friendly manager and talented chef, who will cook, clean and pamper their guests with five-star service.
About Villa 3682
At Villa 3682 we have drawn on our experience in the hospitality industry to create a destination villa that embraces all the ingredients of comfort, style, entertainment and recreation. The result is a tranquil five-bedroom retreat perched upon a hillside on Bali's Bukit Peninsula with a beautiful view of the ocean, distant volcanoes and Bali's south-west coastline. The villa is an ideal choice for family holidays, and has earned a well-deserved reputation as a superb wedding and events venue.
This out-of-town villa with its cool breezes and serene ambiance provides a host of facilities for your entertainment and pleasure; these include a 16-metre infinity-edge swimming pool that juts out dramatically above the forested hillside, a well-equipped fitness room, cosy TV room with surround-sound and a library of movies, and a semi-open games room with pool table.
Further indulgences come in the form of a spa room and accompanying jacuzzi tub, a thatched poolside bar pavilion, and an excellent team of staff, including an in-house chef. Kids of all ages will enjoy our fine selection of games ranging from pool, petanque and darts to a stack of board games. If, despite all these diversions, you wish to explore further afield, you'll find that the neighbourhood is blessed with some of the most idyllic beaches in Bali, as well as a world-class golf course. What's more, a car and driver are on standby  at a reasonable daily rate. Guests looking for a little extra space, and romantic couples travelling alone, need look no further than the delightful, self-contained Villa 394 - honeymoon suite. Complete with its own private entrance and pool, this little love shack can be rented independently or in conjunction with the main  five-bedroom villa.
About Villa 394
Welcome to Villa 394 , one of Bali's most romantic one-bedroom villas , built with your privacy, seclusion and comfort first and foremost in mind. What dreamier place has there ever been in the lovers' lexicon of myth and fantasy?
In choosing the villa's location and design we pulled out all the stops, while at the same time providing you with the first class service and amenities you would expect from a five-star villa. Our staff are on hand to cook, clean and drive for you when needed, but they are also masters of discretion thus allowing you to be as free as you like to enjoy the sea breezes and views from your eagle's eyrie. Rest assured, no one can see in to your hilltop perch apart from the occasional seabird that flies overhead.
In the bedroom, which opens widely onto the private pool and gardens, a king-size bed entices with sheer green and gold drapes. Stepping out of the bedroom over stones bridging a fishpond, you enter the open-sided bathroom, vast in its scope and stunning in its simplicity, with a sunken, petal-filled soaking tub, washbasin and rain shower.
A simple living area offers respite from the sun, while a generous lawn and twin sun loungers sit shaded by frangipani trees next to the swimming pool. Take a dip, rest against the infinity edge, and look across the treetops towards the sunset and the Indian Ocean. If you tire of all this then the soft-cushioned balé bengong (daydreaming pavilion) in the garden is the ideal place to contentedly doze the afternoon away.
Services & Features
Villa manager
Chef
Assistant chef
Housekeeping
Butlers
Garden and pool maintenance staff
Security guards
Pool 16m x 4m and 6m x 4m
Wifi internet access
Landline telephone
Surround-sound system
iPod docks
TV
DVD player with movie library
Board games
Billiard table
Darts board
Petanque
Back-up generator
The Locale
The villa estate is located far from the madding crowd, a couple of kilometres from the ocean in a rural area of Bali's beautiful and rugged Bukit Peninsula. Amenities within walking distance of the villas are few; limited to the tiny village of Pecatu, thus the services of a car and driver are essential for guests wishing to explore. Some of Bali's best beaches are easily reached by car, as are some great restaurants, cultural activities, shops, cafes and golf courses.
Distances
Pecatu Village:1 km
Padang Padang Beach: 2 km
Bulgari Resort: 3 km
New Kuta Golf (Dreamlands): 5 km
Nammos Beach Club: 7 km
Uluwatu Temple: 7 km
Jimbaran Bay: 8 km
Denpasar Airport: 15 km
Kuta: 18 km
Seminyak: 23 km
Ubud: 48 km
Read more
Rates
All Bedrooms | USD $612 per night - USD $1,062 per night +15.5% Tax
| | | | |
| --- | --- | --- | --- |
| High | Jun 24, 2022 - Aug 27, 2022 | USD $891 per night | 3 nights min |
| Prime | Aug 28, 2022 - Oct 22, 2022 | USD $747 per night | 5 nights min |
| Low | Oct 23, 2022 - Dec 14, 2022 | USD $612 per night | 2 nights min |
| High | Dec 15, 2022 - Dec 25, 2022 | USD $891 per night | 3 nights min |
| Peak | Dec 26, 2022 - Jan 5, 2023 | USD $1,062 per night | 7 nights min |
| Low | Jan 6, 2023 - Jan 19, 2023 | USD $612 per night | 2 nights min |
| Prime | Jan 20, 2023 - Jan 29, 2023 | USD $747 per night | 5 nights min |
| Low | Jan 31, 2023 - Mar 31, 2023 | USD $612 per night | 2 nights min |
| Prime | Apr 1, 2023 - Apr 8, 2023 | USD $747 per night | 5 nights min |
| High | Apr 9, 2023 - Apr 18, 2023 | USD $891 per night | 3 nights min |
| Prime | Apr 19, 2023 - Apr 23, 2023 | USD $747 per night | 5 nights min |
| Low | Apr 24, 2023 - Apr 28, 2023 | USD $612 per night | 2 nights min |
| Prime | Apr 29, 2023 - May 2, 2023 | USD $747 per night | 5 nights min |
| Low | Jun 3, 2023 - Jun 9, 2023 | USD $612 per night | 2 nights min |
| Prime | Jun 10, 2023 - Jun 23, 2023 | USD $747 per night | 5 nights min |
An additional tax of 15.5% will be applied.
Booking/Inquiry
Uluwatu Villa 3682
Need help?
Contact us for personalized service and customer support.