Availability
Booking/Inquiry
Uluwatu Villa 302
This villa is located in: Uluwatu, Bali
Click to see bigger map
Villa Amenities
Ocean View
Pool
Air Conditioning
Maid Service
Personal Chef
WiFi
Daily Breakfast
Car & Driver
Similar Villas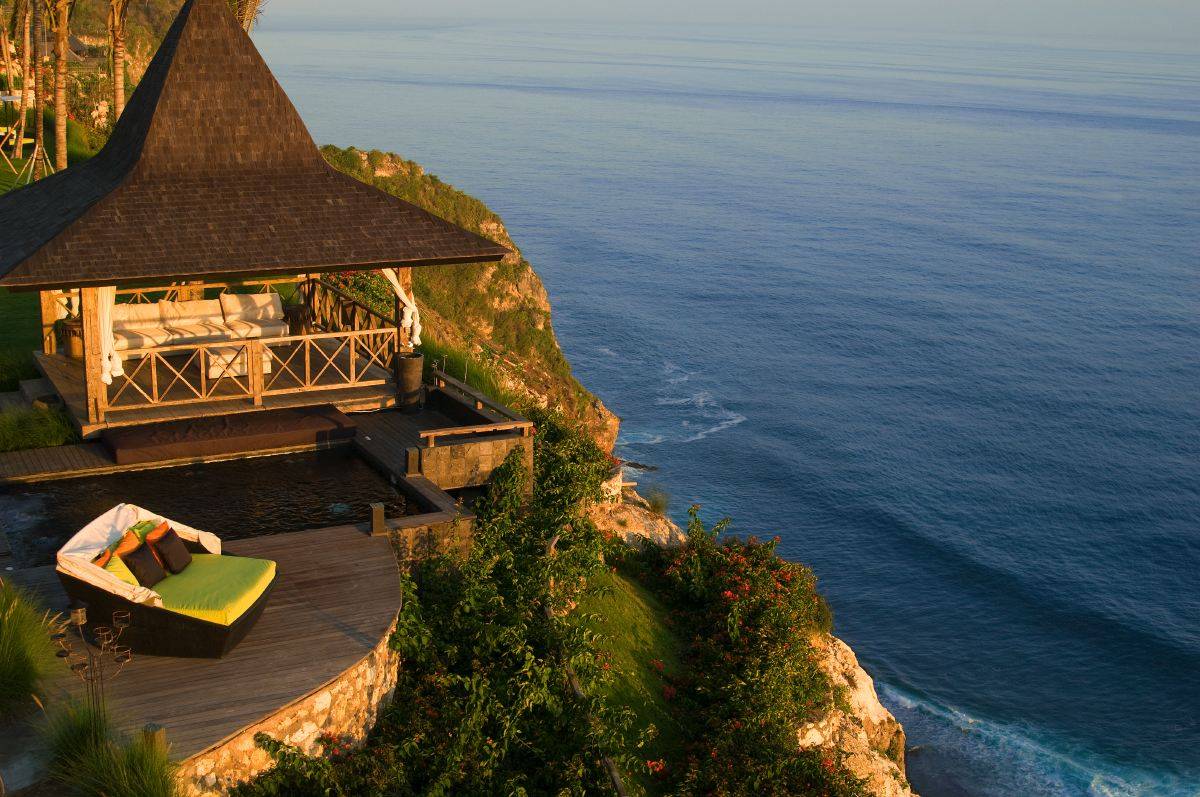 ---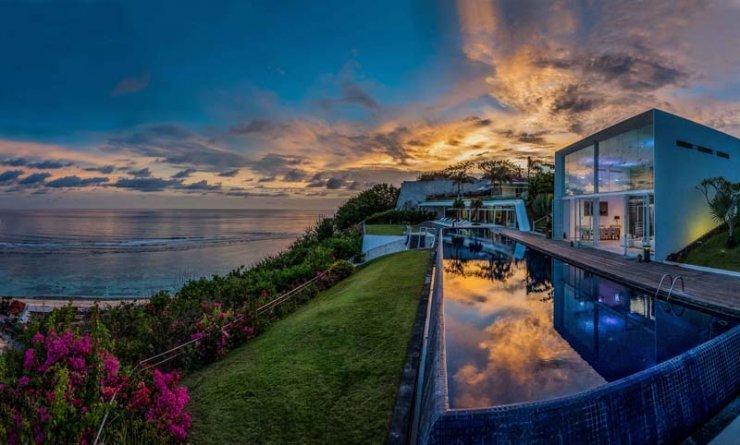 ---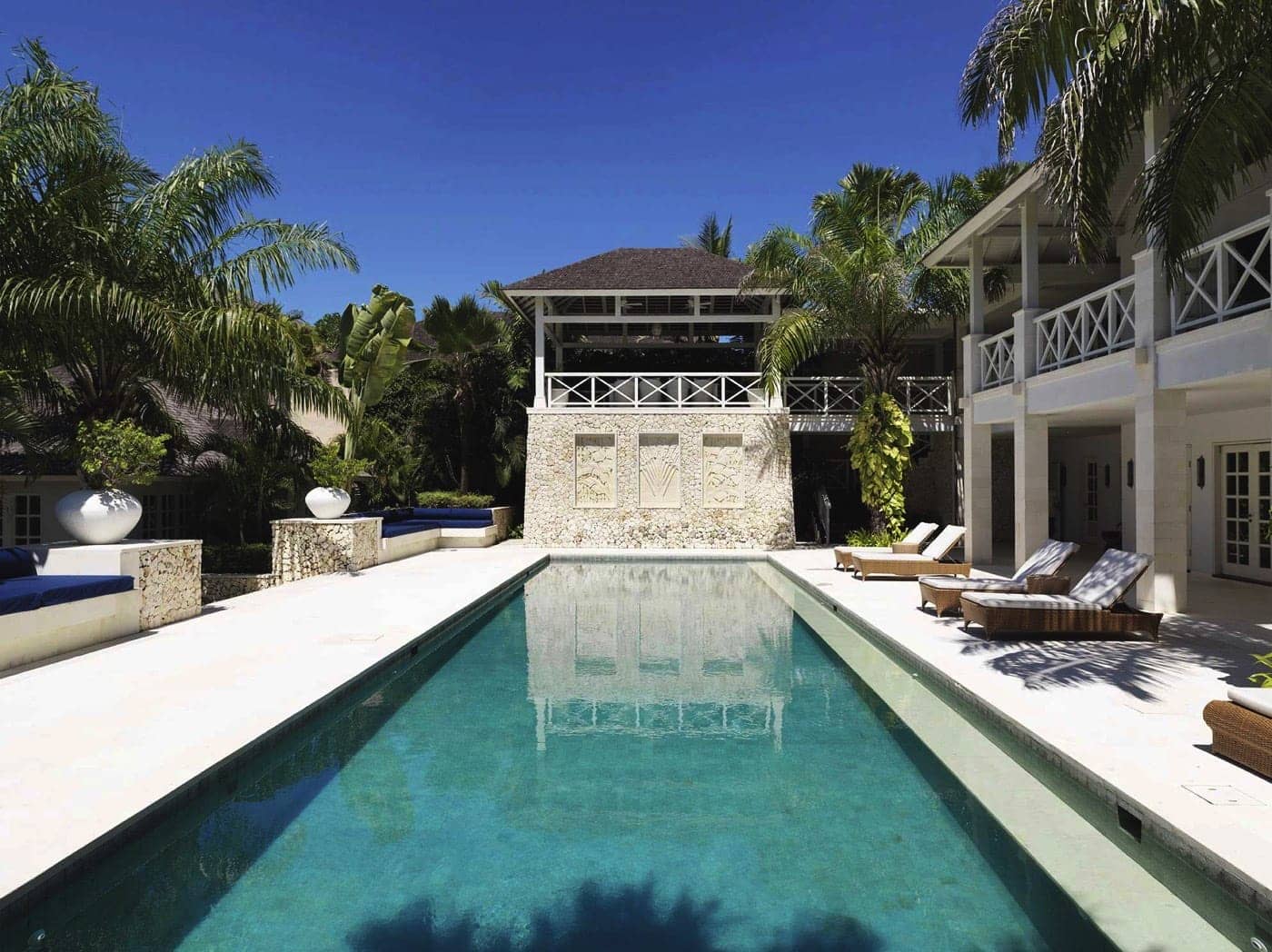 Villa Details
A mind-blowing cliff-top setting, breathtaking ocean views, serene architecture and superb staff have propelled this villa to prominence among the world's most remarkable destination villas.
Located on The Bukit Peninsula in south Bali, minutes from the revered sea temple, Pura Luhur Uluwatu, the villa is designed for lavish entertaining and is in much demand for weddings and large family gatherings. There's extravagant living and dining space (both formal and informal), a massive independent master suite with pool, four generous guestroom suites, a dedicated children's wing, games room, media room, spa and magnificent cliff-edge balé across the lawn from the 32-metre infinity pool.
Legends are created with far less.
About The Villa
With its dream location high above the Indian Ocean on a Bali cliff-top, the villa is regarded by many as the ultimate luxury villa, and has won the hearts of the world's most discerning travellers.
The villa means palace in Indonesian, and it is truly palatial in every sense: in its profuse living space, in the symmetrical elegance of its architecture, in its stunning interior design, and in the impeccable service provided by its staff. Indeed, one can be forgiven for feeling like royalty in this sublime setting where attention to detail is second to none and every wish is fulfilled.
The views are beyond spectacular. On a clear day Bali's necklace of volcanoes to the north are visible on the horizon, while 60 metres below, world-class surf breaks attract seasoned wave riders. The sky blazes with fiery oranges and pinks as the sun sets on a perfect day, and when darkness deepens the sea sparkles with a latticework of lights from the fishing boats of Jimbaran Bay.
It is little wonder that the villa is one of the most sought-after wedding venues in Bali; celebrated for its cliff-top ceremonies, candlelit poolside dinners, and dance floor under the stars. Adding to the romance is the secluded master suite, which has its own private pool and is positioned well away from the four guest bedrooms in the main villa.
The space and facilities here have huge family appeal. When not cavorting in the 32-metre infinity pool, kids will be thrilled to have the run of their own special wing, where a games room is equipped with pool table, Wii and PS3, and every night is sleepover night in the four-bedded bunk room. Parents can play too – a couples' massage at the spa perhaps, followed by sunset cocktails and a gourmet dinner to rival the best of Bali's restaurants, capped with a Cognac and Cuban cigar.
Such is the villa's magic that many guests choose not to stray far. But for those few who do have the urge to explore, Suluban Beach is only a five-minute walk away, and a seven-seat chauffeur driven car is on stand-by to whisk guests across the isthmus to Seminyak or further afield into Bali's rural and cultural heart.
Villa Layout
The villa's neatly symmetrical, 'H'-shaped main building looks out towards the 32-metre pool, the lawn and the ocean beyond the cliff edge. At the heart of this building is a living room surrounded by koi ponds, and flanked by a formal dining room to one side and a media room to the other. Beyond these rooms are two identical wings, each housing an ocean-view and a garden-view guest suite.
The very private master suite, with its own swimming pool and sun deck, lies to the north of the main building in a separate pavilion facing the ocean and cliff-edge balé. Steps lead between the master and main building to the villa's private spa, the games room and the children's wing. The villa's professional kitchen, complete with its own herb garden is tucked discreetly to the rear of the villa.
Living Areas
Living Room
Lying at the heart of the villa is the living room. This highly sociable space is open on two sides and features a black marble cocktail bar and silk-cushion-covered contemporary seating arranged in a U-shape around a huge coffee table – all oriented towards the ocean view. Walls feature panels of tropical wood carved with ancient tales of Ramayana, and prized ethnic artefacts are artfully dotted around the space.
Dining Room
The villa's formal dining room is a delightful setting for gourmet meals and dinner parties, served at a stately teakwood table for 12. The interior is handsomely decorated, with a wall of Thai silk panels, an antique hand-woven songket and an eclectic collection of oceanic curios. Looking out onto stellar ocean views, glass doors can be closed for air-conditioned comfort or thrown open for sea-breeze-cooled dining.
Media Room
In this decadent home-theatre-with-a-killer-view, villa guests can lounge in comfort before the 92-inch projector screen with Bose surround-sound for a full-on immersive experience. Automatic black-out blinds veil or reveal the ocean and garden beyond at the touch of a button, and the butler is on hand to serve movie snacks.
Games Room
Kids of all ages will love the games room, with its full-size pool table, library of books, board games and toys, and L-shaped sofas defining a video games section complete with PS3 and Wii supported by Bose sound system.
Balé
While the living room may be the heart of the villa, the cliff-edge balé is unquestionably its soul. Here, guests can celebrate a spectacular Bali sunset with cocktails in the comfortable sitting area before enjoying a sumptuous seafood feast at the sunken dining table set in front of a monolithic slab of granite that forms the bar and barbecue station.
Bedrooms
The villa offers five spacious bedroom suites – each an oasis of calm. Below vaulted timber ceilings, king-size beds are set on 'carpets' of creamy terrazzo bordered by warm teakwood. Behind the beds, walls of Palimanan stone are embellished with carved wood reliefs and antique batik and silk panels, while tribal artefacts are inset on recessed shelves. A soothingly neutral palette enhances the sense of space, and there's a choice of air-conditioning or overhead fans for cooling.
Master Suite
The master suite is nothing short of spectacular: a palatial bedroom pavilion with huge bathroom, sun terrace and 8 x 4-metre swimming pool. The extraordinary ocean vista unfolds beyond a wall of glass opening onto a private veranda with daybed; even the 42-inch TV plays second fiddle to the view, retreating discreetly into a console to free the line of sight from the bed. The enormous ensuite is a cream terrazzo haven with sunken bathtub, twin granite basins, and indoor and outdoor showers.
Ocean Suites
The sound of the surf and the scent of the sea escort the stunning views that flood into the two ocean suites. With the wide glass doors flung back guests can ease themselves from slumber to pool shallows in a heartbeat. Mirroring the light and airy bedrooms are large ensuite bathrooms with double basins, indoor and outdoor showers, and steps up to a terrazzo tub for a rather regal bathing experience.
Garden Suites
Enjoying all the space and splendour of the ocean suites, the peaceful garden suites swap the sea view for 42-inch plasma TVs and DVD players with Bose surround-sound, and enjoy a private walled sunbathing area. The ensuite bathrooms have double basins, indoor and outdoor showers, a raised terrazzo tub and daybed.
Children's Bunk Room
In the children's wing to the back of the villa is a room with ensuite bathroom with four bunk beds.
Services &  Features
Villa manager

Assistant manager

Butlers

Chef and cooks

Housekeepers

Gardeners

Security

Spa therapists

Drivers

Engineers

Babysitters available on request

Main pool 32m x 5m

Master suite pool 8m x 4m




Telephones

Bar and bedrooms plus in-house phone system

WiFi internet access

Fax




Satellite TVs

DVD players

DVD library

Bose surround-sound systems
Table tennis
Pool table
Wii
PS3
Car and driver
Barbecue
In-room safes
Back-up generator
The Locale
From its breathtaking cliff-top position on the south-western tip of Bali's Bukit Peninsula, the villa gazes westwards across an endless expanse of ocean – the views are simply breathtaking. Sixty metres below the villa is Suluban Beach, renowned for its epic surf breaks, and accessible via a 130-step pathway just along from the villa; Padang Padang and other equally well known beaches are a short drive away, as are two beach clubs to the east. Golfers have the choice of two golf courses on The Bukit, and for a glimpse of Bali's unique culture and religion, look no further than Pura Luhur Uluwatu, one of the island's most spectacular sea temples, just a five-minute drive from The Istana.
Distances
Suluban Beach: 1 km
Uluwatu Temple: 2 km
Padang Padang Beach: 2 km
New Kuta Golf: 12 km
Jimbaran Bay: 16 km
Seminyak: 26 km
Denpasar Airport: 23 km
Ubud: 56 km
Read more
Rates
All Bedrooms | USD $2,500 per night - USD $3,990 per night +15.5% Tax
| | | | |
| --- | --- | --- | --- |
| Low | Sep 1, 2017 - Dec 15, 2017 | USD $2,500 per night | 3 nights min |
| Prime | Dec 16, 2017 - Dec 25, 2017 | USD $3,450 per night | 5 nights min |
| Peak | Dec 26, 2017 - Jan 2, 2018 | USD $3,990 per night | 7 nights min |
| Prime | Jan 3, 2018 - Jan 7, 2018 | USD $3,450 per night | 5 nights min |
| Low | Jan 8, 2018 - Feb 14, 2018 | USD $2,500 per night | 3 nights min |
| Prime | Feb 15, 2018 - Feb 21, 2018 | USD $3,450 per night | 5 nights min |
| Low | Feb 22, 2018 - Mar 23, 2018 | USD $2,500 per night | 3 nights min |
| High | Mar 24, 2018 - Mar 28, 2018 | USD $2,980 per night | 3 nights min |
| Prime | Mar 29, 2018 - Apr 2, 2018 | USD $3,450 per night | 5 nights min |
| High | Apr 3, 2018 - Apr 14, 2018 | USD $2,980 per night | 3 nights min |
| Low | Apr 15, 2018 - Apr 27, 2018 | USD $2,500 per night | 3 nights min |
| High | Apr 28, 2018 - May 1, 2018 | USD $2,980 per night | 3 nights min |
| Low | May 2, 2018 - Jun 15, 2018 | USD $2,500 per night | 3 nights min |
| Prime | Jun 24, 2018 - Aug 20, 2018 | USD $3,450 per night | 5 nights min |
| High | Aug 21, 2018 - Aug 31, 2018 | USD $2,980 per night | 3 nights min |
An additional tax of 15.5% will be applied.
Booking/Inquiry
Uluwatu Villa 302
Need help?
Contact us for personalized service and customer support.