Availability
Booking/Inquiry
Phuket Villa 406
Click to see bigger map
Villa Amenities
Ocean Front
Ocean View
Pool
Air Conditioning
Maid Service
Personal Chef
WiFi
Similar Villas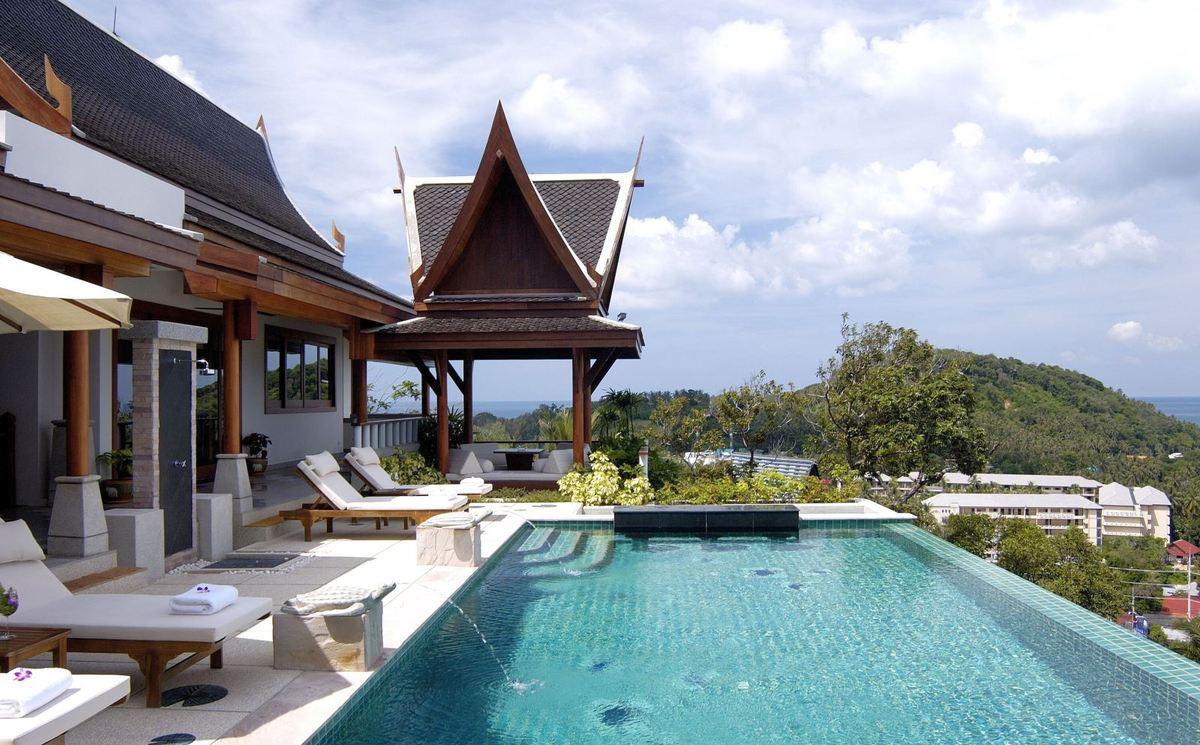 ---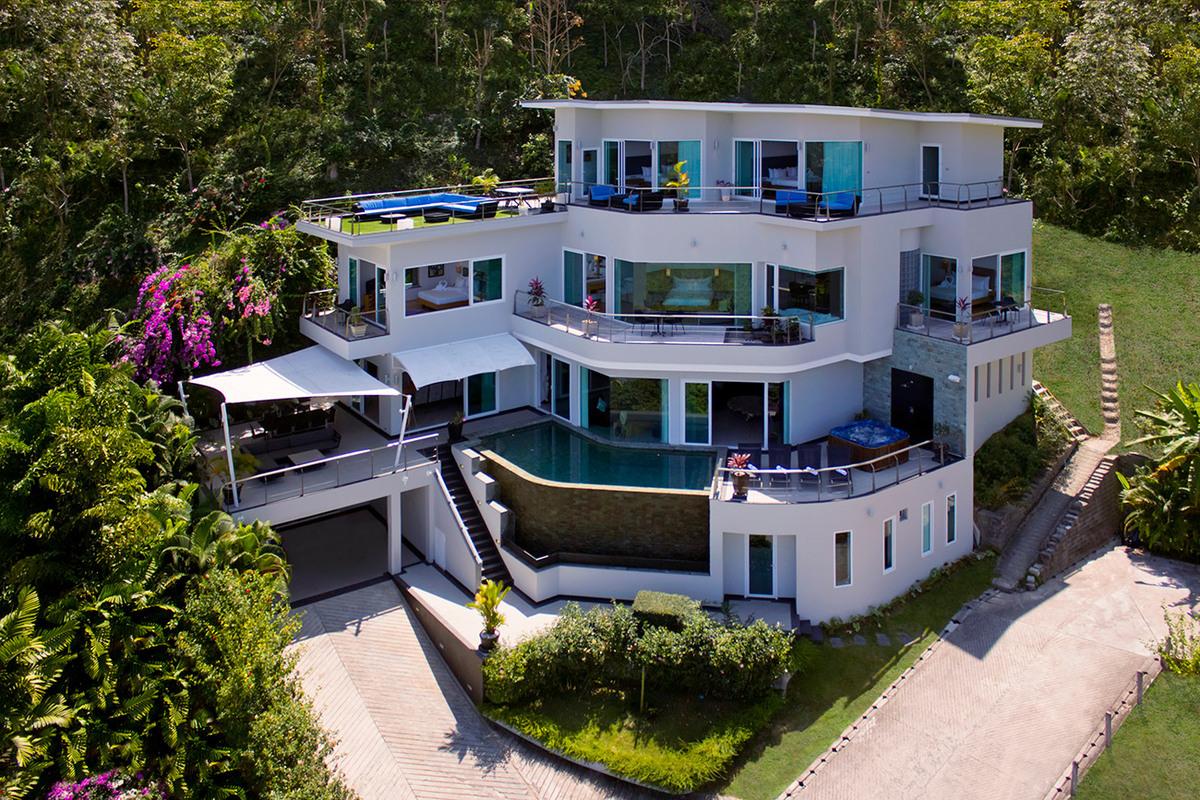 ---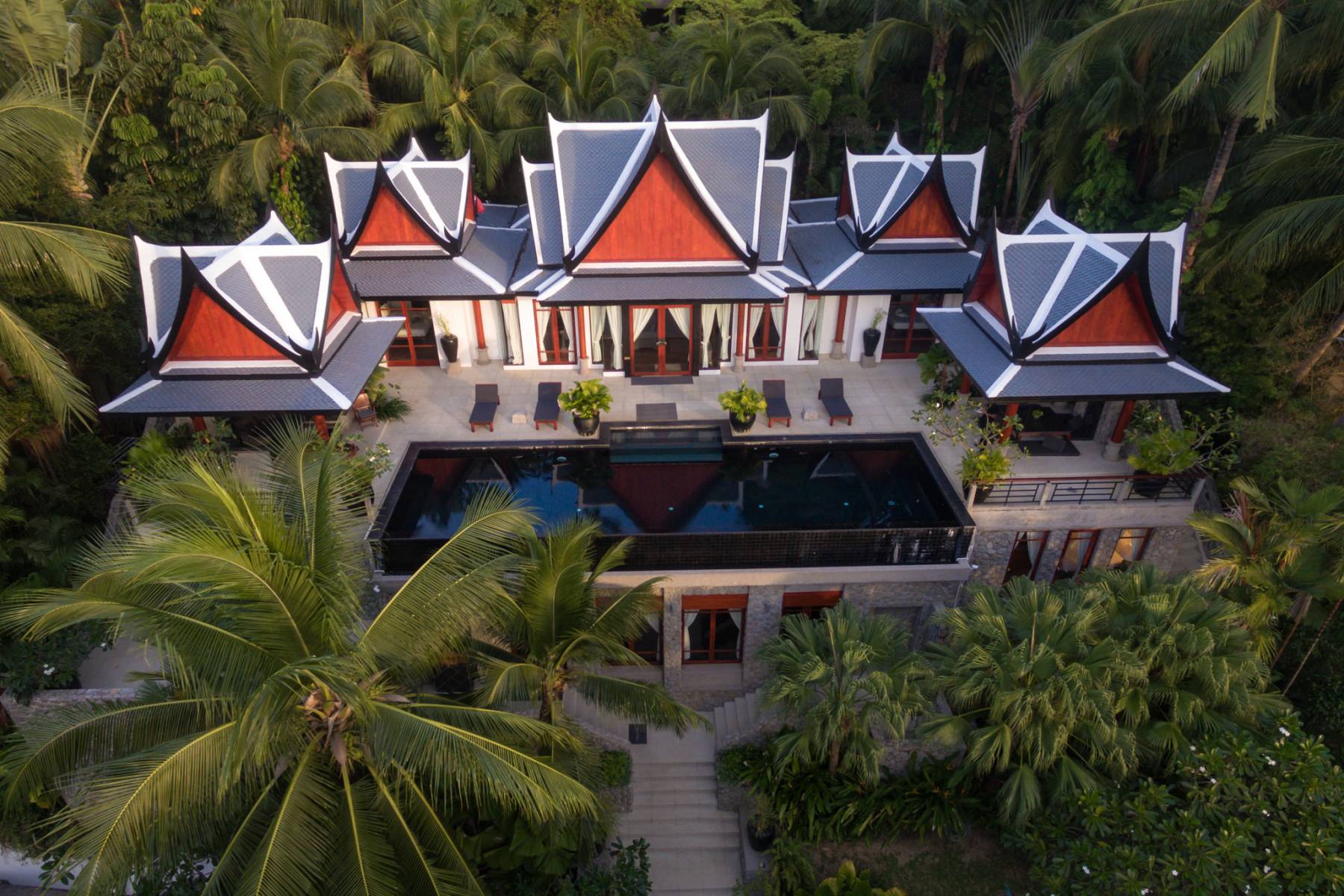 Villa Details
Baan Nicolina is a dream 5 bedroom villa in Surin Beach, Phuket
Baan Nicolina is situated on one of the most exclusive stretches of coastline in Phuket, and during the yacht-racing season, the bay is home to some of the worlds most impressive sailing boats. At dusk, the sunsets are simply breathtaking.
The villa-with-a-view is a dream home. The design and the interiors create the perfect place to entertain and impress friends, family and business clients. A total of four spacious bedrooms, plus a children's playroom which can be used as a fifth bedroom if absolutely necessary with pull out sofa bed, means the villa can comfortably sleep as many as 10 adults.
As you enter through the polished timber entrance doors, you are welcomed by a stature of Buddha. The entertainment area is straight ahead, with an outdoor covered dining area off to the side, perfect for hosting a dinner party for as many as 12 people with a stylish glass-topped table. The main sala room comes complete with Bose surround sound, cable TV and wi-fi computer connections, and Porsche-designed lighting which can be adjusted to suit any mood. The main entertainment area converts into a comfortable home cinema with a giant screen which glides down from the ceiling at the touch of a button. The whole villa oozes class with lashings of charm and privacy.
A fully equipped Western kitchen and an outdoor, undercover Thai kitchen are simply aching for someone to cook up a royal feast. The 20-metre infinity lap pool allows you to swim in the sunshine and still enjoy the magnificent view over Surin Bay. A flight of polished timber stairs leads up to the spacious master bedroom which boasts a double walk-in wardrobe with enough shelves and hanging space to house even the largest clothes collection. And for those who like to watch a bit of TV before nodding off at night, a giant screen rises almost magically from a console at the foot of the king-sized bed a the touch of a button. There is a magnificent viewing deck outside the bedroom, complete with two double daybeds. A study area off to one side also looks out over Surin Bay. The main guest room is almost as luxurious as the master suite. Both have luxury ensuite bathrooms with rain showers, twin basins, and translucent walls and doors.
The villa which which is part of a gated community was designed by renowned Singapore-based designer Ernesto Bedmar, and his signature masses of greenery and water features, including one directly outside the entertainment area on the grassy deck, are evident everywhere. The architecture throughout is both strikingly contemporary and classically timeless. A flight of stairs leads down to the children's playroom(can be used as 5th bedroom and suitable for small children or nanny only) and the other two guest bedrooms on the lower level. Down here, the kids can make as much noise as they want without disturbing the adults upstairs. Two of the three downstairs rooms has its own ensuite and all look out onto a tropical garden area. A covered deck makes this the perfect place for the kids to play, either indoors or outside in the fresh air.
The gated community is secure, with a giant entrance gate which is opened to visitors by the gate guard, only after he checks their bona fides. A track just outside the estate's main entrance leads down to the picturesque Laemsingh Beach, famed for its rustic seafood restaurants and perfect for a relaxing lunch in the sun. And because no more land can be developed in the immediate vicinity, the villa's unique charm and seclusion will never be compromised by noisy or intrusive construction. The villas are wonderfully positioned, and are only minutes from Amanpuri, less than 10 minutes from Laguna and only 25 minutes from the airport, Patong or Phuket Town. There is also a professional management and security team in place and a full-time estate manager who is on call night and day.
Read more
Rates
All Bedrooms | USD $850 per night - USD $2,500 per night
| | | | |
| --- | --- | --- | --- |
| Low | May 1, 2019 - Nov 30, 2019 | USD $850 per night | 5 nights min |
| High | Dec 1, 2019 - Dec 14, 2019 | USD $1,250 per night | 7 nights min |
| Peak | Dec 15, 2019 - Jan 4, 2020 | USD $2,500 per night | 14 nights min |
| High | Jan 5, 2020 - Apr 30, 2020 | USD $1,250 per night | 7 nights min |
Real Client Reviews
Thanks for your assistance for sorting out the villa and ensuring that all was smooth sailing. We had a really relaxing holiday and thought that the villa and view were wonderful.
Thank you for recommending this villa to us.
Awesome Villa Holiday
The Villa was fantastic, and fitted our two families easily. Beyond the awesome house, pool, and views - a real standout was the team that looked after us. Sueda and Joy were amazing, and we miss Sueda's cooking already (she only just escaped getting packed into a suitcase and shipped back to NZ). Also, thanks to Doug at Villa Getaways and the wider team who looked after us.
We would happily recommend this option to friends and family (and already have).
Luxury on a whole new level...
Absolutely fabulous location - the infinity pool dropping off into an almost deserted beach (apart from the hotel at the end with fine mojitos).
Fantastic food - loved going through the Thai recipes to pick another menu of hitherto untasted delicacies.
Excellent service - amazingly speedy (how did they know what we wanted before we did!?). Great sense of humor and never intrusive!
Fantabulous!
We stayed at the villa for 3 nights in late april. We arrived late afternoon and took pretty long to clear customs but our pickup was patiently waiting for us.
When we got to the villa, the villa manager together with the cook and the cleaner came out to serve us cold drinks and towels.
We were amazed with the layout of the villa and when we stepped into the living area, we saw the breathtaking view of Surin beach.
Late lunch was served and we quickly wolfed it down to get change to cool off by the pool. The villa manager helped us organize massages and the cook, asked us what we would like for dinner.
We were extremely happy with the quality of thai food prepared and cooked by the cook.
The villa was so nice to relax in that we woke early every morning to enjoy the pool, the food and the view.
The villa was fitted with modern electronics, the only thing we had an issue with was that the living room lighting was really dim.
Thank you for the recommendation and organising everything for us so effectively!
House staff made this stay fantastic
My family and I really loved our stay here, but if we were to come back it would only be with other adults - 3 couples would really enjoy this house. The reason for this is the layout. The master suite is on it's own on the top floor (wonderful suite that it is), whilst the second "suite" is just inside the front door. The last two bedrooms - one suite and one kids room is not attached to the main house. You have to go past the pool and down a big flight of stairs (outdoor) to the 2 bedrooms and kids room. Even if our kids were 12 - 15 I wouldn't feel comfortable with them being so far away - in particular as to get back to the main house they have to pass the pool, which like most in Thailand has no fence.

The staff were great and the location works really well, but it is not a good choice for families - which probably explains why it is also up for sale. When we stayed an agent asked to take a prospective buyer through. The asking price is apparently us$4m!!! Crazy money when it only costs around $850 per night to rent it!!!
Brilliant!
Everything about this accomodation is excellent. Only thing to note is that the 5th bedroom cannot really be used as a bedroom due to nois, so really only has 4 bedrooms.

Otherwise highly recommended!
We had a Great stay
We had a Great stay. Thank you for the organization
We had a wonderful stay
We had a wonderful stay at Villa 406.
It has very positive energy.
The service was good, we had an excellent chef. Only service you could maybe ask on rentals is the laundry care.
Being in a hot country you tend to need to wash your clothes more often.
Hopefully we can come back one of these days.

Thanks!

Really enjoyed
Really enjoyed happy time in villa Baan Nicolina.
So satisfied about it.

Booking/Inquiry
Phuket Villa 406
Need help?
Contact us for personalized service and customer support.